Millions of Milkshakes is one happening milkshake bar in the uptown Los Angeles, where as you guessed right there is a milk shake customized to cater to what your heart desires. Opened in 2008, this is America's one of the fastest growing milkshake bars, where you could choose your ingredients and toppings from the vast varieties available and have it in the form of a milkshake. Millions of Milkshake has become a celebrity hotspot with a long list of actors, musicians and celebrities waiting to make their own celebrity signature milk shake.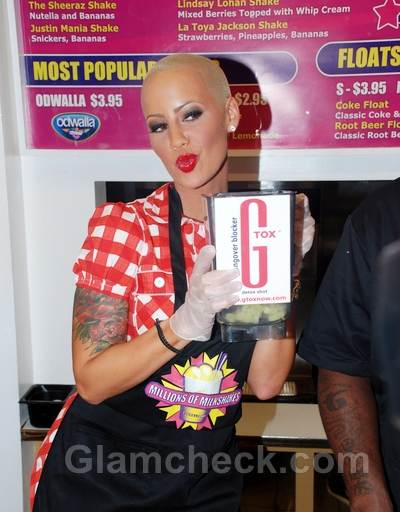 Amber Rose : Amber Blondie shake at Millions of Milkshake
Recently, Millions of Milkshake saw the launch of signature milkshake by American model Amber Rose. Amber Rose, who is also popular due to her high profile relationships with rapper Kayne West and Wiz Khalifa, was at the Millions of Milkshakes outlet in a red and white large gingham check dress. The short sleeved dress showed her tattooed right arm well.
While making her signature milkshake which she named "Amber Blondie shake", Amber seemed to be thoroughly enjoying herself. Her milk shake included Banana, pineapple, white chocolate, coconut and cookie dough. If that is enough to have your mouth watering, wait till you see the sexy Amber Rose cough up this delicious milkshake.
What do you think is cooler – Amber Rose in her gingham dress or her signature Amber Blondie shake?
Image:  P R Photos