This post brought to you by TRESemmé. All opinions are 100% mine.
"A dry spray shampoo" usually generates a lot of sceptical reactions. After all, can something which does not actually rinse the hair actually bring about the same result as a normal shampoo? Well, this was my line of thought too before I used the TRESemmé Fresh Start Dry Shampoo. So, was I happy with the result? You bet!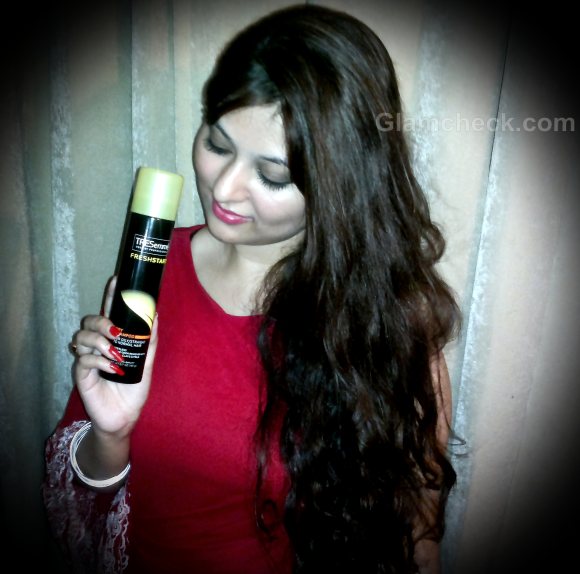 I am one of those people who like their hair long, and when I say long I mean hip length hair (yes!). Therefore, I thought if TRESemmé Fresh Start Dry Shampoo would work well on my hair then I would give it full marks.
So I tried this product on one of my (and there are many of them) bad hair days. When I say bad hair – it means hair that has not been washed in 4 days and with a lot of greasy built up (yes, sometimes regular days are so hectic that spending time on washing my long mane of hair means "wasting" precious time that can be utilized elsewhere). I went ahead and sprayed the shampoo all over my hair, from a distance of about 8 inches – what I saw was that the spray had left a powdery residue all over the head. After about 5 minutes I brushed my hair to remove the residue – and got to view the result. And, I was mighty IMPRESSED!
It was not just because the grease from my hair had actually gone off or because my hair looked all clean or that it smelt super, but because the spray also had a volumizing effect. This made it easier for me to style my hair better, and this was something completely unexpected. I got two things at the price of one – a great dry shampoo and a great hair styling spray. So much so that, (and no, seriously I am not lying or making this up to sway the readers) I actually got complimented by my mom, who was in the house when I went to show her the wonderful effect of TRESemmé Fresh Start Dry Shampoo. It was not a surprise that she too demanded the very same shampoo for herself.
Would I recommend this product to others? That would be a definite YES. This product is such a rock star, because it comes with the promise of saving time during moments of necessity. There have been innumerable moments when I have missed out on a party or an event because they were last minute notices, and my hair was anything but pretty –and I didn't have the time to wash it. So, I have skipped a lot of great dos due to unwashed hair or a bad hair day. This is where TRESemmé Fresh Start Dry Shampoo has come into my life like a saviour. So, now even if someone gives me a 10 minute notice for a party – boy, would I be ready to go or what!
I guess a lot of you would identify with my situation, so I recommend this product to you.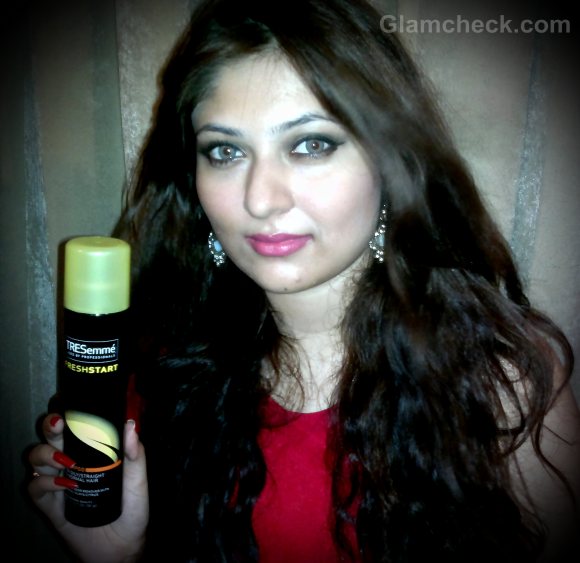 To get the best results from TRESemmé Fresh Start Dry Shampoo
·         Do shake vigorously before use and in between spray bursts for best results.
·         Do lift sections of dry hair and spray lightly at roots
·         Do spray in short bursts, holding 8-12 inches from head
·         Don't spray it like hair spray (all over and continuously)
·         Do leave in for 1-2 minutes.
·         Do use fingertips or a brush to distribute product evenly
·         If clogging occurs, remove nozzle and rinse the nozzle under warm water, then reattach.
TRESemmé has a complete line of dry shampoos that revive your style's look and feel on days you skip a shampoo. Uniquely formulated to absorb excess oil and remove odor, the full line of dry shampoos rejuvenates hair without a drop of water. With a renewing burst of citrus extracts infused into every product, it leaves hair with a clean, fresh scent.
The full line includes:
Strengthening Dry Shampoo:The formula, with B12 vitamins and keratin, helps strengthen hair and leaves it full of healthy body.
Volumizing Dry Shampoo: The formula, with mineral clay and citrus, removes oil while injecting hair with salon-gorgeous volume.
Smoothing Dry Shampoo:The formula, with Vitamin H & Silk Proteins, refreshes your straight style by removing excess oil, impurities and odor to ensure your smooth look lasts.
Moisturizing Waterless Foam Shampoo:The formula, with Witch Hazel, Citrus, and Aloe Vera, refreshes your hair by removing excess oil, impurities and odor while moisturizing hair.
To make it easy for you to use this line of dry shampoos, YouTube Celebrity Elle Fowler (Top Hair Products for School) has teamed up with TRESemmé and created a tutorial to teach you how to use TRESemmé Fresh Start Dry Shampoo properly. So, get started! You won't be complaining.