"Let us dance in the sun, wearing wild flowers in our hair…" – Susan Polis Shutz
A seemingly simple quote by the American poet really brings forth the true feelings of Spring. The beauty of this adorable season of course is in the colorful flower beds that fill up the landscape. Talking about weather may seem like a conversation killer, but in fashion and beauty industry it is always an inspiration. And what better way to welcome spring than a flower hairdo.
But flowers in hair are usually associated with longer length. But times are changing and the lengths are growing shorter. Can you carry off a flower hairstyle even when you have short tresses? Glamcheck says yes you can! Read on to know the latest flower hairstyles for short hair and also a short guide to choose the right flowers and attire too, at the end.
Flower Hairstyles, Level: Easy
Let's look at some styles which are very simple and quick to achieve.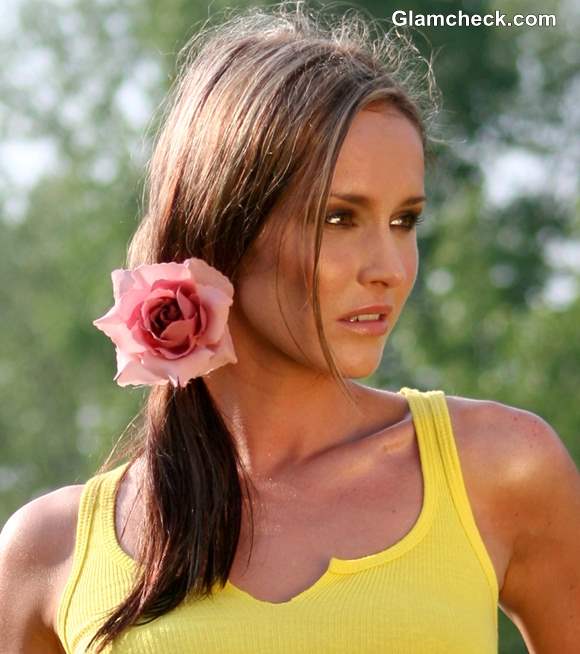 Flower hairstyle for short hair
A ponytail is one of the simplest hairstyles for short and medium length hair. Re-invent it with a flower.
Tie a low side ponytail, by parting your hair on side. The style need not look polished, hence after combing your hair once, finger cob the hair and tie.

Take a flower like a rose and cut its stem down to an inch or slightly longer, remove thorns too. Insert it in the tight rubber band of your pony. Secure with a bobby pin if it feels loose.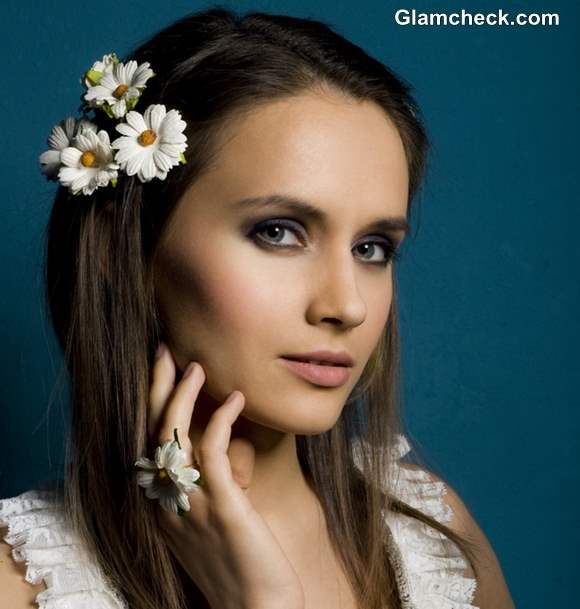 Spring flower hairstyle for short hair
Part your hair in the centre and comb well.
On either side of your hair, lift up a section and clip it on top to reveal the hair layer underneath.
Take small daisies, cut the stems short and slide a bobby pin onto the stem. You can club two daisies in one bobby pin, spacing them a little.
Tease the hair slightly, if your hair is too silky to hold the pin.
Fix the pin with the daisies and repeat until you form a cluster around, of four or five small daisies.
Unclip the top hair layer; this will hide away all the pins to reveal only flowers from in between.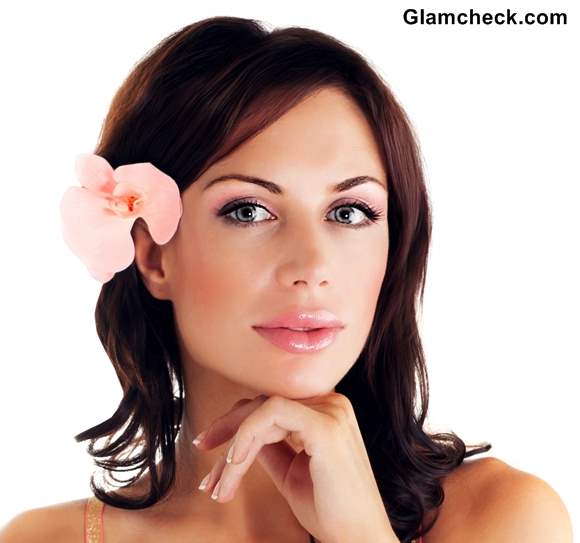 Spring Hairstyles with Flowers for Short Hair
Comb your hair and part in the centre. Take a few strands on the front and part them one side.
Take a curling iron and take small sections of your hair and curl the ends once to create soft waves. Don't separate the curls with your fingers though.
Use a hair spray to set the curls.
Lift up and clip a section of hair from near the ear, on the same side as you parted your flicks.
Fix your flower with a bobby pin onto your hair. Unclip the section.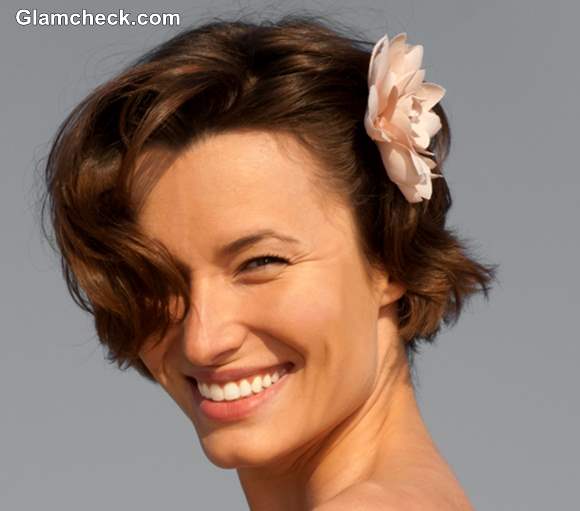 Spring Hairstyles with Flowers for Short Hair
For a super short bob, wet your hair and scrunch them with fingers while air drying to create slight waves.
You can also do with a hair straightener. Just clamp a small section of your hair between the plates, roll away from your face and gently move down, this will give you soft waves.
Give your hair an uneven part, lift a section from one side on the front and pull it back and clip it.
Hide the small clip with a flower set with a bobby pin on top.
Flower Hairstyles, Level: Medium
These styles will take up slightly more of your time and require some skill but with some stunning professional-like results.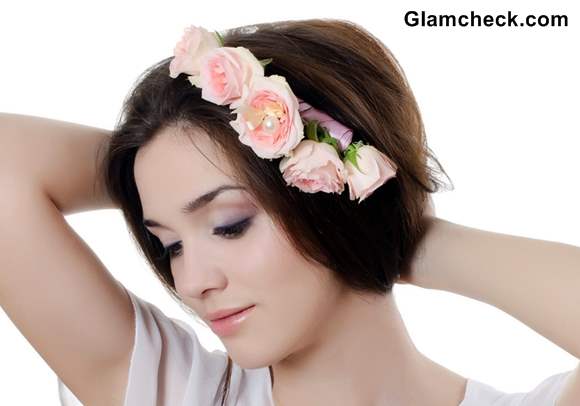 Spring Flowers Hairstyles for Short Hair
In this one, the flower arrangement is the tough nut to crack, the hairstyle itself is simple.
The arrangement is best done with artificial flowers. Find a clip long enough for the arrangement.
 Roll a ribbon on top of the clip and to stick ends use an adhesive like Fevi Quick.
Cut several artificial roses right upto their base, so they are almost flat. Stick and press these with the same adhesive onto the top covered with ribbon, in a line. You can stick a rose on the side too.
Additionally you can add pearl beads in the centre of each rose, sticking the same way.
Comb your hair and have a natural part. Clip the hair on one side with your own flower hair clip.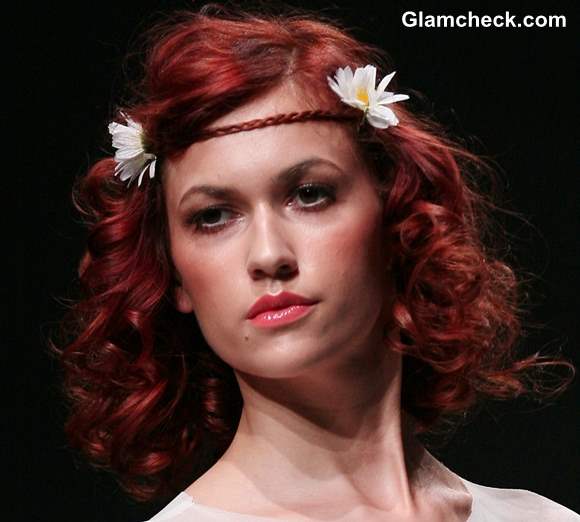 Boho Spring Flowers Hairstyles for Short Hair
For this hairstyle, you simply need to curl your hair with a curling iron. In case you have natural curls then this is extremely simple for you.
Before starting to curl take a thin section of hair from front and make a very fine braid out of it.
Then start to curl small sections using a curler or use a flat iron. Simply clamp a thin section and wrap it around the flat iron once and then gently pull down. Remember to leave a couple of inches from the root uncurled.
Mess up the curls a little and separate them. Set with a hair spray.
Take the braid and from over your forehead, pin it to the other side. Be sure that both the ends of the braid should be hidden beneath or curls.
Pin small daises on either side of this braided headband.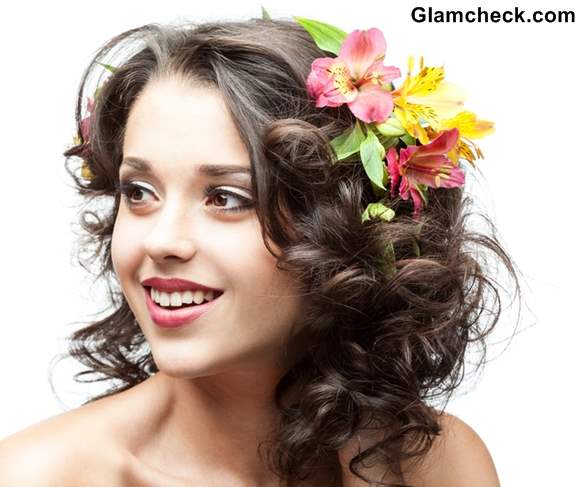 Spring Flowers Hairstyles for Short curly Hair
Leaving the crown of your head, curl your hair with a curling iron.
For thin curls, you can use a skewer from the kitchen to wrap your hair around. Then heat set it into a curl by clamping it between a flat iron.
Mess up the curls by separating them with hands.
For this hairstyle, choose slightly exotic and colorful flowers like azalea or even orchids. Make sure to have some leaves along.
By cutting the stems short and sliding bobby pins on them, you can pin these flowers to form a sort of cluster on your head on one side.
If you are feeling adventurous, you can have symmetry of two clusters on both sides of the head or else stick to single side.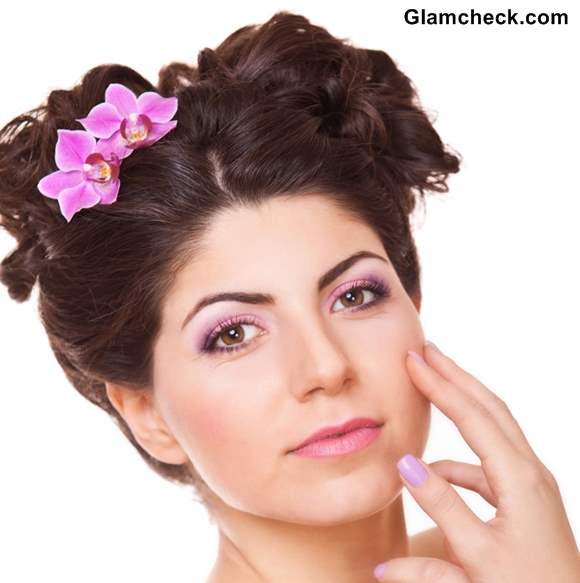 Flower Hairstyles for Short Hair
Curl a few inches of your hair ends using a curling iron or flat iron with the method explained above.
Part your hair in the centre, but merge on top of head so that no part shows.
Dividing the hair in two, twist each side on top and secure with hair pins.
It will form kind of a bun, with the curled ends covering the twists and pins underneath.
On one side attach small colorful flowers at the base of the bun using bobby pins.
Tips to wear Flower hairstyles
A flower hairstyle can uplift even a casual look by making it feminine.
On a regular day of college or a luncheon or a lazy beach outing, these hairstyles can be your perfect spring time companion.
Do not over do the makeup as the flowers are attention enough. A natural or soft approach to makeup will be the best. This would include your lip color and eyes. Go easy and use light pigments in pink and peach if necessary.
If the lips need to be darker, again stick to red or pink.
Tips to choose the right flowers
Different styles will require different flowers. But as a general rule, stay away from big gerbera daisies as they can look too childish on most. But then again for one person or hairstyle it might just look great.
You can either match your flower with your attire or contrast with it.
If your eyes are colored, choose the color of the flowers to compliment them and bring them out.
The color of your hair should also be taken into consideration. Bright flowers look great on dark hair and on light hair color, purple and yellow is known to compliment. Pink usually works for both.
Unless you are very sure of the look or are known for your eccentric style, do not go for huge flower sizes. Stick to medium and small. If you are using a huge flower, a single piece should be enough.
Natural flowers work best with a look making it feel fresher and of course natural.
With these tips in mind, you are sure to rock this spring time hairdo with elan.
Shutterstock