Nautical accessories
Nautical accessories feature maritime sailor inspired themes and schemes. Nautical accessories may add fun, freshness as well as variety to your collection. These are trendy, crisp, clean, exotic, bold, tough yet highly feminine. From the chunky items to the delicate ones, nautical accessories are a wardrobe staple.
Red, white and blue is the nautical color. The color scheme is tapped to produce a range of items that are picturesque enough to create the ambiance of the sea life.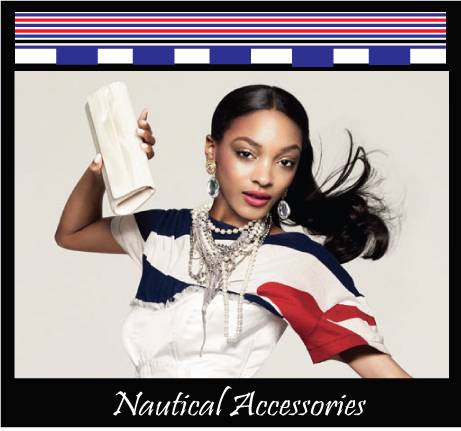 Nautical accessories are a great fun. They are casual, invigorating and refreshing and they may provide you the required break you need from the day- to- day styles.
Nautical is never out. Nautical accessories, fashion and apparels are an investment as they make for a timeless and classy look.  The ambiance and the feel is distinct and this is what accounts for it's popularity.
Nautical Necklaces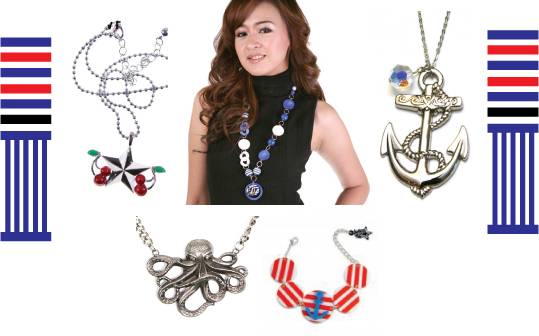 Nautical necklaces are fun. Long rope or braided chains with an anchor pendant make of a very cool and chic fashion statement. Wear these nautical accessories to the beaches, parties and workplace and the look will never let you down.
You may also wear a chunky statement jewelery and exhibit a neat and crisp nautical look.
For the very formal and elegant party, you may wear choker and princess necklaces studded with sapphires, pearls or diamonds for a blue maritime theme and also red with pearls and diamond for a red maritime theme.
Nautical Earrings


Nautical accessories : Earrings
For casual outings the choice is immense and inexpensive too. Anchors are a favorite. Get anchors and star danglers, ear strings, ear spikes, fish hoops etc.
Also, red blue and white braids and ropes in your French hoops, hoops and charm hoop earrings are maritime.
Buttons as studs are very sailor like. However, for formals opt for blue, red and white studs.
Nautical  Bangles/ Bracelets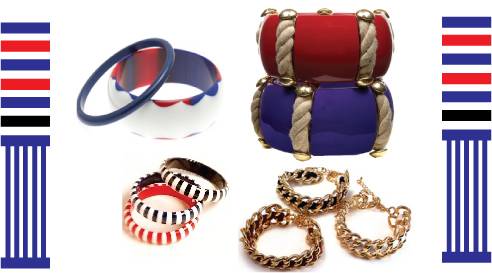 Nautical accessories : Bracelets / bangles

All aqua hues, reds and whites are together going to make for a great nautical bracelet. Resins, golden brasses, and rope bangles are so very nautical.

Nautical Watches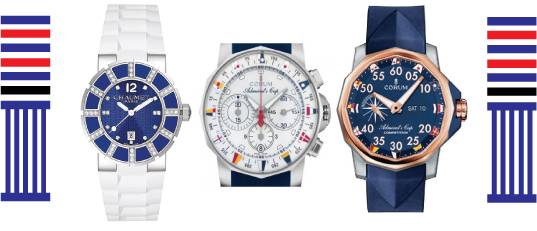 Nautical accessories : Watches
Even wrist watches are nautical. The anchor shaped needles tick to a nautical hour. The dial can be both stripped as well as plain but in a nautical color scheme.
Some also present nautical stripes on the straps as well. Straps may also be leather braids, ropes, chains etc. Classy golden metal and straps may also add elegance and class to the look.
Sapphires, rubies, diamonds and platinum make for a nautical expensive and elegant wristwatch.
Nautical Handbags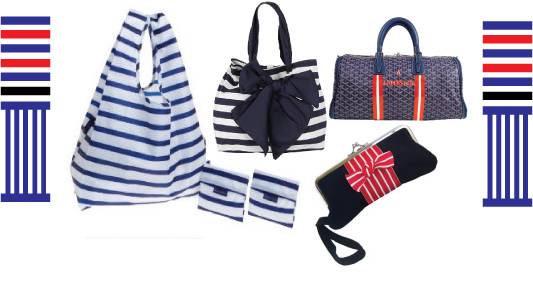 Nautical accessories : Handbags
Handbags, coin purses and ballets are all maritime. Nautical inspired bags are sporty, elegant, refined, bold and tough.
A little nautical themed handbag or clutch add color and timeless classy and stylish look to your assemble.
The red, blue and white color scheme, stripes, prints and details that were to be seen on apparels have been all incorporated here too. New experimental shades may help you get one matching your dresses. Anchor shaped zips are a frequent occurrence. Over size sailor like buttons are a frequent occurrence whether we talk of clothes, shoes, bags or jewelry.
Anchor bags are quite popular. The handbags are done mainly in the shape and style of an anchor. The bag is a fun and delight. Leather Rope Handles and braided handles are also popular and maritime. You may carry them to your workplace, meeting, dinner, shopping etc. Even, clutch bags with the hues and cries of a nautical theme are apt for all your beach parties, gatherings and casual day out.
Nautical handbags with golden chain handles are quite elegant and trendy. Monogram styles in combination of red, blue and grey are in rage.


Nautical Shoes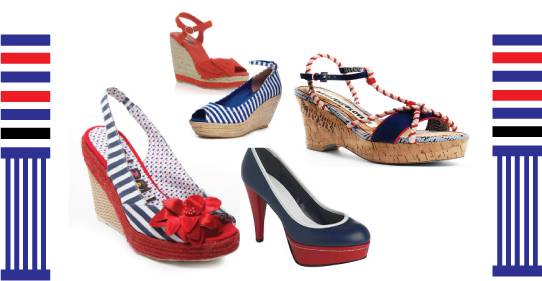 Nautical shoes
Very casual nautical shoes are best represented by deck shoes adorned with cutest anchor, Caspian wheel and star prints.
Navy gladiator sandals, slingback wedges, blue red and white sandals, espadrilles are all fashionable and nautical with the color scheme, prints and braids, button rope and other details. You may wear stripes or wear plain solid nautical colors and add details for a naval feel.
Nautical Tattoos
Tattoos are highly sexy, chic, hot and trendy. You may add freshness and boldness to your entire look by drawing some stick on as well as permanent tattoos that are nautical in theme.

Red blue and white stars, Caspian wheels as well as anchors may make for a super sexy glamorous look.
Tips to wear Nautical Accessories

You may wear nautical stripes on your clothes and keep your accessories plain yet nautical in color.

Don't overdo the look. Remember, you are not ought to have stripes throughout.

Keep either the clothing or the accessory nautical. This way you may mellow down the look for a balanced one.

To navy of your outfit and to any occasions , you may always add a sporty, timeless and classy look with the help of nautical bows, ties, handbags, shoes, bracelets, etc.

A maritime tattoo as an only trace of nautical in your ensemble may also make for a trendy, stylish and sexy look.

A jaunty cap done in nautical fashion, braided ropes, monograms, etc will make for a complete sailor look.

A casually worn scarf with naval theme may also make for the look.
Pile up your wardrobe with nautical accessories. These are always in vogue.