So we have all witnessed on so many occasions, how cool the rocker chic makeup looks on celebrities. The dark liner, smoky eyes, black nails and sometimes even the bold lips somehow add to their rockstar-like appeal. But when it comes to going that bold in real life, it can't happen all the time. But is there a subtle and more minimal way to do the rocker chic? We say yes there is. The idea is to use all the elements in moderation and give it a minimal twist.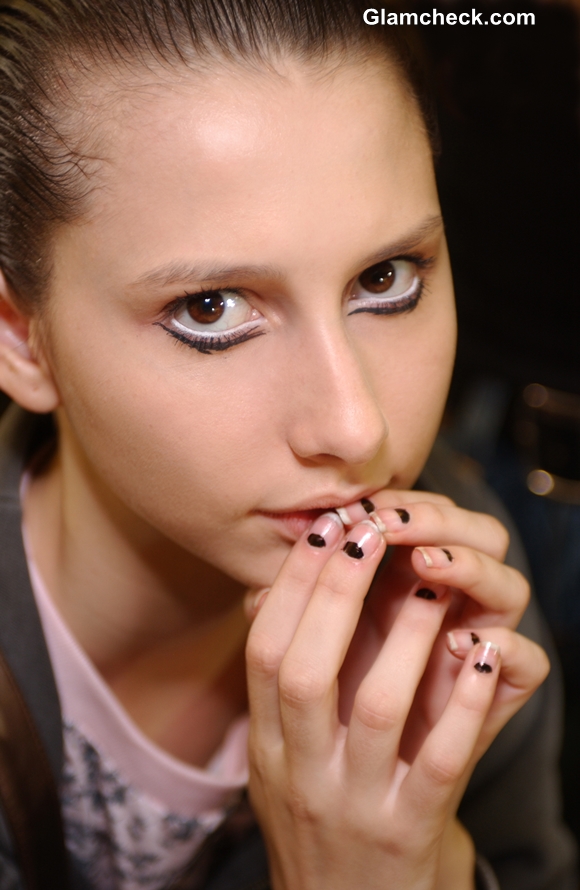 Beauty How To – Subtle Rocker Chic Look
Face
Let's start with the face and apply a light base.
Follow your skin routine first – cleanse, tone and moisturize.
Apply a very light foundation or simply your BB cream to even out the skin tone.
If there are any major blemishes then use a concelaer, or else keep it minimal and let the sin breathe.
Eyes
The eyes play a very important part in rock and grunge makeup. But we are going to tone them down and follow the regular smoky eye. Instead follow the below steps: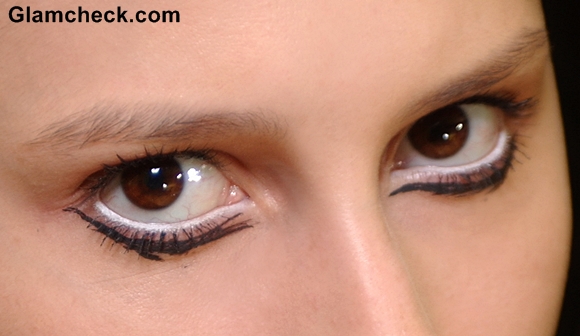 Eye Makeup – Rocker Chic Look
Apply a thin coat of mascara on your upper lash line.
Follow with some kohl applied carefully on the inner side of the upper lash line. This will open your eye more.
Using a white pencil liner on your lower lash line. The pencil will be easy to apply, will let you fill in as close as possible to the lash line and omit any gaps.
Next using a liquid liner and leaving some gap (about a cm) from the lower lash line draw a thin line tracing the shape of your eye. A good tip to remember is, when drawing near the inner corner of your eye, turn the line like the shape of a bird hook. It flatters the eyes very well.
Re-trace over the line, making it slightly thicker in the middle. Also remember to have the several lines showing, as it is intentional in this look.
Lips
Instead of going for a bold lip, we recommend pairing a natural nude lip with this look.
Make sure your lips are dead skin free. You can scrub your lips gently for the same.
Moisturize them with a lip balm or directly apply nude lip color if it contains moisturizers.  The color should essentially flatter the face and look natural.
Nails
The other focal point in this look alongside eyes, are the nails. We do a reverse French manicure on them with the color black.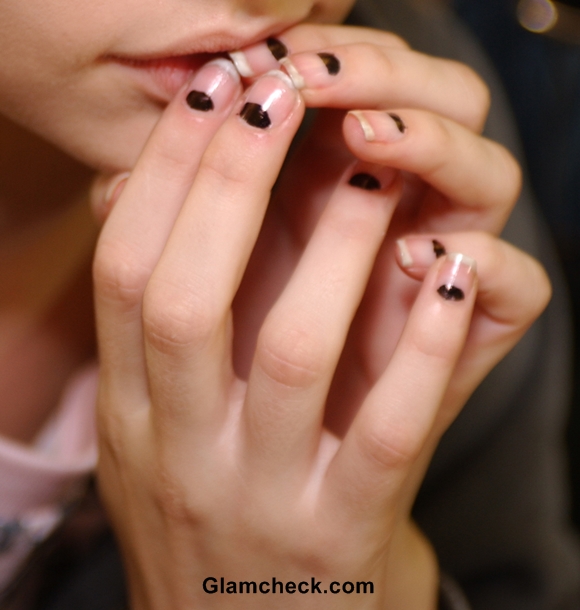 Half Moon Manicure – Nail Art
Make sure your nails are clean, cut to an appropriate length and filed right for this look.
The nails should not be too long and curved in shape.
Buff them well to add a natural shine first.
Stick nail reinforcements to your nails in such a way that it leaves a halF moon curved space near your nail ends for the paint.
You can also use masking tape instead but will have to cut it with a pair of scissors in a curve and then stick on the nail.
Once you have masked the nail appropriately with either of the methods above, apply a coat of black nail paint near the nail ends.
Repeat on all nails.
Repeat a coat if required and remove the reinforcements or the tape.
In case you have got some nail paint on the skin as well, use an ear bud and nail paint remover to remove it neatly.
Let the black nail paint dry. Apply a glossy top coat on top.
Hair
You can choose to leave your open in an out-of the bed vibe, by combing them only with your fingers. Or slick them back into a chic bun or ponytail. Apply gel to the roots for added slick effect.
Wear it with
You can sport this look with a multitude of outfits. A black leather skater skirt, a denim vest, a white shirt and ripped jeans…. The options are endless. Remember to carry your best attitude along.
So go ahead, give this edgy yet subtle rocker beauty look a shot, and who knows you will not go back to your smoky-eye days again.
Shutterstock