The American Giving Awards presented by Chase at the Dorothy Chandler Pavilion on December 9 in Los Angeles, California saw singers LeAnn Rimes and Miley Cyrus wearing similar jewelry – they both donned a bunch of rings and silver bracelets in oxidized metal to complete their ensembles.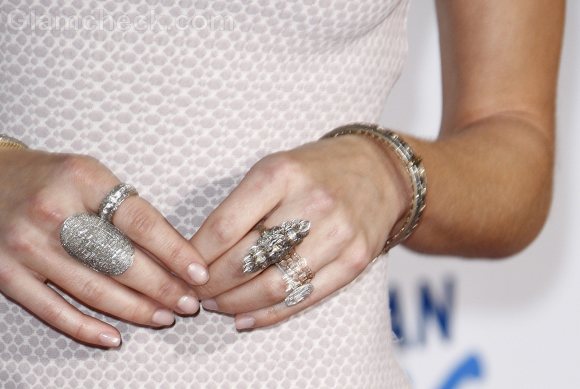 LeAnn was a little more adventurous with her rings, going with not one but two finger armor rings in very cool designs. She balanced the large rings with a couple of smaller ones, bringing the total ring count to five. She wore a matching silver bracelet that somehow seemed to incorporate the feel of all the rings.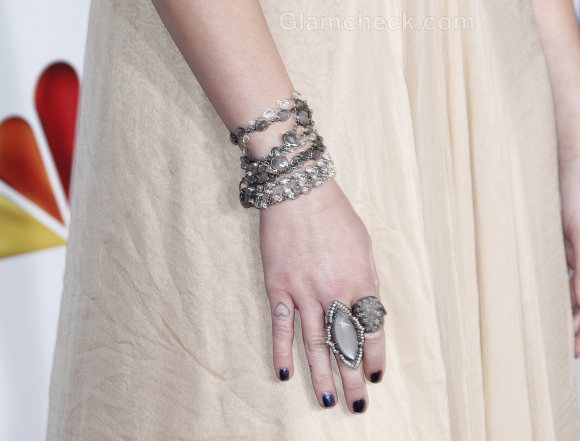 As for Miley, she wore a variation of a finger armor ring although hers had a large white stone on it. And she too balanced the view with a smaller round ring. Wearing only two rings meant that she could add a bunch of bracelets without the look getting too busy.
Get The Look
There are many types of finger armor rings available. Some extend from knuckle to finger tip while others – like the ones these lovely ladies are wearing and which are more popular – extend to cover only half the finger. This is one of the more fashion-forward accessories and only the truly brave and daring can pull them off. Daphnee Guiness sported a superb collection of finger rings at the FGI's earlier this year.
Chunky finger rings add a touch of glam rock to your look. But you do not have to be a rock star or indeed even dress up like one to look fashionable in finger armor rings or oxidized jewelry. LeAnn and Miley both accessorised their very feminine dresses with finger armor rings and Goth-like bracelets, which gave their ensemble an edgy feel. Rings like they are wearing are one of those accessories where the more, the merrier. So you can happily put on two or even four finger armor rings if you like. It's eye-catching appeal makes it the perfect accessory for an attention-grabbing look.
If wearing rings and bracelets in a similar fashion, make sure your outfit is sleeveless and the fabric is not printed so that your bare skin and plain clothes can act as a backdrop that shows off the metal to perfection.
Image: Shutterstock