Actresses Amy Paffrath and Tasha Smith sported very different styles as they attended the Los Angeles premiere of 'Sparkle' at Grauman's Chinese Theater in on August 16. But the two ladies had something else in common besides their ravishing beauty. Amy and Tasha chose to adorn their nails in one of the hottest color trends of the year – neon shades.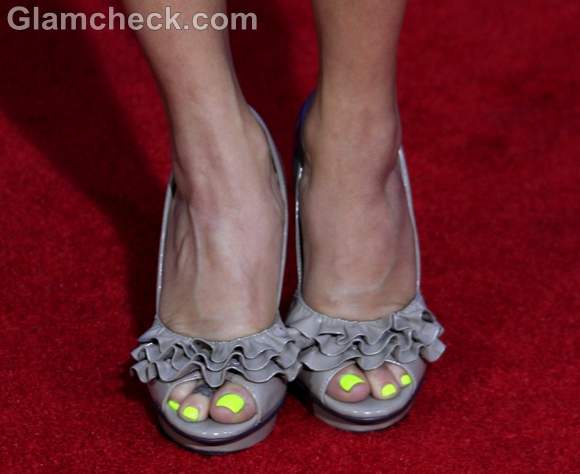 Amy Paffrath : Neon Nails
Amy went with acid green neon while Tasha sported a delicious white neon nail polish. The little splashes of bright color livened up their looks and made sure that they get noticed.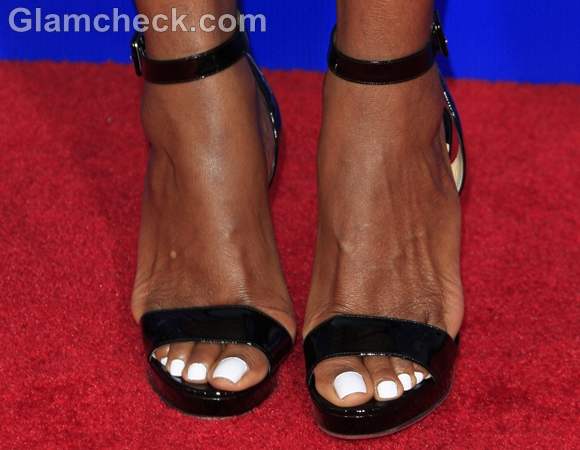 Tasha Smith : Flashy white nails
We've watched the neon trend grow and blossom all of this year, and have yet to find a case of neon gone wrong. Sporting neon somewhere in your outfit may take a bit of trial and error before you get it right, but you can always start with neon nail polish first. It's a simple way to get in on the trend and you don't even need an eye for fashion to get started. Simply head to your local beauty store and pick out some neon nail polishes.
You'll find a variety of neon shades of the same color. For example, there will be acid neon pink, fluorescent neon pink, and neon hot pink, to name a few from that one color palette. Leave the brightest shades for evening wear and choose the slightly muted neons for day wear. Solid white nail polish looks very dramatic. It can also be applied as a base paint that will make other neon colors pop-up.
Pick a neon nail polish that you like and which is preferably in a shade that contrasts with your outfit. This will give firstly a bit of a color-blocking effect but will also make a bigger impact as the human mind is designed to catch differences more than similarities. So your neon nail polish is more likely to be a hit if the color is different from the majority color theme in your ensemble.
Perform a basic home pedicure and dry your feet properly.
Apply the first coat of your chosen neon nail polish.
After the first coat has dried completely, apply a second one with a steady hand.
Again, wait for the second coat to dry properly before applying a final top coat. This will protect your neon color and will also add that extra bit of shine to make your pedicure stand out.
Wriggle your toes and marvel at your pretty feet!
Neon nails will look far better in the evening than in the day time, although this is not always the case. It all depends on the color you choose and the way you style the rest of your outfit. Neon nails exude an aura of fun and a love of the night life, which is what makes it perfect for club wear, dinner parties, a night out drinking with your friends, and basically any night-time event where you know you are going to be having a good time. Your outfits for day-time barbecues, pool parties and get-togethers too can benefit greatly from a well-chosen neon nail polish. 
Image: Phil Stafford / Shutterstock.com