The white lotus motif on a purple base is a good choice for nail art DIY. It is a good way to add a tropical element of color and fun to your every day getup.
DIY – White Lotus Motif on Purple Base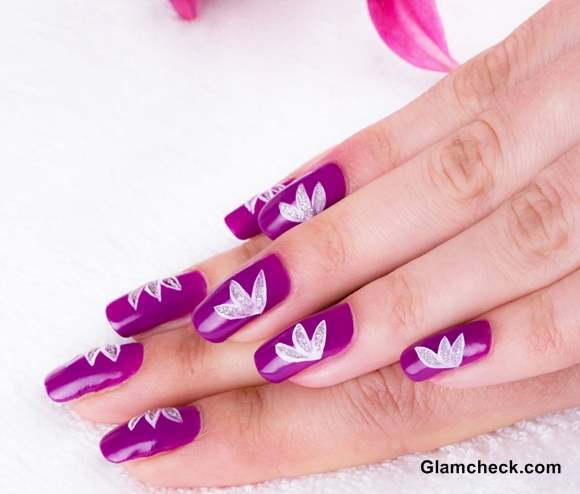 Nail Art DIY – White Lotus Motif on Purple Base
Following are the steps to do this nail art yourself.
Nail Art Items Needed:
Purple nail polish

White nail polish with fine tip (these are specifically available for nail art

Clear nail varnish.  
Steps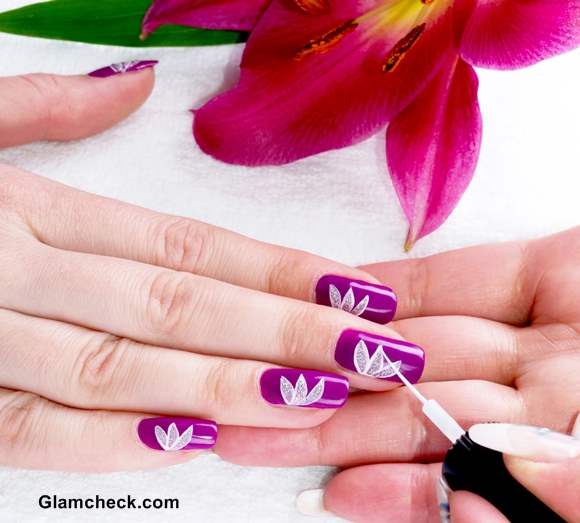 Flower Nail Art DIY – Lotus Motif
Before starting with the nail art, you have to ensure that your nails are well filed – in a shape that you like the best. It could be round, square or sqauoval.
Purple Base: Take the purple nail polish and color your nails evenly. Start with the first coat on all your nails, on all the ten digits, and once you are done with them all only then apply the second coat. This will ensure that no bubbles are formed due to uneven application. Wait for both the coats to dry before moving on to the next step.
Lotus Motif: Use the white nail art polish to draw the lotus motifs on all the 10 nails. Draw three petals next to each other. (See photo for the pattern). Fill the motifs with dainty dots, to give a shading effect.
You can finish with a coat of clear nail varnish to give more hold to the nail art.
Glamcheck's Tip: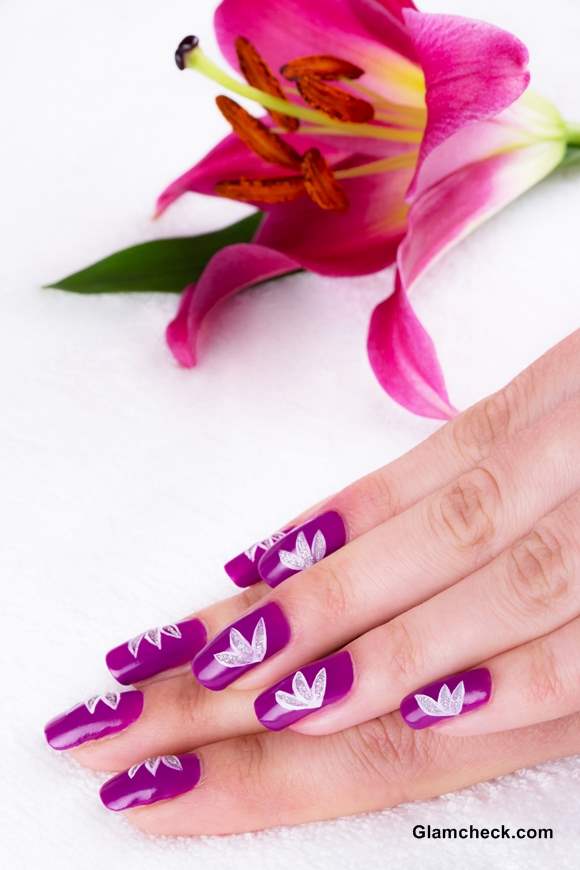 Flower Nail Art DIY – White Lotus Motif on Purple Base
You can try out simple floral motifs apart from lotus ones. You can also play with the design and select other types of patterns – maybe geometric ones. You can also do a white base with pink lotus motifs to stay true to the inspiration. You could also try the purple and white combination in the reverse way – a white base with purple motifs. 
Image: Shutterstock