Nothing spells spring and summer fun quite like the color yellow, and what is a better way to appear trendy in these months than wearing a pair of yellow shorts! There is something very vibrant and eye catching about yellow, so you can become an instant head turner by dressing up in a pair of yellow shorts.
What to wear with yellow shorts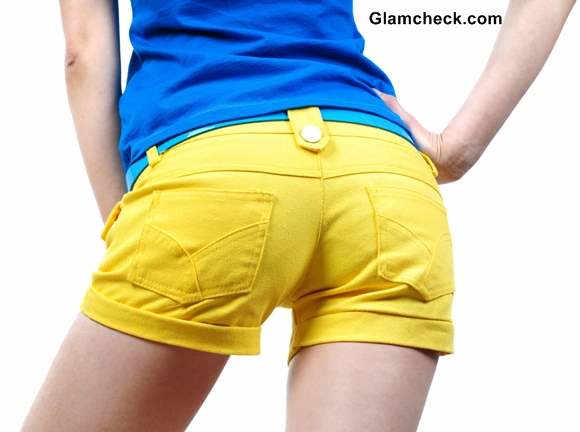 How to Wear Yellow Shorts
As far as the tops and their colors are concerned, which you are planning to wear with your yellow shorts – the choice is endless.
Play with contrast color combinations: You can pair black, purple, blue or green with yellow shorts.
Play with similar color combinations: Yellow shorts can be paired with orange, red, mustard or coral. tones too.
Play with prints and designs: You can experiment with them and don't have to only pair your yellow shorts with solid colors. So go for cute, funky, graphic, animal inspired or other trendy prints. 
Play with various kinds of tops: You don't have to restrict yourself to only T-shirt and yellow shorts combinations. You can also wear:
Peasant Tops
Camisoles
Bustiers
Halters
Peplum Tops
Tube Tops
Shirts
See how Jameela Jameel is rocking her yellow shorts.
Where to wear yellow shorts
You can wear your yellow shorts while taking your dog out for a walk, lazing on the hammock, sipping your mocktail by the poolside or catching up with your gang of girls. The occasion and places where you can wear yellow shorts are numerous – as long as they are casual events. Stay away from formal occasions, and for the rest there are no hard and fast rules against yellow shorts!
Styling tips for wearing yellow shorts
Since yellow shorts can be worn to for a variety of occasions and numerous places, we bring you three distinct looks that will cover the majority of events.
Laidback Look: This look covers extremely informal outings such as when you are simply planning to chill at a friend's place or going for a quick coffee to the nearby coffee shop or buying your groceries.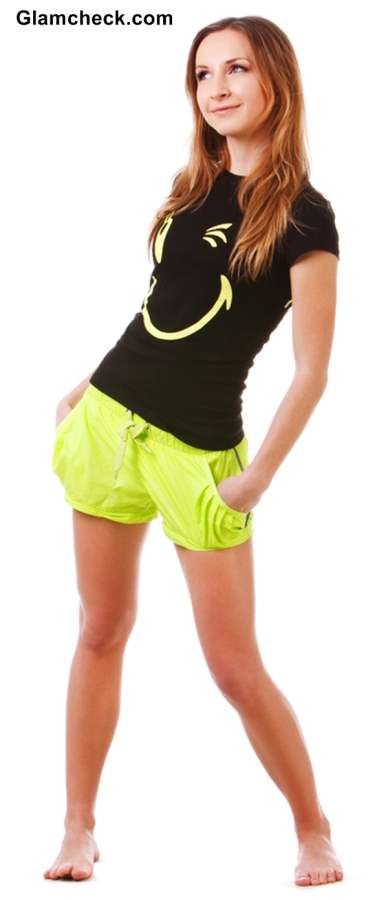 Laidback look with Yellow Shorts
A t-shirt or plain top will look the best for these. You can pair comfortable sneakers, flat pumps or strappy thong sandals with your yellow shorts. A side satchel or sling bag will complement this look. You can scrunch up your hair in a bun or make a simple plait. Makeup can be next to nil.
Trendy Look: This look would befit occasions such as when you have a brunch plan or movie plan with your friends. Halters, spaghetti tops or peasant blouses will look good. You can wear a pair of wedges or kitten heels to complement the ensemble.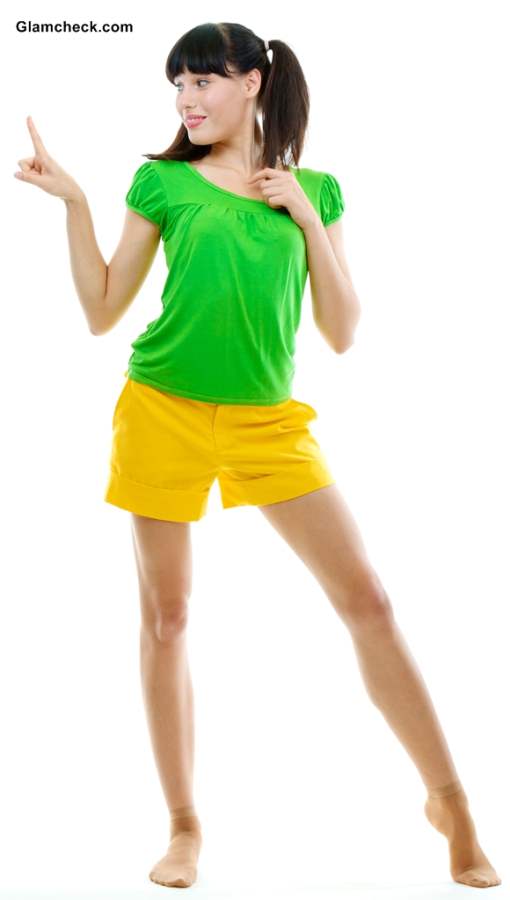 T – shirts to Wear with Yellow Shorts
Carry a hobo bag, and add some chunky bangles and earrings. Sport a cute ponytail or a fishtail plait. You can apply minimal makeup – like a touch of kohl/eyeliner and gloss.
Dressy Look: This look is to be adopted when you plan to go clubbing with your friends or a casual dinner date night. Wear a peplum top or fancy top and put your feet into sexy stilettos.

T shirts and tops to Wear with Yellow Shorts
Carry a clutch and wear delicate jewellery. You can leave your hair open and do them up in curls and waves. Makeup can include nicely done up eyes and your favourite shade of lipstick.
So girls, go out and rule the summer months in your yellow shorts!
Image: Shutterstock