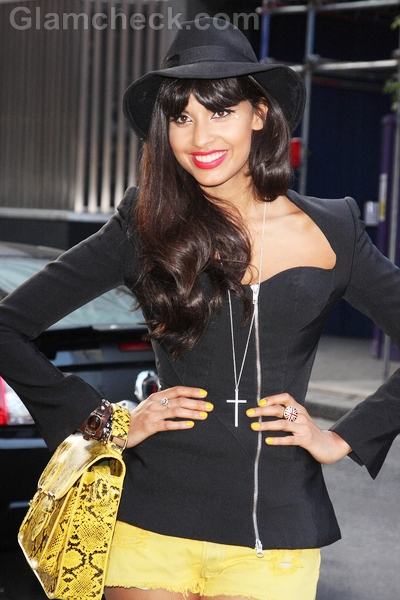 Jameela Jamil in yellow frayed shorts
Jameela Jamil, the 24 year old English TV presenter, represents the UK's youth fashion trends. Jameela was seen at the Reebok Zig Tech and Wallpaper Private View in London, looking trendy and fashionable.
'Jam-Jam', as she is popularly called, does not have a stylist to dress her up. She chooses her own ensembles for events. The leggy model looked very sexy in a black front zipped blouse and a pair of tiny yellow short shorts.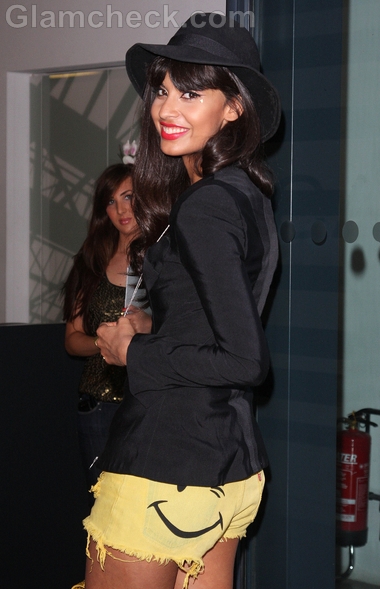 Her style was very young and funky. The ripped yellow shorts had a winking smiley on the back pocket adding a personal touch with high street fashion. The patented-yellow leather hand bag and shorts add colour to the otherwise black ensemble.
She topped the ensemble with a bowler hat, which gave her an offbeat look. The sultry Londoner wore the untraditional ankle length platform boots to complete the look.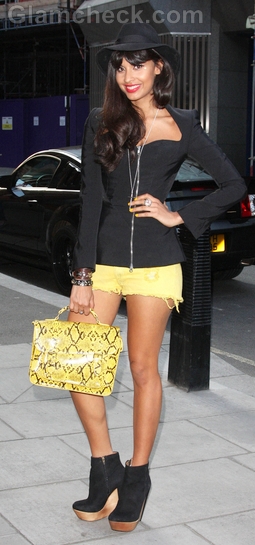 She accessorized lightly with just a long, silver chain with a pendant and chunky bangles, to keep in sync with the theme. Jameela, who is a sucker for retro glam-fashion chose vintage makeup- red lips and tapering eye-liner.  
The look is very casual and can easily be achieve by teaming a stylish blouse and a pair of your favorite  colored, ripped shorts.
Add some glamor with a pair of boots and wear some chunky jewelry to accessorize the look.
Wear retro makeup with red lips and tapered eye-liners.
Feel free to improvise the style with some personal touch.
We love Jameela's unconventional fashion and her unabashed experimenting with new styles. She never fails to live up to the expectations of her fans. This VJ's style is as cool as her job!!
Image: P R Photos