During your pregnancy, you will hear of dozens of prenatal tests but have no clue what they are or why they are done. Some prenatal tests are pretty standard, meaning that all pregnant women will have them done to check whether or not the pregnancy is progressing smoothly. But there are some prenatal tests that are done only when a health problem is suspected due to high risk factors or the presence of relevant symptoms, and a diagnosis is needed for confirmation before proceeding with treatment. An amniocentesis is one such prenatal test that falls into the latter category.
What is Amniocentesis?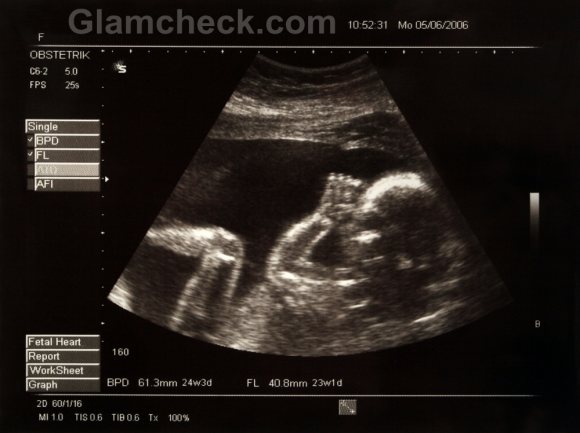 During pregnancy, your baby is safely nestled in your uterus, padded by amniotic fluid – a substance that has the consistency of water. You may have guessed from the name that amniocentesis has something to do with the amniotic fluid. You would be right. Amniocentesis involves removing a sample of the amniotic fluid from the uterus so that it can be tested for abnormalities. The sample allows your doctor to learn about your baby's health.
Done between 15 and 20 weeks of pregnancy, amniocentesis is not recommended unless absolutely necessary since it has been known to cause miscarriage in some cases. Also, the test is painful since it is invasive in nature. We will take a look at that in just a moment. First let's discuss the different types of amniocentesis. Although the procedure for all types of amniocentesis remains the same, the results may differ depending on what the amniotic fluid is being tested for.
Genetic amniocentesis: This type of amniocentesis will give your doctor information about the genetic makeup of your baby. This is particularly important if your baby is at risk for spinal damage or neurological problems. The results of genetic amniocentesis can help you determine whether or not you want to continue with the pregnancy, and if you decide to keep the baby then special prenatal care will have to be arranged.
Maturity amniocentesis: As the name suggests, maturity amniocentesis is used to check whether the foetus is mature enough to be born. Very helpful in case you have to plan an early delivery due to some pregnancy complications.
How is Amniocentesis Done?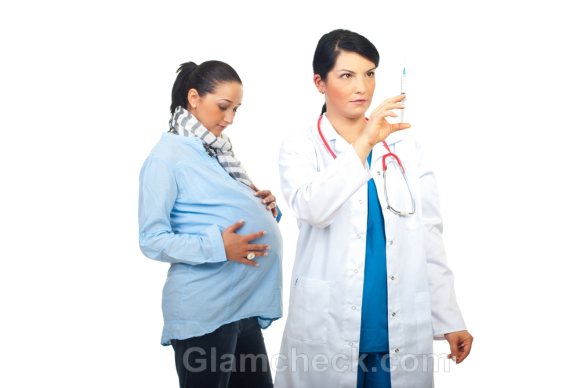 The procedure for an amniocentesis is not for the faint-hearted. First, a small portion of the abdomen will be sterilized with an antiseptic. If you are afraid of discomfort or pain, do not be afraid to ask for a local anesthetic. A local anesthetic will not put you under, it will simply numb the area where the amniocentesis will occur. However, keep in mind that this means you will be getting pricked with two needles instead of one, and that the needle bearing the anesthetic will hurt more than the actual amniocentesis.
Next, the doctor will use an ultrasound to determine the position of your baby and the placenta, a very crucial part of the procedure since the doctor needs to ensure that she does not touch either while conducting the amniocentesis. Allowing herself to be guided by the ultrasound images, she will then insert a long, thin, hollow needle into your abdomen, right through your uterus, until it is well within the amniotic sac. A sample of the amniotic fluid is then quickly collected within a minute, and the needle is slowly withdrawn. You need to be really still during amniocentesis to prevent more discomfort than is necessary.
The whole procedure takes about an hour. But don't panic – it's not a whole hour with a needle down your stomach. The majority of the time is actually spent just locating the baby's position in the uterus as there is no room for mistake here. The sample is sent to a laboratory and you should receive the results anywhere between a few hours to a couple of weeks depending on the type of amniocentesis.
What Does Amniocentesis Detect?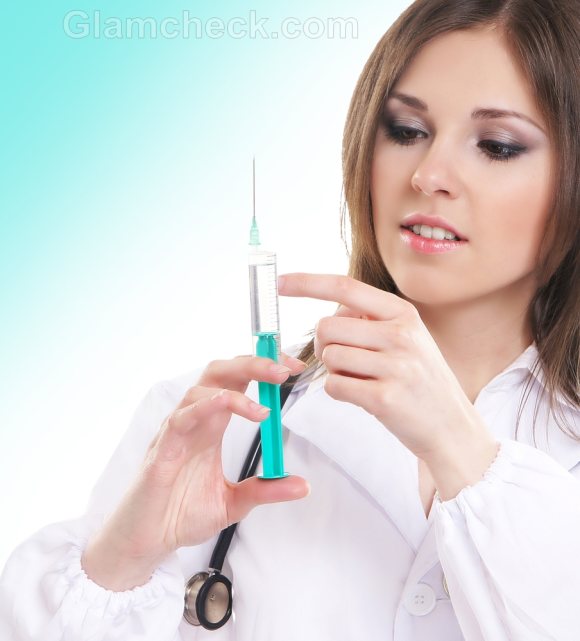 Good question. Although this procedure is a little risky, it nevertheless makes up for it by offering valuable information about your baby's condition. Following are the primary reasons that amniocentesis is done.
The main reason that an amniocentesis is done is to detect chromosomal or genetic disorders such as muscular dystrophy, Klinefelter syndrome, neural tube defects such as spina bifida, cystic fibrosis, abnormalities with the sex chromosomes, Down syndrome, Turner syndrome, and sickle cell disease, to name a few. This would be determined by a genetic amniocentesis.
If you are at risk for preterm birth or preterm labor, amniocentesis may be conducted to check if your baby's lungs are developed enough for it to survive outside the safe confines of the womb. If an early delivery is planned for health reasons, maturity amniocentesis is a useful tool in weighing the possibility of the survival of the foetus.
Uterine infections can be diagnosed by an amniocentesis.
Oligohydramnios is a serious pregnancy complication where there is not enough amniotic fluid in the uterus. This condition too can be diagnosed with amniocentesis.
Amniocentesis also provides a pretty accurate diagnosis of anemia in your baby caused by Rh incompatibility – a serious condition where the mother's autoimmune system produces antibodies that attack the developing foetus.
Although not conducted for this reason, amniocentesis is actually one of the best ways to determine the sex of your baby.
What are the Risks of Amniocentesis?
As mentioned earlier, amniocentesis is a slightly risky procedure. Following are the drawbacks that may be experienced by women who get an amniocentesis.
Miscarriage is the most dreaded risk of amniocentesis. However, this is a very small risk, affecting only 1 in every 500 women.
The needle that is used to perform the amniocentesis may hurt your baby if it pushes its leg or arm in the way. Although the ultrasound gives the doctor a good idea of where to insert the needle so as to keep clear of the baby, an inadvertent kick is truly out of anyone's control.
Amniocentesis may sometimes lead to a leak in the amniotic sac. This may be a small leak and it may just heal on its own. But on the off chance that it does not, the situation could cause orthopedic problems in your baby.
Some women experience very intense cramping after amniocentesis. Vaginal bleeding may also occur.
If you have an infection during pregnancy, your baby is safe from it as the placenta and amniotic sac do their part in keeping your blood and your baby's blood separate and in safeguarding your baby against possible contamination. However, if you have an infection while undergoing an amniocentesis, there is always the risk that the infection will pass on to your baby.
There is also the possibility that amniocentesis may trigger an infection of the uterus.
Amniocentesis has been known to lead to preterm labor in a few cases.
In very rare cases, the baby's blood enters the mother's bloodstream after amniocentesis. This may cause the mother's autoimmune system to produce antibodies against the baby if the mother has Rh negative blood. This can easily be countered with medication, but it is nevertheless quite risky.
So with all the pain and risk involved, is it worth undergoing amniocentesis? This is a question that only you and your doctor can answer. Amniocentesis may be a necessary option if your baby is at high risk of developing abnormalities or if you are at high risk for certain pregnancy complications. In both cases, customized prenatal care may be necessary, or termination of the pregnancy itself. You can hardly make such a decision based only on suspicion. Amniocentesis would confirm or possibly deny your doctor's fears. And the results of amniocentesis are accurate more than 99% of the time, which takes the guesswork out of your pregnancy and puts you in a better position to determine the next course of action.
Preparing for Amniocentesis
You can eat and drink whatever you like before amniocentesis. Your bladder needs to be full so make sure you are at least getting a high intake of fluids if you are not in the mood for food. It is best to have someone accompany you to the clinic/hospital for the procedure so they can offer some emotional support. Plus, you never know how you are going to feel after amniocentesis is done and it would be nice to have someone around to drive you home.
After Amniocentesis
It is advisable to go straight home after an amniocentesis and do nothing for at least 24 hours, preferably for two to three days. Stay off your feet as much as you can and do not lift heavy things. Sex is off the cards, and so is air travel or any other form of strenuous travel.
You may experience some cramping after amniocentesis. Call your doctor if it gets too intense. But otherwise, some period-like cramping is normal after an amniocentesis. Also alert your doctor if you develop a fever as this could indicate an infection, or if you are leaking amniotic fluid as this can have dire consequences. Most women feel fine within a day and are back on their feet resuming normal activity.
How Do I Know If I Need Amniocentesis?
Your doctor will advise you to get an amniocentesis if you fall into any of the following categories.
Women above 40 years of age are at higher risk of having babies with chromosomal abnormalities. So it is strongly suggested that you get an amniocentesis if you are pregnant at that age.
An ultrasound can highlight certain structural defects that are an indication of chromosomal abnormalities. So if your ultrasound shows such results, you should get an amniocentesis.
Any of your past babies have genetic abnormalities? Your doctor will recommend an amniocentesis to rule out possible recurrence in your current pregnancy.
You or your partner may be carriers for a genetic disorder like sickle cell disease. If so, an amniocentesis is right for you.
Amniocentesis is recommended if genetic disorders run in the family.
Some screening tests for the baby can indicate its risk levels for Down syndrome. If your baby is at high risk, you should get an amniocentesis.
Image: Shutterstock