When you're thinking about foods that have a myriad of health benefits, you would hardly think of something like apple cider vinegar. But apple cider vinegar actually has more health benefits than you ever imagined. Yes, this is a surprising revelation for a lot of people. But you will be even more surprised by the numerous health benefits that this sparkling golden liquid can offer. Discover the apple cider vinegar benefits as well as a few counter-indications of this otherwise amazing elixir.
What Is Apple Cider Vinegar?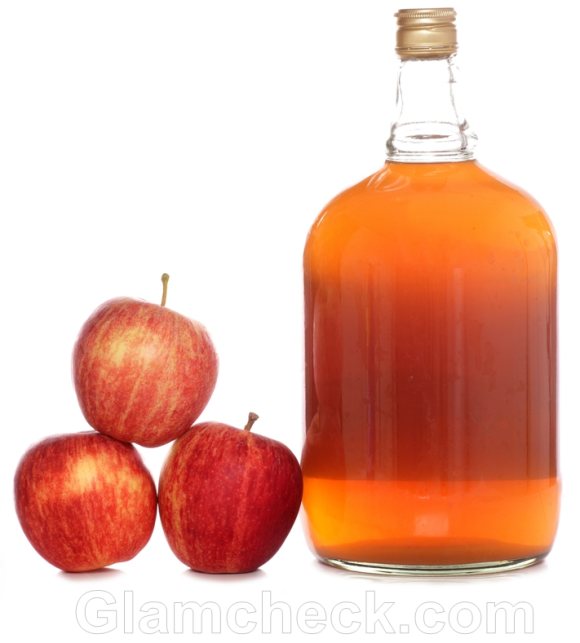 If you are going to eat or drink something or put it in or on your body, you should know where it came from. This is common sense and something most of us should be proactive about especially in the modern consumer culture that relies heavily on harmful chemicals in almost every single product. So even though you know that apple cider vinegar is a natural food, take the trouble to learn more about it before using it for its health benefits.
Now a lot of people may have heard of or even imbibed apple cider vinegar either neat or in their salads and foods. But most folks have no clue what apple cider vinegar really is. Commonly called ACV, apple cider vinegar is simply a type of vinegar that is made with fermented apple cider. Apple cider is nothing more than unfiltered, unpasteurized, unprocessed apple juice with no additives, preservatives or sugar. To make apple cider vinegar, bacteria and yeast are added to apple cider which causes it to ferment. After this, it may be filtered or processed to make it look more appealing to buyers, or it may be left alone to be marketed to the natural and organic demographic.
Organic foods are always preferable. But organic apple cider vinegar is especially recommended if you plan on using the cider for a medicinal purpose or to take advantage of its health benefits. There is no substitute for natural foods that have not been tampered with. So to get the best apple cider vinegar health benefits, go for the organic variety. You can easily find organic apple cider vinegar at the farmers  market, at health food stores, specialty organic stores, and even some large department stores. If you are unable to find organic apple cider vinegar commercially, try locating a person in your city or area who makes apple cider vinegar at home. You can even attempt making some apple cider vinegar yourself – this way, at least you will know for sure that the ingredients are the best and the result is truly organic apple cider vinegar.
But why go through all this trouble for apple cider vinegar health benefits? Can they really be worth the effort? Why not decide for yourself. Let's move on to some amazing and unexpected apple cider health benefits that you probably never thought possible of this usually overlooked food item.
Apple Cider Vinegar Health Benefits
The health benefits of apple cider vinegar have been known long before this century or even the last one. Apple cider vinegar has been used as food but also as effective medication for a variety of ailments for thousands of years. It is only after the proliferation of the pharmaceutical industry that the modern world forgot about these natural remedies and took to popping pills for every little thing. But if you are interested in getting back to nature and giving natural remedies a try, then apple cider vinegar is definitely one of those foods that will help you on your journey. Here are just a few of the apple cider vinegar health benefits. Bear in mind that these are just the most well-known; there are in fact hundreds of health benefits of apple cider vinegar that would fill at least a couple of volumes.
Lose Weight With Apple Cider Vinegar
If you say you are not excited at the discovery of a food item that can help you with weight loss, you're lying. Apple cider vinegar may help you lose weight since it breaks down fat and allows it to be available for use by the body rather than being stored away as fat cells, which is what generally happens. Apple cider vinegar may also boost your metabolism which means that you will burn more calories. Apple cider vinegar also promotes a feeling of satiety, so you will eat less at your meals. Another way that apple cider vinegar will aid your weight loss goals is by detoxifying the liver. An efficiently functioning liver can help you lose weight faster than a liver filled with toxins from years of abuse.
Ease Digestion Issues With Apple Cider Vinegar
Whether you experience regular diarrhea or chronic constipation, apple cider vinegar can ease your suffering. Apple cider vinegar is rich in enzymes and acids that are good for your digestive system.
Natural Heartburn Remedy
Heartburn is a common ailment and most folks just take medication to ease it. But medicine is something that should always be avoided if possible, and especially if you have a much more effective natural remedy to turn to. Apple cider vinegar health benefits extend to easing the suffering of heartburn. Just add a table spoon of apple cider vinegar to about a quarter cup of water for relief.
Apple Cider Vinegar For Skin and Hair Care
You may have been prescribed a ton of medications and creams for acne as a teen. Of course, if dermatologists told you how good apple cider vinegar is for pimples, they would go out of business. No surprise then that a lot of folks do not know that applying diluted apple cider vinegar to the skin with a cotton ball will reduce the incidence of acne and act as an effective toner. What's more, the sulfur in apple cider vinegar can slightly reverse the effects of aging and diminish the appearance of age spots as well. Apple cider vinegar can also help to make cellulite seem less obvious by making the skin appear toned and smoother because of its naturally high levels of alpha-hydroxy acids.
Moving on to apple cider vinegar health benefits for your hair. Shampoos, hair products and hair spa treatments obviously leave a lot of chemical residue on your hair and scalp. This can cause dandruff, hair fall and make your hair seem lifeless. Rinsing out your hair with diluted apple cider vinegar will help to get rid of the buildup, will get rid of dandruff, and will control the pH balance of your scalp thus promoting healthier hair.
Apple Cider Vinegar Health Benefits for Bad Breath
Since it is for most part an acid, apple cider vinegars acidic properties can help reduce the malodorous effects of halitosis. You do not need to use a lot of apple cider vinegar to fight bad breath, and the procedure is not that difficult either. Simply add one teaspoon of apple cider vinegar to 180 ml (approximately one cup) of water and stir. Gargle with this for at least ten seconds and spit out. Redo until all the water in the cup is over.
Fight Body Odor With Apple Cider Vinegar
From bad breath to bad skin to body odor, apple cider vinegar is turning out to be quite the handy addition to any cosmetic counter. Apple cider vinegar is famous for balancing the body's pH levels, thus hindering the development of bacteria that cause bad body odor. Use apple cider vinegar topically to get rid of body odor. Dip a cotton ball in undiluted apple cider vinegar and wipe armpits. You will not smell like a daisy but you won't reek like a skunk either.
Apple Cider Vinegar for Diabetics
Looking for natural ways to lower your blood sugar? Studies have shown that apple cider vinegar is a natural, safe way to reduce blood sugar levels. By default, apple cider vinegar controls the levels of glucose in the body. If you take apple cider vinegar regularly, you may be able to completely cure yourself of diabetes or at least reduce the need for insulin shots and diabetes medication.
Bid Joint Pain Goodbye With Apple Cider Vinegar 
Arthritic sufferers are not the only folks who suffer from joint pain. Joint pain can hit anyone at anytime because of overworking them, bacterial infection, cellular waste around the joint, or simply due to aging. Apple cider vinegar can greatly reduce joint pain as it makes the arteries stronger and allows healing blood to flow to wounded or painful areas faster, thus promoting pain relief and recovery. To get the apple cider vinegar health benefits for joint pain, simply add a table spoon of apple cider vinegar to half a cup of water and drink this concoction at least thrice a day before your meals. The same properties in apple cider vinegar that help reduce joint pain can also alleviate the symptoms of gout.
Good for Your Blood, Heart and Health
Apple cider vinegar health benefits include lowering of blood pressure and a dramatic decrease in bad cholesterol. And since high levels of cholesterol put you at very high risk for heart disease, taking apple cider vinegar can protect your heart in the long run.
Other Apple Cider Vinegar Health Benefits
Fights bacteria, thus reducing infection
May strengthen the immune system
Helps in the treatment of sore throat and sinus problems
Possible Side Effects of Apple Cider Vinegar
Sadly, even natural remedies for health problems can have side effects. Sometimes it is simply a matter of using the remedy improperly, sometimes side effects may be the cause of a food allergy. The reasons are not always clear. However, it is always a good idea to at least be aware of them so you are not caught unawares. Following are some of the most common apple cider vinegar side effects.
Because apple cider vinegar is acidic in nature, research suggests that drinking it over a prolonged period of time can damage the enamel on your teeth, thus making them yellow and stained. It can also make your teeth more sensitive to hot and cold foods.
Undiluted apple cider vinegar is recommended as a treatment for certain health ailments. If taken consistently for many years, it may cause some damage to the digestive system mainly the esophagus.
If using as a topical application, apple cider vinegar must be diluted in water otherwise it can cause the skin to burn.
This apple cider vinegar side effect has not been tested on humans, but scientist who conducted experiments on animals found that regular and excessive use of apple cider vinegar in smaller animals caused damage to their livers and stomachs. However, animals have much smaller organs and their constitution is different from that of humans, plus these animals were overdosed on apple cider vinegar. For these reasons, this apple cider vinegar side effect may not be applicable to humans.
For reasons unknown, apple cider vinegar seems to affect people who have a history of food allergies. So if you know that you are susceptible to allergies, use minimal amounts of apple cider vinegar.
Some doctors and researchers claim that apple cider vinegar lowers potassium levels and can thus cause certain pharmaceutical medications to have toxic effects. Patients who are on blood pressure medication, heart medication and diabetes medication should speak to a qualified naturopath before taking apple cider vinegar for its health benefits.
There have been a couple of cases where apple cider vinegar was positively linked to a lowering of bone mineral density. This could increase the risk of osteoporosis.
Yes, these apple cider vinegar side effects do seem rather scary. But remember that they will only occur  if you are taking apple cider vinegar on a consistent basis for many, many years and in very large quantities. If you use apple cider vinegar to tackle a health problem once in awhile it is very unlikely that you will suffer any of these apple cider vinegar side effects while gaining the apple cider vinegar health benefits. You should, of course, test yourself for an allergy to apple cider vinegar before using it for its health benefits. Otherwise, there is really nothing to worry about. And if you are suffering from a health problem, you should always consult with a qualified health care expert before using apple cider vinegar to treat your illness.
Image: Shutterstock