If summers are really hot where you live, then you already know that one of the biggest challenges during the hot months is simply staying fresh. Two hours after your morning shower and you already feel like you've been running around in a jungle for a week, so intense is the heat and often the humidity and so equally heavy is the sweating that follows. In places with very high humidity, it is not unusual to feel yucky a mere five minutes after you've had a bath. So you can imagine how hard it must be to stay fresh throughout the day.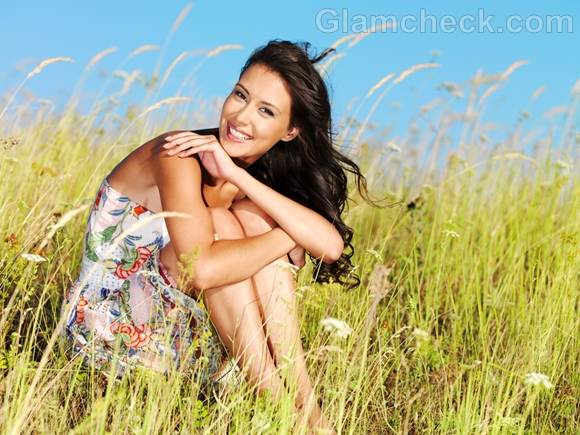 Staying fresh in summers is not just about one or two things. There are several aspects of your lifestyle and habits that you have to alter if you want to look and feel fresh through the hot season. There's your diet, sleep, your clothes, personal hygiene and makeup, etc. Some of these tips may seem rather obvious but we'll include them anyway because usually it's the simple ideas that are hardest to follow and they are the ones we tend to overlook the most. You'll also find other tips that you probably did not think were connected to staying fresh in summers.
Tips on How to Stay Fresh in Summers
Take Showers Often
Not all of us are lucky enough to get a summer vacation. But if you do not work or if you are at home in the summer, then one of the simplest ways to stay fresh is to take several cold showers during the day. Don't use soap – just let that glorious cold water soak into your skin and towel off.
Wear Cotton Clothes
Cotton is the perfect fabric for your summer clothes. It is light, it comes in a range of colors to suit your summery mood, it is a very cooling fabric so it will prevent your body from over-heating and even if you do sweat, it will absorb perspiration and keep you fresh. Remember to wear lighter colors as these help to deflect heat from the sun while darker colors capture heat.
Also remember to wear cotton panties. Ditch those nylons and other synthetic materials for the summer. Excessive sweating in the groin – which is common in hot places – not only makes you feel dirty they can lead to infections too.
Stay Cool with Perfume
Procure a small vial of your favorite perfume and carry it with you when you are out. Put it in the fridge when you are not carrying it around. There are two ways in which perfume helps you stay fresh in summer. First, the cool spritz on your wrist, shoulder blades and neck is heaven in itself. Second, the fragrance uplifts your mood and that makes you feel fresher. The power of smell is an important one and should not be downplayed when it comes to feeling good. This brings us to our next tip.
Use a Deodorant
You are bound to sweat in the summer. There's no way around it unless you can live in an air-conditioned environment 24/7, which isn't very healthy. We tend to feel very dirty and sticky when we sweat. What's more, sweat can leave your clothes and you stinking. Always keep a deodorant handy so you can swipe it on when you feel like you need it. You'll be surprised at the difference it makes to your mood and your confidence.
If possible, use a deodorant with an antiperspirant formula. This will prevent you from sweating too much and will help you stay fresh for longer.
Get Rid of Body Hair
This isn't an anti-feminist thing it's simply facts. Sweat can, and does, collect in the hair on your body and make you feel yucky faster. You will also smell more if you have body hair. So shave, wax, use a depilatory or invest in laser hair removal – it will all help you to stay fresh in summers.
Don't Wear Foundation
Makeup should be minimal in the summer. One of the ways a fresh look goes bad really fast is if you wear foundation. It is simply too heavy for hot, humid weather. So ditch the makeup foundation in the summer months.
However, you do need flawless skin to look fresh and dewy so use a concealer to mask flaws like discoloration or tiny scars.
Carry Blotters…
The heat and humidity will make you feel sticky and make your face shine. Your nose and forehead will be reflecting light like nobody's business. If you already have oily skin, the problem will exacerbate. Blotters are much better to cover up that shine than powder. Powder will mix with your sweat and get cake-y, it will get into the creases of your skin or any tiny scars that you may have and can look really, really bad.
…As Well As Wet Tissues
You will need a bathroom often to wash your face but you may not conveniently be around one. Or maybe your busy work schedule just does not give you time to run to the bathroom to freshen up. Wet tissues can be short-term solutions for such times. Just make sure that you buy quality wet tissues as the very cheap ones can end up drying your face, which by the way makes your skin even oilier as your glands attempt to balance out the dryness. Also see if you can find wet tissues with formulas that suit your skin type, for example, aloe vera for problematic, oily skin.
Keep your hair off your face
Your hair plays a huge role in your ensemble and in keeping you looking fresh. Greasy, dull hair that hangs limply on your head – which is actually quite normal for most people in the summer – is plain icky. So follow a few simple tips to keep your hair looking good so you can stay fresh too.
Firstly keep your hair clean. Leaving your hair dirty is the worst thing you can do in the summer because the heat will make it pick up dirt faster and it will get greasy. Learn more with Summer Hair Care Tips.
Next, wear cool summer hairstyles like top knots, classic ponytail hairstyle, messy buns – anything that will keep the hair off your face. You sweat on your face too. Your hair can easily mix with your sweat and stick to your face, giving you a grunge look which may not be the best thing to aim for if you want to look fresh. Try a trendy headband but avoid the ones with teeth as these can give you a headache when you wear them all day. How about trying a crocodile or banana clip – one simple swoosh and all that hair is off your face and tied back in a fun do.
Another reason that updos work well in the summer is because they'll keep the hair off your neck. If your neck remains free of your hair you will feel cooler and fresher as when your neck is cool, it cools the whole body. This will make you tire out less easily and you'll feel fresher than if you leave your hair loose.
Sip on Cooling Beverages Frequently
One of the main ways that we wear ourselves out – and thus end up looking jaded – is by not hydrating enough. Water is the best thing you can do for your skin and health and to stay fresh in the summer. So carry a bottle of water with you everywhere you go and sip on it frequently. Don't wait till you are thirsty to drink.
Because you sweat so much, your body loses electrolytes and sugars and this can serve to make you feel tired too. Drink a glass of lime juice for an instant pick-me-up. Also try out some cool and healthy drinks for summer that will taste yum, keep you hydrated and help you stay fresh.
Don't Eat Heavy, Spicy Meals
Your diet during the summer is one of the main factors that will determine how fresh you can stay. Eating heavy, spicy meals is a strict no-no when it's hot because it is just too taxing on your digestive system. You will begin to feel lethargic and perhaps nauseous as your digestive system rebels. Your skin will get dull and pasty and even oilier. You could even break out if you have sensitive skin. You're not going to be able to cover this kind of dullness with makeup. So do you a favor and eat lighter meals during the hotter months – salads, soups, juices, fruit meals, lean meats are all wonderful, healthy summer food options. For more on what you should eat and what you should avoid during the summer to stay fresh and healthy, read our article on Summer Diet.
Get a Good Night's Sleep
You know this already – heat wears you out. You will notice that you get more tired in the summer than during other seasons. What's worse is that it can be very difficult to sleep in the summer because the heat can keep you up. All this serves to wear you out even more and prevents you from staying fresh. It is important that you get a good night's sleep if you want to stay fresh through the day. See our article on How to Sleep Comfortably during Summers for more.
Don't Stress Out
Stress can seem like a vicious cycle with no end. The more you stress out mentally, the more your body suffers. Your mind and body are not separate things which you can deal with separately – the condition of one inevitably affects that of the other. So, if you are raging about a bad day at work or worrying about the bills, your temperature will rise and you will see the results as you feel more tired and dull. Practice meditation, get a calming hobby, and avoid situations that trigger anxiety, spend time with people whose company you enjoy – do anything you have to in order to remain mentally composed and you will see for yourself how you are able to stay fresh for longer.
Other Tips to Stay Fresh in Summers
Carry a hand fan whether it's battery-operated or one of those delightful paper fans with Victorian impressions or Japanese motifs. You'll look pretty and keep fresh. Every time you feel like you are close to over-heating, simply fan yourself for a few minutes for instant relief. You'll be doing your body a huge favor, giving it a helping hand in keeping you cool which will in turn help you stay fresh.
When it gets really hot and you don't have time to take a shower or wash your face, use the time-tested method to freshen up – dab a damp cloth against your neck and forehead. Carry a clean towel with you solely for your face so that you do not have to resort to dirty handkerchiefs or tissue paper. As we mentioned earlier, cooling your neck will cool your body. Cooling your forehead with a damp cloth will have the same effect. Try dousing your towel in ice cold water for a truly refreshing experience.
Wear sunscreen. If your skin is protected from the harsh UVA and UVB rays of the sun, you are less likely to get sunburn and suffer from skin damage. Sunburned or even damaged skin can look really bad and make you feel un-fresh even when you are clean and cool. So this is one of those stay-fresh tips that is more of a preventive measure.
The same principle applies with moisturizer i.e. it's a preventive measure. Because it's so hot and we're so sweaty, we tend to avoid moisturizer thinking we don't need it or that we'll look greasy. If the latter is true then buy a water-based, anti-shine moisturizer, but do not avoid it. The sun is quite literally evaporating the moisture from the skin so it could use some help with hydration.
There are many stay-fresh tips across the world which we may not be aware of and which may not be included here. If you know of any other cooling, refreshing gems that we've missed out on, do your fellow sweltering humans a favor and post it in the comments.
Image: Shutterstock