The best thing about summer is not the beach parties or the barbecues but the amazing natural beauty of the season. We may swelter in the heat, but it does wondrous things to the land, trees, water and sky. That's why so many of us choose summer to go on vacation – because it's just too darn pretty outside to be stuck indoors working. Since summer makes you want to be outside so much, why not change your summer workouts to adapt to that lifestyle for the next few months? Working out outdoors is more beneficial for your body than working out indoors, plus the summer workouts we're going to talk about today will burn oodles of calories and have you looking great in your skimpy summer clothes.
Fabulous Summer Workouts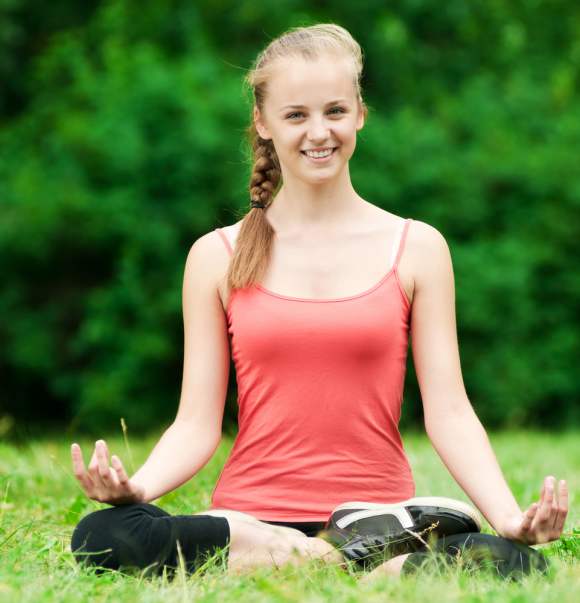 First, let's take a look at what constitutes a great summer workout.
Since it is very hot in the summer, it is crucial that you do not over-exert yourself. So your summer workouts should be brief while still effectively targeting your whole body.
As your summer workouts have to be shorter, the activity you indulge in should be intense enough to burn more calories in a shorter amount of time.
Summer workouts are best done outside. Leave your indoor workouts for the monsoon and the winter when it's too wet, mucky and cold to set foot outside your home.  
Finally, it should be fun! You have a whole long summer stretching out in front of you so you may as well get into a workout that you enjoy.
Now we can move on to the summer workouts that incorporate all three factors. Most of these are so much fun that you will not even realize that you are exercising, which is exactly what a successful exercise routine should be like.
Brisk Walking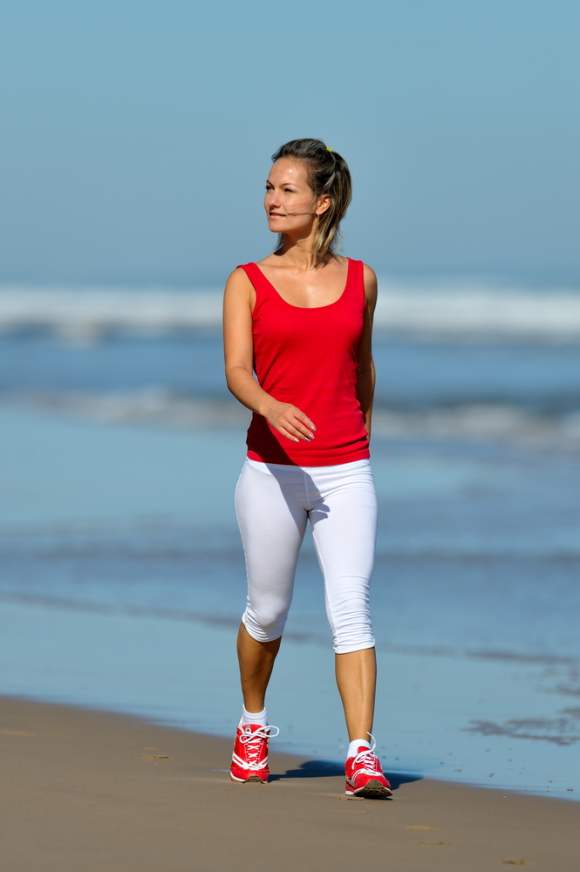 Do not underestimate the benefits of walking. While it is not as effective as burning calories as other summer workouts, brisk walking can still pack quite a punch. You can burn 100 calories with 20 minutes of brisk walking. If you are otherwise quite slim with a good metabolism and you just need to exercise for benefits not related to weight loss, then brisk walking is one of the best summer workouts for you. What's more, it is a low-impact exercise so you can do some pretty intense brisk walking sessions even if you have problematic joints.
Biking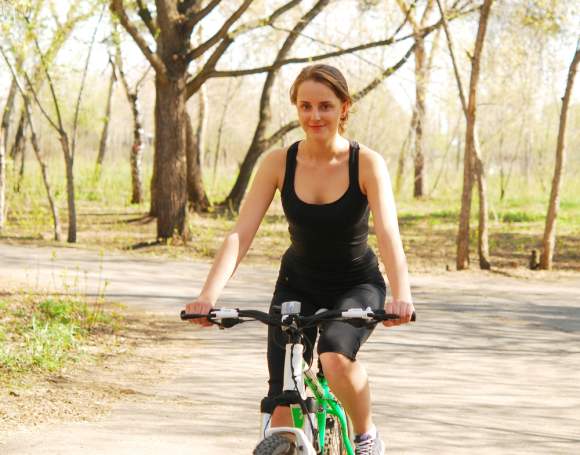 You could get a stationary bike, but when there's a glorious summer day to be enjoyed you should pull out your old bicycle and make riding around a daily affair. Cycling is very good to burn off calories while at the same time not putting too much stress on your knees and ankles. If you are on vacation, biking is a fantastic way to see a new place. You will see the more intimate sights of the city or town you are visiting, plus you will be building muscle and burning fat. Bike on vacay and you'll be the only folks who return from your holiday looking better than when you left. Holiday weight? What holiday weight?
Swimming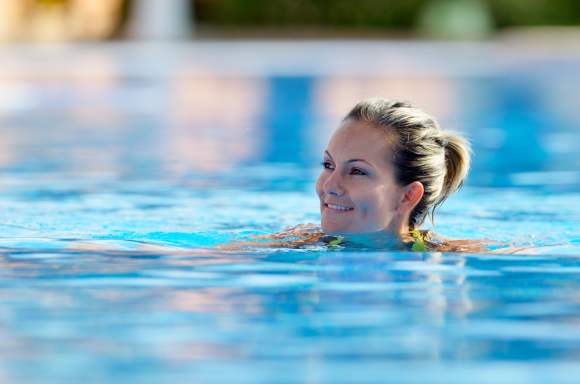 A splash in the pool is a god-send in the summer. So why not hang out there for longer periods of time and get your summer workout while you're at it? Swimming is another low-impact exercise which will not damage your joints even in the long run. From the very young to the very old, everyone can safely swim for exercise. If swimming is going to be your chosen form of working out in the summer, then go the pool when there isn't much of a rush so you can do a few uninterrupted laps. Or you can just go to the beach and swim in the ocean – a better workout since you have to work extra hard to fight the tides. However, be assured that you'll be getting quite a workout in the pool even if you do no more than splash around and play. Make sure you wear a swimming cap to protect your hair from the chlorine in pools.
Running
Jogging and running have always been popular year-long workouts. Again, a great calorie-burner with the addition of being a mood-enhancer. Although any kind of exercise will make you feel wonderful because of the release of endorphins (happy hormones) there's nothing quite like the runner's high. Try to find a running route that is shaded by trees. Avoid running on asphalt roads or paths as they trap heat, which can make you feel hotter and dehydrate you.
Kayaking/Boating/Canoeing/Water Skiing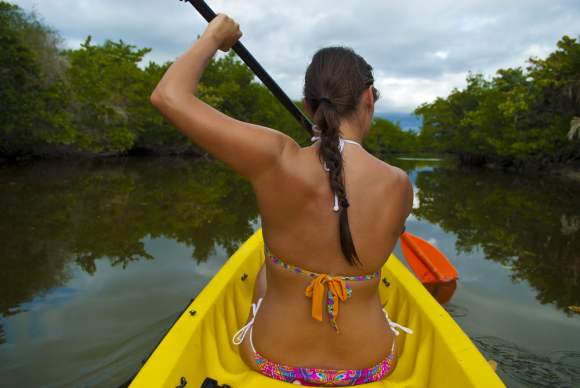 If you're going to a lake or by a river for your summer vacation, then you have the opportunity to indulge in some of the best summer workouts through a variety of water sports. Whether you go white water rafting on the rapids, boating or canoeing across a calm lake, or choose to kayak down the river, you'll be getting an amazing workout for your shoulders and upper body. Water skiing will work your arms, back, glutes, thighs and calves. Not that you'll notice; you'll be too busy trying to stay on those skis!
Rock Climbing
This is one of the more unconventional summer workouts, we'll grant you that. But rock climbing is fast becoming a preferred exercise in places that have natural rock formations. Many cities will now also have rock-climbing classes with indoor scaling props that imitate the real thing. So why is it so popular? Maybe because it exercises every single muscle in your body. Or maybe because this is one of the only summer workouts that will burn a whopping 250 calories in just 20 minutes of moderate effort.
Play with a Frisbee
You'll need company for this one. Simply tossing the Frisbee around can also constitute a regular summer workout since there is some running involved.
Outdoor Sports
Learn how to play tennis, shoot some hoops, score some goals. Basketball, football, volleyball – any team sport with a ball that has you running around is a great calorie burner. You'll be having so much fun that you will not even realise that you are exercising.
Skating
If you are a little more adventurous, you could try skating as one your summer workouts this year. You might not think it, but skating actually works your lower body really hard. Your glutes, thighs and calves have to really pull themselves together to keep you balanced and moving. So if you keep it up, you'll be lean in no time. Just make sure that you have all the appropriate safety gear to protect your knees, elbows and head. A bad fall could have you laid up for weeks, so there goes your summer and all your summer workouts.
Summer Workouts Indoors
OK, let's face it. Not all of us can work out outside during the summer. It's very likely that most people live in crowded cities and that they will not get time off during the summer. Plus, there are many places in the world, especially around the equatorial region, that simply get too hot to even think of stepping outdoors to exercise no matter what time of the evening or early morning it is. So either for lack of time or convenience, all the summer workouts listed above are out. Now that does not mean you sit your fine behind down and not move for the next few months. If you are really motivated, there are always options.
Join a Gym
This may not appeal to your sense of adventure, especially after reading about all the other cool summer workouts above. However, you can use your imagination to pretend you're running down a picturesque road shaded by a canopy of trees while you are on the treadmill. Or you can think about being in a boat while you're sweating it out on the rowing machine. Gymming can be more fun if you have a partner to go with you or if you have a really good trainer. A gym can give you a full body workout that's just as effective as the outdoor summer workouts, although not quite as fun.
Dancing
With summer come the holidays so you will probably see a lot of hobby classes coming up which cater to the rise in summer demand. Summer dancing classes will definitely be offered by gyms, dance schools and even individuals looking to make some extra money. Dancing is a fantastic full body workout and the music ensures that you lose your sense of time too. There's no need for a class even. Just put on your favourite dance music and get jiggy with it on the beach or by the pool with friends or alone in your living room. This is one of the only summer workouts that you can do while you party! Now that's something we can all get with.
Take Care during Your Summer Workouts
It's easy to forget to take precautions against the summer heat when you're having fun with these awesome summer workouts. Here's a reminder of a few things you should be doing to ensure that you do not faint, get burnt or fall ill while exercising in the summer.
Dress comfortably for your summer workouts. Your clothes should be made of breathable natural material. They should not be too tight or too loose.
Remember to sufficiently hydrate before, after and during your summer workouts. Carry a bottle of water with you and take small sips from time to time.
Since most of your summer workouts will be outdoors, ensure that you slather on some sunscreen with at least SPF 15, preferably higher. It is best to use water-proof or sweat-proof sunscreen since you will sweat off the regular variety. Don't forget to apply sunscreen on the back of the neck and on the ears too.
If your hair is very short, then wear a hat or a bandana during your summer workouts as the sun can burn your scalp. People with longer hair do not generally have this problem since their hair gives them sufficient cover.
If possible, try to vary your workouts. Go running one day and kayaking the next. Bicycle to a good spot for a picnic or take your family to a vacation by the lake where your fun activities like swimming or boating are your workouts.
Try to schedule your summer workouts in the mornings or evenings. It gets too hot between 10 am and 4 pm to safely exercise and you are more likely to over-exert yourself and get dehydrated or suffer from muscle exhaustion.
Image: Shutterstock