Coconut water is a popular beverage mainly in Southeast Asian countries and other tropical regions of the world where coconut trees grow in abundance. It is a by-product of young coconuts, i.e., coconuts which are still not ripe and have no white, soft flesh yet. Eventually, the inside of the coconut will absorb this water and transform into the coconut flesh that most people are more familiar with. When you crack open a young coconut – which you'll identify by its still-green exterior – the cavity will be filled with a sweet-tasting almost-clear liquid which hosts a plethora of vitamins and minerals which are good for you. Let's take a look at what some of these are and the health benefits that they impart.
Why Coconut Water is So Good For You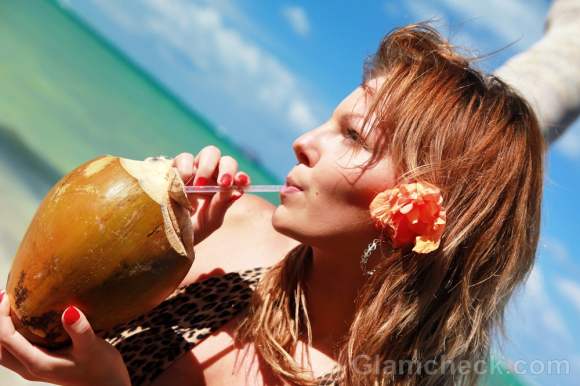 Science has already uncovered several health benefits of coconut water and it continues to reveal that this simple beverage alone is almost as beneficial for overall body functioning and well-being as water. Now that's quite a claim to make considering the numerous and well-known benefits of water and how essential it is to life itself.
High in Nutrition, Low in Calories
That's a rare combination in a delicious food item. Because it is low in carbohydrates with zero fat content and low in sugar to boot, coconut water is the ideal drink for diabetics as well as those watching their weight. In addition, coconut water has the following minerals and vitamins which can help to fight a number of major and minor ailments.
Vitamin A
Vitamin C
Iron
Glucose
Magnesium
Lauric acid
Chloride
Sodium
Potassium
Phosphorous
Calcium
An Incredible Detoxifying Agent
Coconut water can neutralize toxins and poisons in the blood stream and body like nothing else can. Ask the scientists why and they'll admit they're baffled, but they will not deny that this is indeed true.
Aids the Digestive System
Coconut water is a natural remedy for several digestive issues ranging from constipation to intestinal worms. Its high mineral content provides your body with the pure fuel that it needs to regulate its systems and replenish its organs. This means that whether you are suffering from diarrhea or constipation, coconut water can bring you relief. Just have one cup twice a day.       
An amazing alkalizing agent, coconut water can help to counteract the uncomfortable side-effects of a highly acidic diet. Those suffering from ulcers or heartburn can benefit greatly from a glass of coconut water or two a day.
Since coconut water is a natural antiprotozoal and antibiotic, it it very effective in fighting intestinal worms or parasites that breed in the gastrointestinal tract, especially in children. To get rid of worms, simply stir a teaspoon of virgin olive oil into one cup of coconut water. One cup a day of this concoction for three days should do the trick.
Helps with Weight Loss
Half the battle with weight loss is won by having a good digestive system. We've already seen that that is something coconut water can do. Something else that coconut water does to aid weight loss is to increase metabolism. So if you are struggling with losing weight, you may see your efforts gain new momentum with a daily cup of coconut water.
Builds Immunity
As we have seen, the vitamins and minerals in coconut water clean up your system and provide your body with what it needs to keep you healthy. This means that your immunity will naturally improve as a result. Also, coconut water is anti-bacterial, antibiotic, anti-protozoal and anti-viral while still being absolutely natural and in harmony with the chemical balance in your body. Because of our questionable modern diets and polluted environments, our bodies are subjected to a host of nasty organisms on a daily basis. These may not manifest as major illnesses but they are still wreaking havoc on the inside. Coconut water can stop them in their path. That is why coconut water is recommended for those who are recovering from major surgery or illness or who are at risk for diseases.
Replenishes Electrolytes After Exercise
Our bodies need a balance of several electrolytes to function properly. The muscles, heart and both the immune and nervous systems need electrolytes for optimal health. When you exercise, your body releases the electrolytes through your sweat. If you follow a truly healthy diet, then the electrolytes are replaced through the food you eat. However, most of us are quite relaxed in our food habit even if we are fitness-conscious so those lost electrolytes stay lost as there is not enough nutrition in the food we eat to sufficiently replace them. Even if you do follow a healthy diet, making conscious efforts to replace those electrolytes will help your overall health and even your fitness routine in the long run. Coconut water has those missing electrolytes in abundance.
Aids in the Absorption of Medication
The very same electrolytes that rejuvenate the body after exercise can also increase the concentration of drugs in the blood. So when someone who is on medication drinks coconut water, it allows the drugs to perpetuate faster and thus heal quicker too.
Wards off Fatigue
A gentle but effective energy booster, coconut water refreshes you from within and increases your energy levels without side effects. This is mainly because of the abundance of minerals in coconut water. Often, fatigue is caused by stress and anxiety. Coconut water contains B-vitamins such as folate, B-6, thiamine, pantothenic acid, riboflavin and niacin – the very vitamins that research shows can help to lower stress. This is turn can help you feel less fatigued over time.
Improves Vision
A little known fact is that coconut water is good for the eyes. It can help relieve the symptoms of cataracts and glaucoma simply by administering coconut water to the eyes with an eye dropper once  a day and lying down for about ten minutes with the eyes closed. (plz consult an eye-specialist)
Fights Acne and Skin Problems
Remember we said that coconut water neutralizes toxins? Because of this wonderful ability, it work wonders for the health of your skin as many skin complaints like acne, boils, blackheads, rashes and dryness are sometimes caused by toxins introduced into the body through the environment, pollution or food. So by drinking coconut water regularly, you can also maintain the health of your skin, helps to cure any existing skin troubles and keep them at bay in the long run.
Here's a coconut water recipe for getting rid of pimples. Stir 25 gm of turmeric powder into a glass of coconut water and leave it overnight. The next day, stir in 3 teaspoons of sandalwood powder and again leave it alone for 3 days. At the end of that time, strain the mixture through a couple of layers of muslin cloth. Store the resulting liquid in a glass bottle and keep in a cool, dry place. Apply this on your face twice a day and you'll soon see a difference in the amount and/or intensity of pimples.
Keeps Wrinkles at Bay
Another reason that coconut water will give your skin a healthy glow is because it contains a substance called cytokinin. Cytokinin is what regulates the growth and division of cells in plants. This very same substance has also been found to help repair aging skin by keeping a healthy balance of pH levels in the skin as well as strengthening and hydrating connective tissue. What this basically translates into for skin care is that you can reduce or avoid wrinkles, stretch marks and even cellulite by drinking coconut water regularly as well as applying it directly on your skin.
Lowers Blood Pressure
Coconut water has twice the amount of potassium that a banana does and less than one-fourth of the calories. Potassium is especially helpful to those who need to lower or maintain low blood pressure. It also improves blood circulation.
This one health benefit alone is quite a boon because low blood pressure means a lower risk of heart problems and stroke. Another reason it is good for the heart is because it has no fat and no cholesterol.
Has Anti-Inflammatory Properties
It can thus help in rapid healing in case of injuries and burns as well as reduce pain caused by arthritis and osteoporosis. This is another good reason that it is recommended for those recovering from surgery as the coconut water protects the surgery wounds from getting inflamed and also boosts healing. This property of coconut water also makes it an excellent home remedy for a fever as a fever is nothing more than the body's way of reacting (inflaming) because of an infection. In fact, hundreds of thousands of lives in third-world countries – where even the most basic medicines are not available – have been saved simply because coconut water was used to reduce a high fever.
Fights Kidney Disease
This is a health benefit of coconut water that is applauded by natural health advocates. Coconut water's detoxifying abilities also allow the kidneys to be cleansed out, thus keeping them functioning optimally. Since it is also an alkalizing agent, coconut water is effective in dissolving kidney stones and preventing future ones from forming.
Prevents Urinary Tract Infection
Coconut water, being a natural diuretic, increases urination which actually helps to significantly reduce chances of urinary tract infection. This is especially beneficial for pregnant women who have to take great care to avoid all kinds of infection for the safety of their unborn babies.
Regulates Hormones
The antioxidants present in coconut water regulate thyroid functioning which in turn regulates the production of hormones in the body. This is an exceedingly important function as even the slightest imbalance in hormonal production leads to a host of problems which have the potential to lead to even bigger medical conditions.
Super-Hydrating Beverage
Coconut water does an unbelievable job of hydrating the body. Several diseases which cause dehydration can be fought with coconut water. Cholera, influenza and dysentery are just a few examples.
Because of its super-hydrating powers, coconut water is given as a preventive measure to those who have the most to lose from getting dehydrated like pregnant women, the elderly and those suffering from or recovering from an illness. It is also safe enough to be given to very young babies.
Here's a really interesting fact about coconut water. In third world countries where medication is hard to come across, coconut water has been successfully introduced into the body intravenously to hydrate patients who are unable, for whatever reason, to eat or drink normally. Since the coconut water is ensconced within the thick coconut shell, it is sterile and thus quite safe for intravenous hydration. The coconut water can help to replace, to a degree, the nutrients that the patient has lost from being ill. In many cases, this has actually helped to save lives. The reason that this is possible is because coconut water has basically the same minerals as those that are present in human blood.
For Best Results
There are several packaged varieties of coconut water available now. You cannot guarantee what is being done to the coconut water or what extra rubbish is being added to it from the time it leaves the coconut to the time it is packaged. So avoid them and stick to fresh coconut water for the best health benefits.
Once the coconut water has been extracted from the shell, it is best to consume it as quickly as possible as the longer it is left out the more nutrition it loses. This is indeed true of all natural foods. So don't crack that coconut till you are actually ready to drink the water within.
Coconut water can be consumed a little later if it is refrigerated in an air-tight container. In such cases, nutrient content would be retained for up to 12 hours.
By all means begin to include more coconut water in your diet but do not count on getting all your nutrition from coconut water alone. Your diet needs to include a variety of fruits, vegetables, grains and pulses so that your body can get from one food what is lacking in another.
Image: Shutterstock