No one wants to look in the mirror and be confronted by the ravages of aging in the form of wrinkles. Wrinkles make you look older and worn out. They can rob you of your youth and beauty and once they start appearing they just seem to spiral out of control and take over your skin. If you can age gracefully, kudos and respect. But most of us are trying to hold on to the supple, clear skin of our youth for as long as we possibly can. There are ways to avoid wrinkles, not completely but to enough of an extent that it's worth the effort. But before we get into ways to avoid wrinkles, let's briefly cover why wrinkles occur in the first place.
What Causes Wrinkles?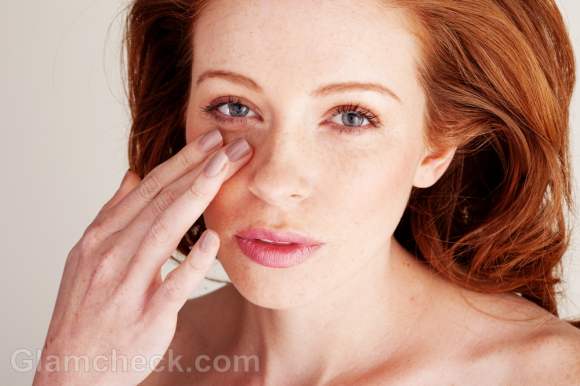 If you know the cause of wrinkles, you then know how to avoid wrinkles since you can recognize the factors which are under your control and which are not. So let's take a look at some of the main causes of wrinkles.
Exposure to the sun
This is by far the most common and main reason that people develop wrinkles. The sun emits harmful ultraviolet rays that penetrate the skin and damage skin cells. In time, this repeated exposure to the sun causes your skin to lose its elasticity and the ability to regenerate strong, healthy skin so you develop wrinkles. Those who make attempts to steer clear of the sun do not develop wrinkles as fast or as deep as their sun-exposed counterparts. Some factors that can affect your exposure to sun include your haircut, the type of head gear you don, the clothes you are in the habit of wearing and where you live (the tropics receve harsher sunlight).
Smoking
It should come as no surprise that smoking causes wrinkles. Smoking is totally horrible for your health and one of the worst things you can do if you want to avoid wrinkles. Smoking breaks down collagen, which is what keeps your skin young and supple. We'll see more about collagen in a bit. But it's not just smoking you should avoid. Remember that your skin is an organ that absorbs everything in the surrounding atmosphere. So you may be a cigarette virgin, but if you hang around people who smoke, that second-hand smoke will cause just as much damage to your skin as if you had smoked a pack a day yourself.
Dehydration
Your skin needs water. And that is one of the few things most of us fail to provide it with. We go all out to buy the latest creams and lotions and undergo various skin treatments including spa sessions and surgery. But how about the simpler option? How about just giving your body at least two litres of water a day so that your skin gets hydrated from within? Not having enough water is not only unhealthy for your organs it is also harmful to your skin. So down a couple of litres of water a day, more if you exercise, to get that inner glow.
Certain medications
Unfortunately, many medications that heal us also cause certain unavoidable side effects due to the level of toxins (yes, many medicines contain toxins) which damage the skin and prevent it from retaining its youthful look.
Facial Expressions
Do you frown a lot or smile a lot? Or maybe you have certain facial expressions which are a habit with you. Your habitual facial expressions have a huge role to play in the development of wrinkles. Every time you make a facial expression, voluntary or involuntary, it forms a groove in the skin on your face which will get deeper and deeper as time goes by, thus leading to wrinkles.
Age
Ah, the great leveller. Rich or poor, tall or short, gorgeous or ugly – we all will suffer the ravages of aging. Wrinkles are just one of the signs of aging. It all has to do with collagen, which we mentioned before and which we will look at in a little more detail now.
Collagen is a protein that causes the skin to spring back into shape after it goes into a crease or a fold from frowning, smiling and other regular movement. Without the same amount of collagen, the skin does not spring back and the folds and creases just stay there since there is no collagen to plump them back out. As we age, the body produces less and less collagen. Which is why the skin of older people is a mass of wrinkles – there just isn't enough collagen to fill out the folds and creases.
Genetics
If your parents developed wrinkles early on, then you are at high risk for it at an early age too. So check out your mum and dad's skin to see what you're in for. 
Stress
Are you really surprised by this cause of wrinkles? The more stressed out you are, the more stressed out your body is. A stressful body does not function optimally. This means that your organs will get sluggish, which will affect your metabolism, digestion, sleep, menstrual cycle – in short, everything. So your body will be trying its best just to keep you functioning normally. But mind you, it will only focus on the vital functions because it sees your stress as a sign that you are feeling threatened and its job at such a time is to keep your vital organs running so that you can face that threat.
Remember that it does not matter what you stress out about. It may be that you broke a nail or that you simply cannot stand a colleague at work. Your body perceives all stress as a threat to life and it will thus act accordingly. It has no time to cater to such frivolous things as your skin and hair. Without the gentle, loving care of your body, your skin will lose its glow and suppleness and wrinkles will set in far sooner than if you take a chill pill.
Learning How to Avoid Wrinkles
Wrinkles are inevitable. We will all get them at some point in life, some earlier than others. You cannot avoid wrinkles altogether, but you can take some measures to prevent them from developing early.
There's nothing you can do about wrinkles that are caused by aging. These are part and parcel of life and it would be best for your peace of mind if you accept and love them. Unless you have the money for botox injections for the rest of your life, of course.
However, the other causes of wrinkles are directly under your control. Here's what you can do right now to avoid wrinkles:
Quit smoking.

Also avoid the company of people who smoke or only hang around them in non-smoking areas. For example, most bars and pubs will allow smoking so steer clear of these places or spend as little time there as possible. In restaurants, ask to be seated in the non-smoking section.
Drink more water. This is the simplest way to not just avoid wrinkles but positively impact your overall health.
Don't go out in the sun between 11 am and 4 pm if you want to avoid wrinkles. Wear sunscreen during the day even if you are going to be indoors. If you have to go out during peak sun hours, then slather on a generous helping of sunscreen that has a high SPF. Re-apply every two hours or so. Wear long sleeves and sun hats for added protection from the sun. If you are keen on getting a suntan, then try getting one in a spa without direct exposure to the sun. There are also bottled tanners available that will give you a tanned look simply after applying the lotion. They look just as real as a suntan, but do not carry the inherent damage. Your skin will show its gratitude by taking its time to show up those wrinkles.
Be conscious about what you put your body through every time you stress out. Know that you are damaging your skin, hair and organs every time you let work/life problems get the better of you. Learn ways to manage your stress. Do meditation, take a yoga class, get a hobby – do whatever you have to do to lower stress levels so as to avoid wrinkles and other physical damage.
Other Ways to Avoid Wrinkles
So what else is there apart from the above obvious methods? How to avoid wrinkles apart from these common-sense answers?
Eat Fresh Colorful Foods
If you want to avoid wrinkles, then you need to provide your skin with the right kind of nutrition. However, there are plenty of foods which are touted as being good for the skin and it can be tough keeping them all in mind. So here's a simpler way of identifying foods to avoid wrinkles – their color. Foods that are brightly colored are an indication of high levels of nutrition. Examples include strawberries, watermelon, tomatoes, spinach, pomegranates, blue berries cranberries, bananas, musk melons, grape fruit, etc. These colorful foods also typically contain antioxidants which are great to avoid wrinkles. So dig in!
Other Food Habits
Cut down on alcohol. While a couple of drinks is no problem, excessive alcohol intake does irreparable damage to your skin and will cause wrinkles really early in life. Alcohol is an extremely dehydrating substance so you can expect some major repercussions if you do not drink responsibly. Have a glass of water before and after every drink if you want to avoid wrinkles. This will replenish the fluids that are lost from your alcohol intake and will also help you avoid the worst of the hangover. While you're at it, cut down on caffeine too because it is also quite dehydrating.
Moisturize
Apart from drinking water, your skin also needs external moisture to avoid wrinkles. Buy a good quality moisturizer that is suitable for your skin type and which includes natural ingredients. Use it every day underneath your makeup. There are plenty of moisturizers with built in sunscreen too so you can cut down on what you have to apply on your skin and it's more convenient too. If you have oily skin, you still need to moisturize. However, make sure you use a light, water-based moisturizer which is not too heavy for your skin.
Exercise Regularly…
Exercise has so many benefits for skin, hair and health in general that we could write volumes on the subject. You don't have to read them though to know that exercise is a great way to avoid wrinkles. Have you ever looked at your skin after a good workout? It's sweaty, yes, but it's also glowing. Exercise regularly and it keeps your body healthy. Since your skin is a reflection of inner health, you can avoid wrinkles for a pretty long time by adapting exercise into your daily routine.
…But Don't Crash Diet or Yo-Yo Diet
Losing weight too rapidly causes loose skin that once held your fat deposits. This will be especially apparent around the breasts, waist and thighs but it can also affect your face especially if you are past 30.
If you lose weight, then put it on again, then lose it again, continuing this vicious cycle on and off, it's called yo-yo-ing. Like crash dieting, yo-yo dieting also causes the skin to lose its elasticity, leaving you with more wrinkles than you started out with.
Get Enough Sleep…
Sleep is just as important as food and exercise. Sleep gives your body the crucial downtime it needs to refresh and rejuvenate everything from your organs to your skin and hair. Seven hours a night is the minimum. By the way, sleeping less during the week and trying to make up for it on the weekend does not work. Get those eight hours each night if you want to avoid wrinkles.
…But Sleep on Your Back to Avoid Wrinkles
There's no scientific evidence to support this claim (not yet anyway), but some of the world's most beautiful women will stand by it. And if you think about what they're saying, it logically makes sense. Sleeping on your stomach puts pressure on your face, causing creases for about seven to nine hours each and every night, creases that will eventually turn into wrinkles. Why give the aging process a boost? Sleep on your back and avoid wrinkles from long nights with your face pressed into a pillow. If this is too much for you to change, then at least use pillow cases made of something softer silk or satin.
Face Exercises
Wrinkles form due to repetitive motion in the same areas. For example, crow's feet and smile lines are the wrinkles that occur when your skin crinkles around the lips and eyes every time you talk, smile, squint or frown. You can avoid wrinkles if you can change the way in which you are habituated to use the muscles of your face. So what you need to do is make funny faces, open your eyes wide, form Aaahs and Ohs with your mouth, flex your jaw to the left and to the right – you get the idea. A few times a day, move the muscles of your face around so it does not keep getting set in the same lines. Not only will this help you to avoid wrinkles, you'll also have a pretty good laugh at yourself while doing it. Which brings us to the last and perhaps the most important way to avoid wrinkles.
Enjoy Your Life!
We're not talking about going to a party when we say 'enjoy your life'. We mean see the joy in little moments. Find your peace so that you are content no matter what happens. Your thoughts and feelings affect your physical appearance. This, in fact, is the most effective way to avoid wrinkles. Learn to be happy, and the rest will follow.
Image: Shutterstock