We've all experienced it at some point – itchy eyes, burning eyes, watery eyes, dry eyes. Basically, any kind of discomfort to the eyes falls under the category of eye irritation. Eye irritation is… irritating. It may not be fatal or a big disease to be worried about but it can drive you absolutely mad with frustration. Let's take a look at some of the different types of eye irritation that afflict most of us, what causes them, and what you can do to get the relief that you greatly desire more than anything when your eyes are suffering, or rather making you suffer.
Causes of Eye Irritation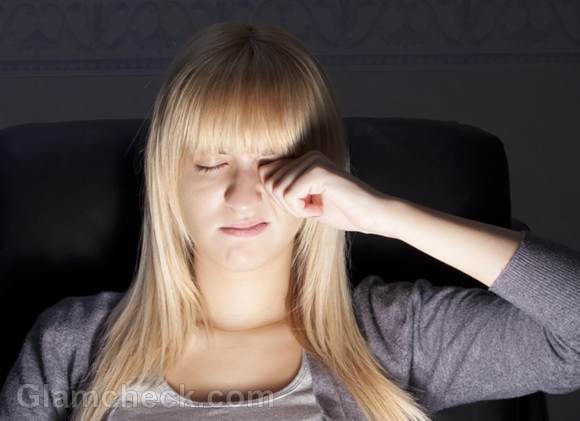 The eyes are very delicate organs. In our modern world full of toxic chemicals, smoke, dirt and god alone knows what other kinds of pollution at every turn, it's not always easy to pinpoint the cause of eye irritation. Here are some of the obvious and not-so obvious suspects.
Are you allergic to animals? Maybe you played with a kitten or puppy and touched your eyes right after without washing your hands first. If your eyes immediately start to burn, itch and water, it may be because you have an allergy that you did not know about.
In fact, allergies account for about half of all causes of eye irritation. Pollen and dust are common culprits, seasonal allergies may also be the cause. Get yourself checked to find out what your body is allergic to.
If you spend a lot of time in front of the computer, you are bound to end up experiencing some kind of eye irritation as the monitor emits rays which are not easy on the eyes.
Eye irritation is common in cities where people are exposed to very high levels of smoke emitted by the mind-numbing number of vehicles. Exhaust fumes from cars, buses and trucks do not contain just smoke but also particulates of fuel, oil and other nasty stuff which causes eye irritation as well as breathing problems.
There's so much stuff in the air now that most of us have forgotten or never known what fresh air feels like. Tiny particles of everything around us are trapped in the air because the high levels of pollution prevent it from traveling upwards into the atmosphere or falling down to the earth. So we are literally walking our eyes through this rubbish every single day. How can they not get irritated?
Perhaps you have an infection of some sort. Mild forms of eye infection will manifest as irritation. The more severe the infection, the more intense the irritation.
Eye irritation can be a symptom of an underlying health condition such as blepharitis, iritis, keratitis or sties.
A condition called dry eyes is another common cause of eye irritation.
Have you left your contact lenses in your eyes for too long? That may very well be the cause of your eye irritation.
Did something splash into your eyes by mistake while you were cooking? Like the juice from a citrus fruit or a splatter from the hot gravy on the stove? This may cause eye irritation that lasts for awhile. Eye irritation is also caused when you rub your eyes after handling spicy foods like ginger, peppers, chillis and chilli powders. You may think this is common knowledge but a lot of people do not realize that residues from these spicy substances remain on your hands even after you wash them with soap.
If you slept with your makeup on or if you do so frequently, you can expect eye irritation at some point. Eye makeup is full of chemicals that can creep into your eyes and cause damage which will manifest as eye irritation in the earlier stages. Eye makeup is not the only perpetrator though. The makeup from your face can also make its way into your eyes so do not be fooled into thinking you are safe just because you do not wear eye makeup.
Wearing expired or cheap quality makeup during the day can also cause eye irritation.
Symptoms of Eye Irritation
Eye irritation can manifest in several ways. All the following symptoms fall under the umbrella of eye irritation.
The most common cause of eye irritation is itchy eyes. This is the part that can drive you crazy. You want to scratch, scratch, scratch but cannot because it hurts too much.
When eyes are irritated, the tear glands work extra hard to soothe your peepers. However, they may not be able to produce enough, or maybe the cause of the eye irritation is preventing the tear glands from working properly or perhaps you suffer from dry eye syndrome. So your eyes get really dry and you feel a barely-imperceptible scratchy sensation every time you blink.
On the other hand, the eyes can get extra watery as they try to extract whatever is in them that is causing the irritation.
Stinging in eyes is another symptom of eye irritation. The sensation can be mild or really intense. It can feel like someone threw hot oil into your eyes or it can feel like a pin prick.
Obviously, with all that irritation going on the eyes are going to get inflamed and appear red.
Another symptom of eye irritation is swollen eyes. This is usually the case if you have an infection, an ulcer or if you have been rubbing your eyes too much for relief. The swelling may appear as a bump on the eye.
You may also experience some discharge from the eyes when they are irritated. The discharge is your eyes' attempts to get rid of whatever is annoying them. It may have a mucous like texture and be clear, cloudy, green or yellow. If it is the last two, contact your health care professional immediately.
Eye irritation may be characterized by flakiness on the skin around the eyes. There may be crusting or scaling of skin.
Because the eyes are so irritated, you may notice that your vision is not so clear anymore. This is simply because your eyes are more focused on getting rid of the foreign body (in most cases) so that healing can begin.
Some types of eye irritation may be accompanied by pain in the eyes as well. This may be because the particle stuck in your eye is lodged deep and hurting or scratching the cornea, or it may be that a bump or infection is at the root of the pain.
Sometimes, people suffering from eye irritation develop a sensitivity to light. They are unable to look at the sky or be in a room that is well-lit.
If eye irritation is particularly bad or is a symptom of another health condition, headaches may also occur. However, this is not very common.
Treatment for Eye Irritation
You have to know what is causing your eye irritation before you can decide on a treatment. Usually though, the way to soothe irritated eyes will constitute one or more of the following.
Something has gotten into your eye which is why it is irritated. You may not be able to see it, maybe it is not there anymore but has left some kind of residue that is invisible to the naked eye. The goal here is to get whatever it is out of your eye. Normally, your tear glands will go into overdrive in an attempt to flush out the offending particle. However, this may not always be enough, in which case you will have to wash your eyes out with water, but make sure you do it properly so as not to cause more harm than good.
Eye drops can sometime soothe eye irritation. The type of eye drops you should use will depend entirely on the cause of your eye irritation. You should consult a doctor for the right kind. Don't go self-prescribing – these are your eyes we're talking about and you don't want to mess with their delicate system.
If your eye irritation is a result of dry eye syndrome, then you will be prescribed artificial tear to use as eye drops several times a day.
Sometimes, it can help to dip a tea bag in warm water and gently dab your eyes with it. This is especially helpful when eye irritation is accompanied by scaling skin. Do this several times a day for relief.
An alternative is to gently apply a cold compress to the eye. Dip a piece of soft cloth in ice cold water and place over closed eyes, using the pads of your fingers to gently dab on the balls of your eyes. Do not press to hard. You can do this for about half an hour at a time every couple of hours during the initial days of the eye irritation.
Until your eye irritation has ceased completely, do not use eye makeup or wear your contact lenses. When applying makeup to the rest of your face, be careful to avoid the skin around the eyes.
Do not rub the eyes no matter how badly they itch. This will just make the eye irritation worse. If the itching is really bad, ask your doctor to prescribe an antihistamine.
Also stay away from smoke while you have eye irritation. This means avoiding highly-polluted areas wherever possible as well as staying away from the company of people who smoke.
Prevention of Eye Irritation
It's a pain in the neck to deal with eye irritation so why let it come up in the first place? Now that you know some of the causes of eye irritation, you have it in your power to prevent the condition.
Protect your Eyes
Wear protective eye wear when you're heading out. This will, at least partly, protect your eyes from dust, smoke, particulates, general pollution and even sun exposure. Choose sun glasses that give your eyes the highest amount of cover. They should be large and covered from the sides as well. No, it will not mess with your trend quotient. There are several practical as well as highly stylish sun glasses designed to both protect your eyes and match your outfits.
Remove Your Makeup
Don't go to bed with your makeup on. No matter how tired you are, take that makeup off. Use special eye makeup remover for your eyes or just use coconut oil. Also remember to throw away makeup that is older than three years.
Contact Lens Care
Remove your contact lenses after the stipulated time. If you must wear them for longer periods, douse your eyes with lubricating eye drops. You can get these at any medical store. Do NOT try to lubricate your eyes with water.
Manage Computer Use
We're not going to say you shouldn't sit in front of the computer too long because in today's rat race that is not a feasible option for many. However, you can make it easier on your eyes. Take frequent breaks from looking at the monitor. It's easy to forget to blink when you're engrossed in your work, so just be mindful and blink often. This lubricates the eyes which in effect cleans them too. Also try to get a protective screen for your monitor which will stay the effects of the harmful rays being emitted. If you wear glasses, you can get that protective film on the lenses too.
It is important that you take steps to prevent eye irritation, and if afflicted to heal it. The eyes, though strong, are not capable of withstanding constant attacks of eye irritation which can cause much damage in the long run. Some types of eye irritation can even lead to blindness if not managed promptly. So don't take a chance. If you suffer from any kind of eye irritation, do your best with the help of your doctor to identify what is causing it and then actively go about making it disappear.
Image: Shutterstock.com