What's the first thing you notice about Angelina Jolie? Yes, yes, she's a bombshell and drop-dead gorgeous and an absolute diva. But what's that one thing about her face that is touted as being most Jolie-esque? It's her pout. Her full, luscious lips instill desire in men and envy in women. Thousands of women across the world want her lips, or at least some version of that uber sexy mouth.
The lips and eyes are the most obvious features of the face and the most noticeable. When you meet people for the first time, you tend to look them straight in the face when you say 'hello' and the eyes or lips are the two main things that will catch your attention. You may notice a dullness, a thinness, a sadness – all by looking at just the lips. For a woman though, the only thing she hopes for when people look at her lips is that they will find her desirable. It's no secret that women want to be admired by both men and other women. Since the lips form such a major part of the face and thus our looks, we can change a lot about our appearance and sex appeal merely by dressing up the lips. For many, lipstick and lip liner comes in handy to make the mouth appear fuller. For some, the lips are so thin that no amount of lipstick will help give the illusion of fuller lips.
Our grandmothers and great grandmothers may have had no choices when it came to thin lips. But fortunately or not, today's generation has a plethora of choices when it comes to changing their bodies and their faces. Lip augmentation is a cosmetic surgery which allows you to boost your sex appeal by giving you a fuller pout.
What is Lip Augmentation?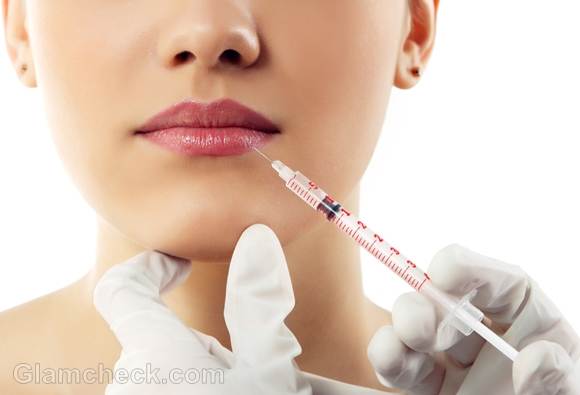 Lip augmentation is a cosmetic surgery procedure which enlarges the lips to the size you want so that you too can have a sexy pout which enhances your beauty. Also known as lip implants, lip augmentation is cheaper than botox and a less hazardous way to improve your appearance.
Types of Lip Augmentation
Lip Fillers
There are different types of lip fillers that are injected into the lips to make them fuller. The process of obtaining that filler may or may not involve another type of procedure that the patient has to go through. For example, one of the most common fillers used is fat from the patient's own stomach or thighs. So just before the lip augmentation procedure, the fat will have to be extracted from the patient. The cost of lip augmentation will differ based on the type of filler too. Here are some of the  common fillers in brief.
Autologen

– this is collagen taken from your own body. Although there are no risks associated with it, the results are temporary as the collagen will be re-absorbed by the body over time.
Collagen – the protein can be extracted from cows or pigs and then injected into your lips. Results will last up to three months, sometimes less.
Dermalogen – the collagen in this filler is extracted from cadavers.
Fascia – a connective tissue that is extracted either from you or from a human cadaver. Results will last for a year as the tissue tends to get absorbed into the body.
Fat

  – procured from the patient's own body and then injected into the lips to make them fuller. The advantage of this procedure is that the body will not reject the fat since it is your own. The drawback is that if you lose any weight or start undertaking weight loss activities, the fat on the lips will burn away the same as on the other areas of the body and the lip augmentation will be inevitably reversed. Even this drawback has an advantage though – if you do not like how your lips look after the procedure, you just have to burn away the fat to return them to pre-procedure status. On the other hand, if you put on weight, the fat cells will increase in size which means that your lips will get plumper too.
Hylaform – a natural material with hyaluronic acid. Repeated shots will be required every few months as the results are only short-lived.
Restylane – a clear synthetic gel with hyaluronic acid. Results last for up to six months after which the gel is absorbed by the body.
Artecoll – a synthetic filler which has better results than natural fillers but comes with a higher risk rate as well.
Lip Implants
As you may have guessed from the name, this involves a synthetic filler such as collagen being implanted into the lips. This type of lip augmentation is permanent but also reversible. If you find that you do not like how it looks, you have the option to remove the implants. A small incision is made on the inside of your lips and the implants are inserted. Following are the different types of implants used for lip augmentation.
Alloderm implants are made of collagen extracted from human cadavers. Results will last for up to a year.
Local flap grafts are made from the skin and tissue inside your mouth and used as implants. This is a highly invasive surgical procedure and only seen as a last resort if no other lip augmentation procedure is viable.
Fat implants are made from fat in your body. Results with fat implants are more long-lasting than fat fillers.
Finally, implants can be made of synthetic materials such as Goretex and soft ePTFE. Results are permanent.
Risks of Lip Augmentation
Lip augmentation has fewer risks than most other types of plastic surgery. However, remember that all procedures carry some risk, no matter how small. Following are some of the risk or side effects of lip augmentation.
The first and major risk with any kind of procedure is infection. If infection occurs, it can lead to a host of more severe problems. Most aftercare is about avoiding infection precisely because it can be so dangerous.
There may be some discoloration on the lips for a few weeks or a few months after the procedure.
Temporary numbness is also normal. This will, however, ebb with time.
You may have an allergic reaction the filler. Some patients who get synthetic fillers report prolonged swelling months after the procedure. A few have even reported the formation of nodules at the site where the filler was administered via injection. These nodules may not go away on their own and surgery is then the only option left to get rid of them.
There is always a small chance that your body reacts badly to the local anesthetic.
Fillers acquired from human cadavers or other donors come with their own risks. If the donor was not properly screened before acquiring the filler, then there is the risk of health conditions like HIV or other infectious diseases being passed on to the person undergoing the lip augmentation. This is why it is important to have your procedure done at the hands of a reputed doctor under extremely hygienic conditions. You may have to pay more for it, but the cheaper options carry risks that are not worth the savings.
The fillers that are injected into your lips can also migrate to other parts of the body. While this is not fatal or dangerous, some types of synthetic fillers can cause natural healthy cells to die.
Some synthetic fillers have traces of carcinogens – the stuff that causes cancer. Plastic surgeons argue that the amount of carcinogens in fillers is much lower than what we are exposed to on a daily basis through our diet and prevalent pollution.
Delayed healing at the site of the injection can cause permanent scarring or bruising.
Finally, there is always the possibility that the procedure is a complete bust because of a doctor's incompetence or inexperience, in which case your lips can get disfigured.
Patients who opt for fillers from animal sources are at risk of developing lupus.
Post any surgery, there is always the risk of improper clotting.
Disorders with connective tissue can also occur.
An implant can harden and it will have to be removed.
Finally, the body may reject the implant altogether and push it out. This is called extrusion and is the body's way of getting rid of what it perceives as a threat. A very uncomfortable time for the patient.
These risks of lip augmentation are indeed quite serious. However, you can lower your risk considerably simply by learning as much as possible about the different kinds of procedures, by acquainting yourself with the factors that raise your risk and by choosing the right doctor.
Before Deciding on Lip Augmentation
Since lip augmentation is a cosmetic procedure, many people who go in for it do so without really thinking about it. Remember that it is still a a surgery. There is always a risk involved, however small, which can cause harm to your body. Plus, the procedure could backfire and you may end up looking terrible. Let's take a look at some of the things you should ponder before you go in for lip augmentation.
Do you smoke? If yes, it could create complications in your lip augmentation procedure.
Diabetics are often at increased risk of complications with any medical procedure. If you have diabetes, see if your doctor and your plastic surgeon can coordinate to determine whether the procedure you are opting for is right for you and if you should even be doing it in the first place.
Lip augmentation will modify the appearance of your face and bring a lot of attention to your smile. Are your teeth up to the task of being in the limelight? Your teeth play as big a role in your smile as your lips. So if you have discolored or crooked teeth, it would be better for your overall appearance if you went and got your teeth fixed before the lip augmentation. There's no point sprucing up your lips if your bad teeth will ruin your look.
If you have prior problems with blood clotting, you are not a good candidate for lip augmentation.
Have cold sores? Wait until they have disappeared before scheduling your lip augmentation.
Those with scars on the lips are also not the best candidates for lip augmentation.
Are you doing this for yourself or to please someone else? Lip augmentation may be a minor procedure, but as we have seen it has the potential to be fraught with complications. In some types of lip augmentation, you have to live with the results for the rest of your life. If you are doing the procedure because it is you and only you who wants this, then it will be easier for you to deal with the whole procedure and come to terms with any side-effects that may occur. However, if you are undergoing lip augmentation to make a partner happy or because it is the 'in' thing or because of peer pressure, then there is a high possibility that you will regret it somewhere down the road leading to resentment and possibly self-loathing too.
If it is indeed your decision, are you really ready for it? If you feel you need to wait for a week or a few months, that is absolutely OK. Take your time and ensure that you are fully ready before you take the leap.
Choosing a Good Doctor
This is the most important step with any procedure, whether cosmetic or health related. When you have a good doctor, everything falls into place.
The doctor will consider your full medical history, your habits, any medication that you are on and give you full disclosure about whether or not the procedure you are opting for is safe for you. If you suffer from prior medical conditions, he/she will consult with a qualified colleague about your condition or perhaps even coordinate with your own doctor to ensure your safety. For a good doctor, the patient is the first and only priority.
Qualified doctors who have had experience with lip augmentation procedures will be able to study the structure of your face and suggest exactly which types of procedures are needed and which will offer the highest possible rate of success.
Aftercare is a part of the lip augmentation procedure. You can only say that the procedure has been successful after full healing has occurred. A good doctor will give you detailed guidelines on how to take care of your lips after the procedure and he/she should offer a 24/7 hotline with a qualified person at the end of it who can answer any doubts or be able to help you immediately if any scary side effects occur.
Don't be shy to ask the doctors you consult for their qualifications with proof, their experience as well as pictures of their work. You'll be safer if you go to a reputed doctor as he has more to lose if something goes wrong so he will ensure that you are well taken care of. You can also ask to speak to prior patients who have undergone the same procedure that you are considering. In some cases this may not be possible due to doctor/patient confidentiality but there's no harm in asking.
Also ask your doctor about the kinds of complications they have witnessed, how long they have been doing the procedure they are recommending, what to expect during and after the procedure, and how much the whole procedure will cost from start to finish. Do not proceed with your lip augmentation until you are 100% certain that the doctor is right for you.
Before the Procedure
Once you and your doctor have decided on the type of filler that should be used for the lip augmentation, an allergy test will have to be performed a few days or even weeks in advance. A sample of the filler will be injected into your arm at a discreet location and you will have to be alert to any changes in your body or at the site.
Once the best procedure has been ascertained, an appointment will be set up for a convenient time. Lip augmentation does not take very long to do and you will be sent home on the same day. Although the procedure does not take long – just two hours – the healing process can take anywhere from a few days to a few weeks. Your lips will have a bee-stung look for the first few weeks at least. You may be embarrassed to be seen at work or outdoors so take sufficient time off work for recovery and cancel any appointments for a couple of weeks after the procedure if you are shy about being seen with too-plump lips in the initial stages.
If you smoke, you will have to stop a few days before the procedure. To find out the exact time frame, speak with your doctor.
When going in for your appointment, wear a shirt with buttons on the front so that you do not have to pull it over your head when you change after the procedure.
Do not take any painkillers before your lip augmentation procedure.
During the Procedure
Lip augmentation is usually performed as an outpatient procedure in your doctor's clinic. Hospitalization is not needed. A topical anesthetic will be applied which will numb your lips and the area around it. The procedure will then be conducted. As mentioned earlier, it will not take very long – a maximum of two hours.
Lip Augmentation Aftercare
Someone will need to drive you home after the lip augmentation procedure.
Recovery will take a minimum of three days.
You cannot exercise for up to a week after any lip augmentation procedure. If the procedure was surgical, then it will be a few weeks before you can return to your exercise regime.
Spend the days after the procedure relaxing. Use soft pillows to prop you up, even while you are sleeping. Sleep on your back for a few days as sleeping on your stomach or sides can aggravate your lips.
Change your diet for a few days. Don't eat too-hard foods. Stock your kitchen with soft foods that do not require a lot of chewing such as oatmeal, jello and yogurt, for example.
Be alert to how you feel. If there is extreme swelling or if you get a fever, call the doctor.
Image: Shutterstock.com