Monsoon showers surely appear as a relief. However, it also brings along health irritants such as infections, allergies, as well as indigestion. But, don't panic. Making small variations in your eating habits can help keep these problems away. Actually, the atmosphere's increased humidity affects the digestion of your body to a great extent. High humidity levels during monsoon reduce the body's capability to digest food.
The monsoon attacks your immune system directly thus resulting in diseases such as dysentery, diarrhea, intestinal helminthes, malaria, and cough & fever. In monsoon season, the immune system gets attacked by various infestations and infections including:
Viral –

common cold, measles, and fever
Bacterial – cough, infective diarrhea, and tuberculosis
Parasitic – intestinal helmencis such as hookworm, ascarasis, and other diseases like malaria prevent the body from absorbing the nutrients   
Following some simple guidelines on food safety can help you avoid infections and stay healthy even during monsoon. Have a look: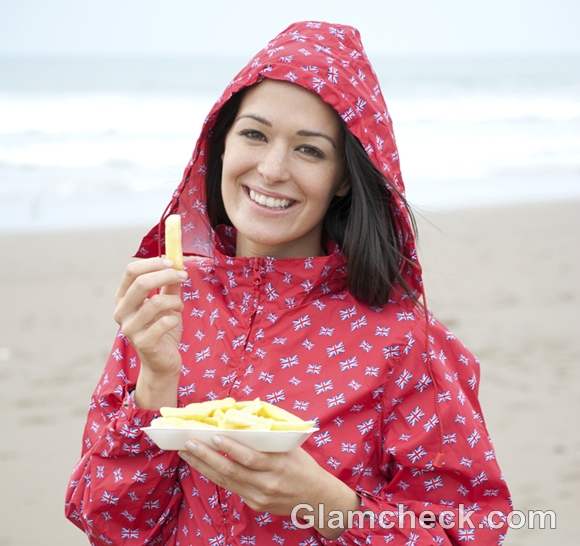 Prefer using boiled water always. You can boil it and store it in any covered container.
Use mugs with long handles to prevent contact of hands with water when you fetch water.
Drink sufficient water at safe and sound place like office or home so that you are able to avoid getting thirsty and thus drinking water outside.
However, in unavoidable situations, prefer drinking tetra packed drinks or coconut water.
Raw foods to avoid during monsoon
During monsoon, street food is something to be said a big no to. However, an even bigger risk is eating raw foods. Monsoon showers are accompanied by diseases like food poisoning, cholera, and dysentery due to weaker digestive system during the season. Actually, raw foods carry some enzymes which are difficult to be processed by the digestive system because of the lower strength levels. Also, raw foods have a tendency to absorb moisture too fast thus making them idyllic for the growth of bacteria.
Some of the raw food options which should be, preferably, avoided in monsoon include:
Salads plus leafy vegetables
The damp nature of chopped or cut raw vegetables makes them more susceptible to getting contaminated. This leads to thriving of germs thus making grounds for different infectious diseases.
Fruits
Stay away from raw and chopped fruits, specifically when they have been kept in open. Avoid taking watermelon, cucumber, musk melon, as well as watery fruits. These food items, due to their damp nature, increase the chances of bacteria to attack them, particularly during monsoon for bacteria occurs in greater count during this season.
Non-vegetarian foods
Raw eggs and seafood should essentially be avoided during monsoon. Be even more careful with foods like prawns and fish as this is the breeding season for them. Consuming wrong fish may become a cause for stomach infection. Therefore, be cautious while buying fish and also ensure that it is a fresh one. In monsoon, try staying away from raw fish, like sushi. Try taking a balanced diet with good protein levels to congregate your body's requirement of rainy season. One good option is taking hot foods like cooked meals and soups.
Fruit juices
If possible, try staying away from the consumption of vegetable and fruit juices, especially if they have been kept outside for considerable time. Besides, also avoid drinking from wayside stalls. However, if you feel like taking juices, it's better to prepare them at home and drink it immediately after they are prepared. Another piece of advice is to avoid having buttermilk for waterborne diseases are widespread during the season.
Tips to eat healthy in monsoon
Here are some more tips for you to help you eat healthy during monsoon season. These include:
Don't buy and eat chopped fruits and vegetables from roadside vendors.
Try staying away from fruits featuring a strong smell. These include fruits like targola, jackfruit, jamun, and similar more. Also, try avoid sour foods like tamarind chutney and pickles for they increase water retention. Conversely, opt for consuming more of bitter vegetables and herbs like bitter gourd (karela), fenugreek (methi seeds), basil (neem), and turmeric (haldi) to avoid infections.
 It is, however, advisable to be a little careful with green leafy vegetables like cabbage, spinach, and cauliflower because of the presence of dirt, mud, and worms, etc. if, in any case, you wish to east any of these vegetables, kill the germs through blanching or washing them in salt water.
 Try to avoid intake of yogurt, fruit juices, sugar cane juice, and lassie. Also, avoid eating srikhand, sprouts, and green chutney from roadside stalls.
 While eating in restaurants, circumvent with intake of green vegetables, like palak paneer, for you may not be sure whether they have been cleaned properly or not. You can instead opt for any other seasonal vegetable.
 If you are traveling, avoid eating golgappa, samosa, vada pav, etc. when hungry. Instead, try going for homemade chikki, laddoo, bhunna chana, or whole fruits.
 It is good to go for seasonal fruits like peaches, pears, plums, pomegranates, papayas, litchis, and bananas. These fruits are good in taste as well as health promising. You can also take nuts, but in limited count.
Avoid purchasing vegetables in bulk quantity. Try stocking fresh vegetables and purchase only items required on alternating days.
 Ensure refrigerating the left over vegetables as soon as possible as bacteria grows at its fastest pace in this season thus leading to various health complications. Avoid keeping your food uncovered to prevent it from bugs.
 Other food items which should be avoided include potatoes, cluster beans, pigeon pea, lady finger, sprouted grains, and urad as these may lead to indigestion.
 Most importantly, boost your immunity level by eating more at home. Enrich your diet with food like whole fruits, antioxidant rich foods, foods containing vitamin A, C, E, Zinc, Selenium, as well as B6, B12, and folic acid.
 Try taking dry and light foods and avoid heavy foods with high sodium and salt content for monsoon encourages water retention and bloating. Also, over cooked and fried foods reduce the digestive efficacy of your body. Try holding on to dry/light/baked bites. You can take foods such as chickpea, oats, and corn to avail the imperative nutrients required by your body. Also, try avoiding heavy oils, such as sesame and mustard, as they may imbalance the absorption of 'Pitta' thus making the body more susceptible to infections. It is, rather, better to go for dry oils like olive/corn oil as they are light and ensure good health as well.
In addition to all the aforesaid tips and food choices, it is really important to take utmost care of your personal hygiene. Ensure washing your hands before and every meal. Bathe regularly. Also, don't let water stagnate inside or outside your house. Keep your utensils, chopping blocks, as well as work tops clean and dry. Control breeding of mosquitoes by draining out the water from the flower vases as well as coolers, if not in use. Pay special attention towards food storage.
Food grain such as oil seeds and legume, if stored in humid temperatures, become prone to get infected by pathogenic fungus. Also, clean your refrigerator thoroughly to prevent the formation of fungus that may spread to stored foods as well. Avoid using food items which are losing their freshness or shrinking.
Stay healthy and enjoy monsoon!
Image: Shutterstock.com