We rarely care for our teeth, at least not when we're young. We only learn to do that when we're older and we can see the beginnings of deterioration from all the years of abuse. One of the first problems that make us sit up and take notice is the color of our teeth. Although meant to be a creamy white, most of us have to confront slightly yellow or even brown teeth when we look in the mirror. Knowing that your teeth are stained can have a negative impact on your self-esteem. You may not want to talk too much for fear that people may see and ridicule your stained teeth. You may refuse to be photographed because you don't want to smile.
Fortunately, returning your teeth to their natural color is not out of reach. There are several teeth-whitening products on the market in addition to professional services offered by your dentist. However, these can be expensive, burning a serious hole in your already-worn out pocket. Fortunately once again, your pearly whites can regain their former glory with a simple change in diet. Well, simple enough.
There are some foods which naturally whiten teeth. No, not with some homemade teeth-whitening mask. Rather, all you have to do to gain the cosmetic benefits of these foods is to eat them.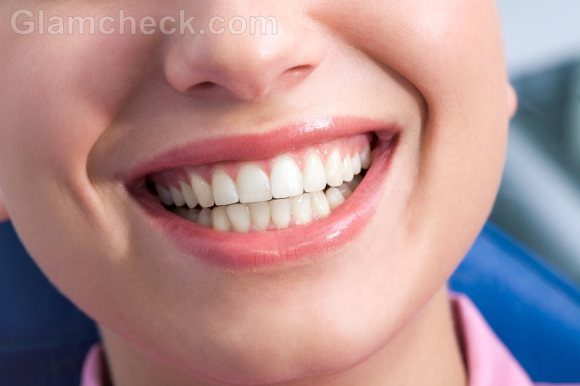 Foods That Keep Teeth Pearly White
These foods are all natural and healthy, which is actually quite a challenge for most people. However, if you can get with the program and incorporate these foods into your regular diet you'll not only be flashing a noticeably brighter smile but also improving your health in the bargain.
Strawberries
Many face masks employ strawberries for their gentle exfoliating properties. These very same properties work on your teeth as you chew into this luscious fruit, gently and safely erasing nasty yellow and brown stains with the help of an active ingredient called malic acid.
Apples
An absolute must for oral and general health, apples are also great at naturally whitening your teeth. They have a fibrous texture which rubs against your teeth as you eat them, thus promoting a gentle scrub. Also, apples are a tough fruit for your mouth to handle. So your body produces more saliva to aid in the process. More saliva is always an excellent thing because it contains bacteria which wash away other bacteria which cause tooth decay. The saliva is also a natural mouth wash, dislodging food remnants from between your teeth and washing away dyes left from the food you eat.
Pears
Juicy pears work in the same way as apples, providing the roughage for scrubbing and triggering greater levels of saliva that naturally clean the mouth and teeth.
Carrots
The humble carrot is known to be good for the eyes, but did you know that it is also an excellent aid in teeth whitening? Like apples, carrots too make your mouth produce more saliva, thus promoting the very same benefits that apples do.
Celery
Crunchy and low in calories, celery sticks are a healthy snack which also trigger excess saliva production.
Broccoli
Another reason to include this super-food in your diet. Broccoli is one of the most powerful deterrents of tooth decay as well as discoloration. It forms a film on your teeth which acts as a barrier against acids which can erode your pearly whites. Pretty high-tech stuff for so humble a vegetable!
Oranges
Known to have mild bleaching properties and act as a natural cleansing agent, oranges are a natural tooth polisher according to dentists.
Sesame Seeds
These tiny seeds pack quite a punch in the calcium department, and you know that's good for your teeth. The crunchy seeds also scrub away stains and may be effective at lowering your risk of plaque as well.
Mushrooms
Not all mushrooms will prevent tooth discoloration and reverse the process. However, the shitake variety shows great promise. It contains lentinan which prevents plaque from forming and also protects enamel.
Apple Cider Vinegar
Although not strictly a 'food', apple cider vinegar is an ingredient that is edible which is why it is on this list. Simply gargle with the ACV and swallow or spit out if the idea of swallowing makes you gag.
Dairy Products
Cheese and yoghurt in particular contain a lactic acid which dentists think can prevent tooth decay in addition to whitening teeth. Cheese, the harder varieties anyway, are also natural teeth scrubbers when you eat them.
Foods that Stain Teeth
It's not enough to know which foods whiten teeth. If you are also eating foods which stain your teeth, your efforts will be void. Here's a list of foods which are known to darken or yellow teeth faster than is normal. Either cut down on consumption or avoid them completely.
Coffee and tea are obvious culprits. Drinking too much of either will result in brownish stains on your teeth in the long run.
Packaged juices also cause teeth to get darker. You may not notice straight away because the staining is very gradual and not noticeable to a considerable degree until years later.
Also avoid smoking. The disgusting tobacco goes all the way through the protective enamel, making your teeth look rotten. They are, quite literally, rotting from the inside out.
Red wine can also stain your pearly whites. However, there's no need to avoid this completely. Just remember to rinse out your mouth after downing a glass
Thinking of switching to white wine instead? No such luck. White wine also stains teeth as much as red does. Plus, it leads to more deterioration of tooth surfaces than red wine.  
Yummy and nutritious, dark fruits like blueberries can leave stains. No, don't give these up. Just remember to rinse your mouth after eating them or, better still, brush your teeth sans toothpaste.
Beetroots too can stain your teeth. Follow the same protocol as with the berries.
Sports drinks are touted as being a must for athletes and exercise enthusiasts. The truth is they do more harm than good. When it comes to teeth, these deceptive trouble-makers erode your precious enamel which leads to a discoloration. You can choose to continue with sports drinks if you wish, just remember to rinse your mouth out immediately after.
Regular sodas are just as bad, especially colas which are dark in color. Those hues don't come naturally and the chemical dyes can very well stain your teeth too.
Addicted to the taste of soy sauce and splash it liberally in all your cooking? Soy sauce too can stain your teeth gradually but considerably if you don't rinse after your meal.
Remember to follow good oral hygiene to maintain the health of your mouth. Also take care of your overall health to prevent discolored teeth that are sometimes symptomatic of certain illnesses.
Shutterstock