Does the fabric bring you the reminiscences of your childhood and leave you nostalgic? Well, you need not fall into the reveries any more. Corduroys are back and that too with a great bang. The fabric remains popular among people of all age groups. Corduroy can be made into garments of all sort from jackets, jumpers to pants and that too in stylish cuts and patterns. This adds to the popularity of the garment.
About corduroy fabric:
The fabric gets the name from the cord or cable like structure appearing on the surface of the fabric. Corduroy is a type of fabric that features parallel cords or ridges made up of twisted fibers of cotton, polyester, rayon, acrylic, etc, while weaving. Channels are very narrow spaces that run between the cords. It is this space that makes for a lighter or denser corduroy fabric. The cords/wales or ribs on the upper surface of the fabric makes it classy and elegant in appearance.
A wale is the width of the cord. The ribs/cords can run vertical or horizontal and can be sleek as well as wide. Corduroys with narrow wales is soft and plush with a little bit of stretch. The fabric is less durable and is used for making shirts, caps and jackets. Corduroys with wider wales is used to make pants, footwear, handbags, curtains, etc.
Corduroy is a wardrobe staple. Corduroy guarantees comfort, warmth, style and fun. The fabric is durable and fashionable and is available in all colors and prints. The fabric  can be made into trousers of all styles and cuts, like pleated pants, jeans, etc.
The fabric is also known as corded velveteen/elephant cord/ pin cord or Manchester cloth.
How to buy corduroy garments:
When buying corduroy garments, follow the instruction that is maintained for velvets. See to it that the cords employed in various parts and patches, of the garment, follow the same direction. The corduroy must be cut in one direction.

If purchasing a jacket or cap buy corduroy with wide ribs. Wide ribs or cords on the corduroys are more durable than slimmer ones.

Also, a wider cord may impart you a rustic, bohemian and casual look. If choosing a formal wear, select corduroys with thinner cords.
Corduroys and body types:
If you are voluptuous, avoid wearing corduroys with wide ribs/cords as this heavy fabric will add volume to your body frame. Wear close fitting garments with smaller and finer cords.

If you are short in height, wear corduroy with vertical cords to add to your vertical length.
Wardrobe essentials and corduroys:
A corduroy garment is less formal than the formal clothes and less casual than your other casual clothing items.

Finer wales/cords make up for a formal wear and wider ones make up for a casual wear.
A black corduroy blazer: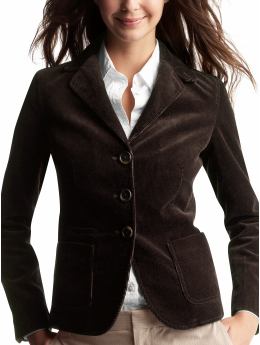 A corduroy blazer is a wardrobe essential. The clothing item is stylish, comfortable and elegant.

The item is quite versatile and can be worn with most of your clothes.

The cut and style must look completely flattering on your body frame.
Corduroy colorful jackets: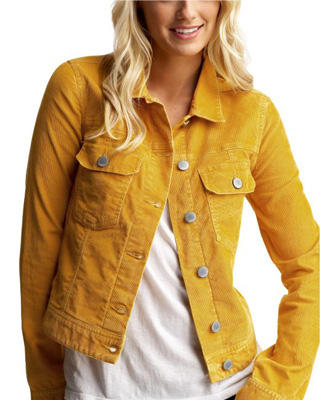 The corduroy jackets are no longer brown, navy and beige. You can find them in vibrant dark colors like red, orange, green, etc.

The fabric is no longer only a winter wear. You may find finer wales and cords to wear throughout the summers.The color palette may include lighter tones of pinks, blues, yellows, green etc.

Quilted linings under the corduroy jacket is warm and comfortable in winters.

Cropped corduroy jackets are quite popular during summers.
Playful fun corduroy:
Plaids, prints and stripes may add fun and freshness to your collection. Opt for moderate textures and prints as the too bold and majestic may look awkward.
Casual pants: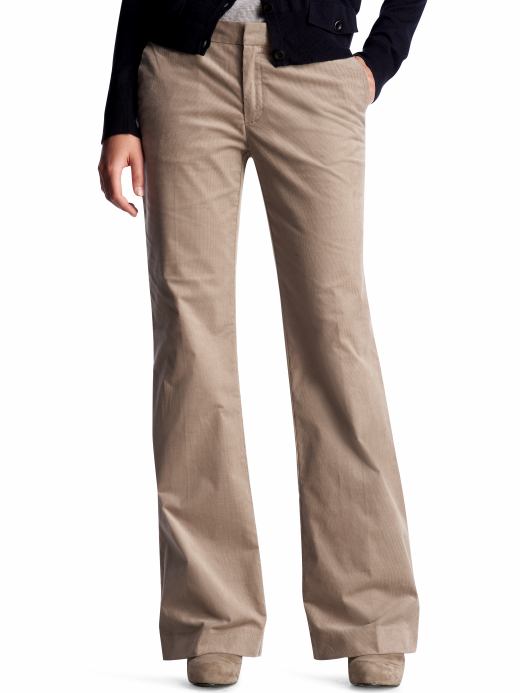 Corduroy casual pants may be colorful and printed as well. Wear pants with embellishments and other playful elements. Corduroys are placed second to denims, when it comes to casual wear. Wide cords may make the look more free, bohemian and rustic.
Formal trousers: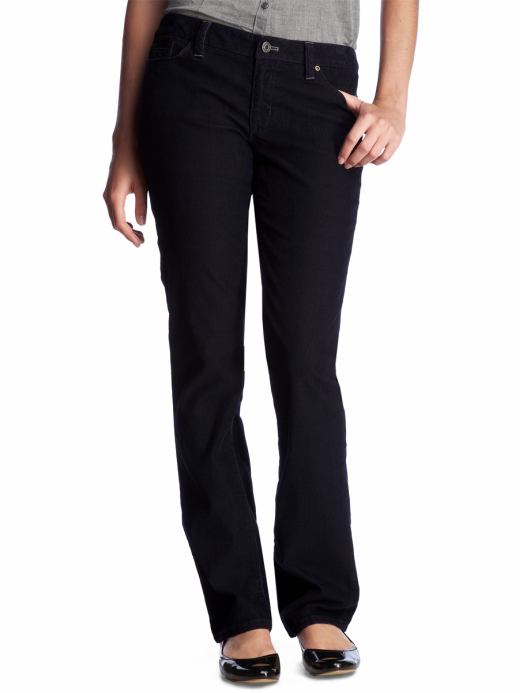 Finer cords make for a formal wear. Neutral colors, like beige, brown, black, camel etc may also make for a subdued formal look. Wear trousers in finer ribs and vertical patterns in darker colors.
Corduroy shirts:
Corduroys shirts with the finest weave is slim, plush, sexy and chic. The garment makes for a formal as well as a party wear, depending on the color palette. Keep the cords slim for a close fitting slim look. Experiment with color, print, cut and design.
Sexy classy skirts: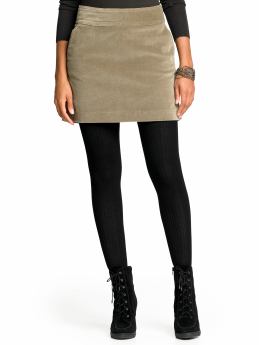 Wearing a corduroy skirt has been considered to be a fashion blunder by many fashion experts. A-line skirt or pencil skirt, of straight and narrow cut, in corduroy may be given a try. Pair with wedges for a casual look.
Tips to wear corduroy:
Corduroy needs to be worn with great care as the look may go wrong if not worn with proper care.
How to wear corduroy blazers:
Pair corduroy blazers with jeans or skirts and t-shirts for a casual look.

For winters, wear close fitting sweaters underneath. Turtle-necklines are quite chic and sexy.

Pair lighter color tops with darker colored corduroy jackets.

Corduroy blazers are colorful playful and fun. Keep the shades darker for winters and lighter for summers.

Black, brown, beige and camel colors make up for a classy elegant collection that may also impart a vintage feel.

Slip-on shoes or short boots make for a great pair with corduroy blazers, trousers and skirts.
How to wear corduroy pants/trousers:
Corduroy pants are simple, elegant and chic. They make for a casual as well as a subdued formal wear.

The trousers must feature cords running in a neat straight and uninterrupted vertical pattern. However, patches of horizontal cords may feature here and there to add fun element and playfulness.

Pair corduroy pants with t-shirts for a casual look, with shirts for a formal feel.

For winters, pair corduroy trousers with a longer cardigan or a belted knit wear.
How to wear corduroy shirts:
Corduroy shirts in skinny wales and vertical patterns make for a classy wear.

The dark colored corduroy shirt can be paired with jeans for a casual look whereas the neutral colors can be paired with trousers for a formal look etc.

Experiment with plaids, patterns, stripes etc while shopping, dinning, dating, etc.
How to wear corduroy skirts:
Corduroy skirts were declared as fashion faux for long.

However, straight A-line dark or neutral colored corduroy skirts make for a a chic wear. Wear pencil skirt but only if it looks flattering on your body type. Flared styles may also be given a try.

Leather belts and wedges make for good pair.
Corduroy garment care:
Wash the garment inside out and dry in shade or air.

Machine wash light and don't twist or wring as rough treatment may harm the pile.

Iron on the wrong side, inside out. Smooth the pile with the help of a damp clean cotton cloth so as to negate the need of ironing.