Some say winters are their favorite season. It is really hard for some to maintain beauty during these cold months. You are dry, you lose your glow and laziness threatens to take over all over your regular beauty regimen.
But this is the weather that your body and skin needs you the most. Be respectful of it and pay customize your beauty routine for these harsh months. Yes, today we talk about winter beauty tips. Here we cover almost all problem areas that you could possibly face during winters.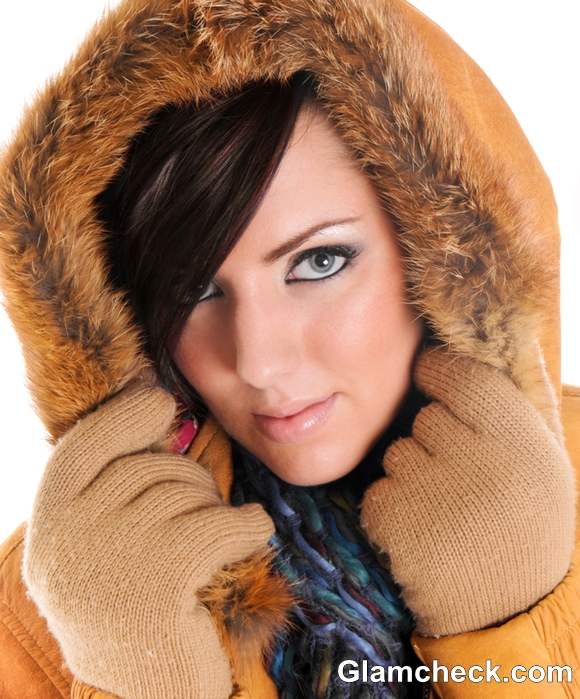 Winter Beauty Tips
Read on and follow these little tips to notice a huge difference.
Skin
Your complexion is dull and the skin is dry during winters, due to the weather as well as the hot showers. Below are your saving tips.
Switch to liquid make-up from your mineral or powder products of summers. Even oily skins become dry in winters and powders make the skin blotchy.
Use a moisturizer apt for your skin type, as the first layer on your skin.
Choose a silicone based foundation as works best in cold weather.
Avoid ingredients like mineral oil, petroleum and isopropyl palmitate as it clogs your pores.
Non-clogging oil ingredients to look for are avocado oil, primrose oil or almond oil in moisturizers.
If you have to stick to mineral makeup, apply a deep moisturizer first, then a primer and then the foundation.
Sunscreen is very important in winters too. Look for moisturizers with SPF. Apply it 30 minutes before stepping outside.
Follow your exfoliation routines but skip the clay masks as they are drying. Use nourishing masks instead.
If skin seems pale, applying cream blush can be the saving grace.
Eyes
Even in winters do not forget your 8 hour beauty sleep to avoid dark circles. But don't over sleep either as it can cause puffy eyes all the same.
Under eye nourishing creams applied at night work well for women in their 30s and above.
No matter how lazy you get, do not make the mistake of leaving your eye make-up on for the night. It causes infections. So do sleep make-up free and specially pay attention to taking off that water-proof mascara.
Winged eyes look enigmatic and pleasing in winters so give them a shot with deep black eye liner.
Sometimes eyes get red and irritated due to dry winters, non medicated eye drops will help greatly.
Lips
Unlike your skin, the lips do not have any oil producing glands and hence the most susceptible to dryness.
Do not lick your lips to counter dryness, it is the worst possible habit you can have which dries them even more.
Keep Lip balms and chap sticks handy in winters and use them quite often.
Lips also do not have any melanin in them unlike skin and hence need SPF protection from the sun, so make sure your lip balm or lip color has that.
When applying lip color, a lip balm should be your base. Matt lipsticks of the past were drying but the Vitamin E enriched moisturizing lipsticks available now are much better for winters.
If going for a nude look, make sure the lip color has some warmth in it, to avoid the lips looking pale.
Exfoliate with water moistened washcloth. Lip exfoliators are also available in stores. Taking off the dry skin layer makes the moisturizer absorb better.
Don't chew on dry flaky lips, they can bleed. Stick to deep moisturizing lip balms.
Look for makeup without menthol and salicylic acid, both ingredients make the lips feel dry and chapped when used repeatedly over time
Remove lipstick at night and apply shea butter or petroleum jelly ( Vaseline)
You can also apply a mix of honey and clotted cream (malai) to your lips at night.
Black tea bag dipped in warm water and pressed against lips can bring more moisture.
Hair
Use a deep conditioner after washing hair and prefer leave –in conditioners too while stepping outside.
Let the hair air dry a little before blow drying them. It would let more moisture to be retained. As a general rule avoid heat treatments as much as possible during winters.
Wash hair less frequently as it dries them. Without the summer sweating, they anyways do not get dity that often.
Invest in deep conditioning treatments and hair masks. Choose Do it at home kits or give a visit to your favorite salon.
Moisturizing hot oil massages are a perfect for the cold months.
Anti-frizz treatments and products may be required by a lot of people as the drying weather makes hair prone to frizz.
PH balanced shampoos, and special dandruff treating shampoos are advised.
Feet and Hands
Hands easily become dry during these months. Whenever you wash your hands, apply a moisturizing cream.
Wear warm gloves when going out.
Wear rubber gloves if possible while washing dishes.
Moisturize daily at night and wear cotton gloves to sleep.
The feet are susceptible to cracking in the winters due to excessive dryness.
Wear socks whenever possible, rub off dry skin with a pumic stone while bathing, twice a week.
Gently exfoliate and moisturize everyday.
Night creams for feet are recommended and work better when you wear cotton socks over them and go to bed.
Consult a professional in case the heels are painful as medicated creams will be required for faster healing.
Nails
Nails chip, break and split easily during winters due to loosing moisture. So it is as important to take care of them too.
Alcohol based hand sanitizers, and acetone based nail paint removers should be avoided.
Use cuticle oil or olive oil for cuticles at night. You can also use Vaseline for this purpose.
Dip nails in lukewarm water for 10 minutes, apply nail moisturizer and wear cotton gloves over it for a while to lock in the moisture.
Elbows
Exfoliate twice a week and pay special attention to applying moisturizer twice daily.
For extra rough elbows, Vaseline before going to bed is perfect
Apart from these specific tips remember to exercise a little and drink lots of water to even in winter months to detoxify. If water at room temperature seems difficult to drink, why not try luke warm water instead. Take care and stay beautiful this winter.
Also Read:
Winter Makeup Colors

As the season changes your make-up palette and preferences also need an update. For the complacent ones, the summer's […]
How to Apply Makeup in Winters – Step by Step Guide

Each season brings with it, its own complications when makeup is concerned. If sweating can fail your makeup efforts […]
Shutterstock