All of us have an innate desire – that our wedding should be unique – right from the dress, the decor, the accessories, flowers, food and the list goes on.  While a lot of it cannot be altered to be one of a kind like we have always desired, without of course spending an astonishing amount of money, thankfully, the accessories that we choose to brighten our dress, can make our dress uniquely ours and make our personality shine through.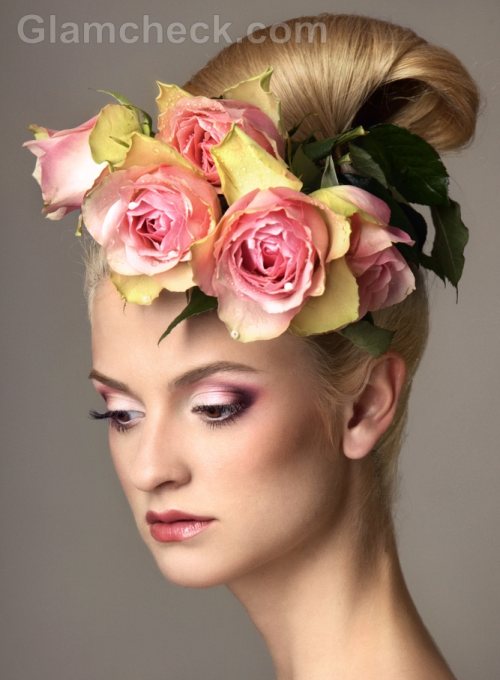 Beach wedding accessories for the bride
While traditional weddings are easy to accessorize as they are mostly indoors and you mostly know what will look great given the subdued indoor lighting, it is the beach wedding that could be tricky given that it is a newer concept, the light is natural and things may tend to look rather stark bordering on not so pretty in natural light. Here are some ideas on colours and different kinds of beach wedding accessories that are available and can make you look extra special on your special day.
Beach Wedding Accessories : Tiaras / Floral Wreths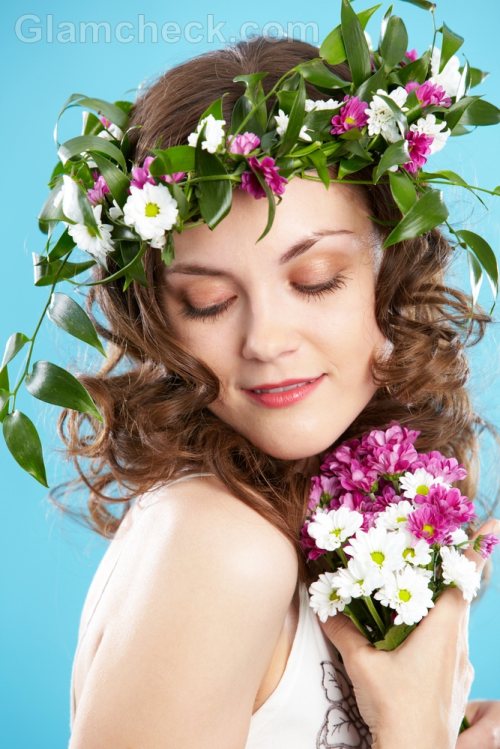 Tiaras have a way of making any girl of any age feel special. Tiaras have a way of transforming any ensemble from the ordinary to the extra ordinary. Traditionally tiaras are made of diamonds and coloured precious stones. If you have decided to have a beach wedding, you could have a custom made tiara of natural things which have a connection with the sea and the sand such as pearls, shells in different shapes, starfish. Tiaras could also be made of more rustic, bohemian things such as coir or twigs embedded with leaves, natural flowers such as orange blossoms, frangipani etc.
Beach Wedding Accessories for  hair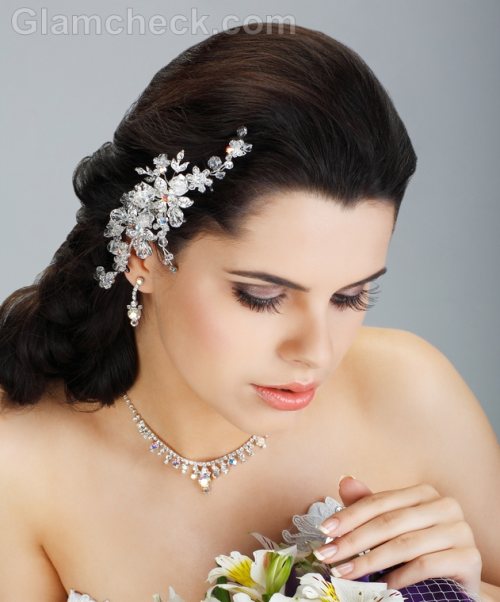 Apart from the tiara, the bride could also decide to team up her wedding ensemble with interesting hair accessories such as hair combs, pins, hair bands etc. Since beach weddings are usually considered to be more casual, the bride can play around with bright colours and new ideas while choosing from the wide variety of hair accessories that are available in the market. You could choose from the pristine white and diamond combination to colourful reds, yellows and even limes!
Beach Wedding jewelry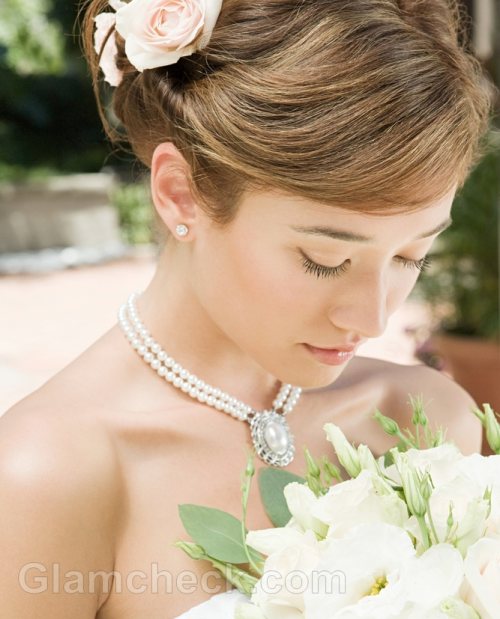 The ground rule for the jewellery remains the same as tiaras – choose jewellery which is inspired by the nature and natural forces for a beach wedding. Having natural coloured stones such as emeralds or cat's eye or pearls, turquoise etc. add to the beauty of the natural surroundings and have in the first place a great connection with the place you have chosen for your wedding – the beach!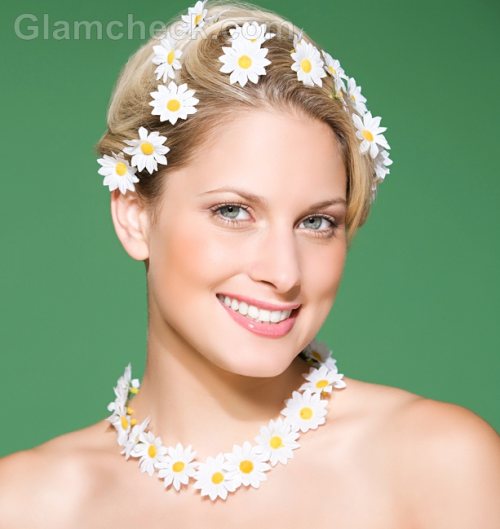 Choose simple flower shaped pendant with one of these stones or a multiple of them set in a plain transparent thread for a purist look, or opt for a string of pearls. Other ideas could be a starfish crystal on a simple white gold chain or if you are going bohemian, choose a row of different sized or coloured or both shells strung in a transparent thread.  Remember, elaborate diamond and other precious metal sets look great in an indoor wedding.
Choose your bracelets and earrings also accordingly – nature inspired, simple, beautiful and complimentary colours which signify harmony, peace and oneness with the nature as you enter your new phase in life.
Beach Wedding accessories : Footwear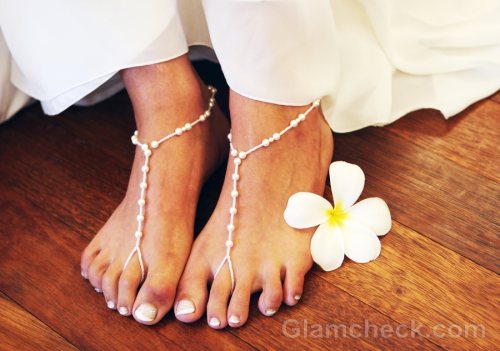 Heels and other pompous shoes are great for almost any wedding, but walking down the aisle, with just a string of pearls on the barefoot sandal is definitely something no other wedding can boast of. Shoes ideally should be chosen keeping in mind if the wedding venue will have a grass patch or a wooden plank for the bride to walk on or will it be natural sand. In case there is some concrete surface, a bride could choose from the many available footwear ideas.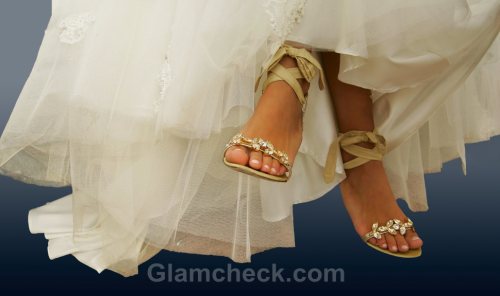 On the other hand, the bride may want to try the barefoot sandals. These are not really shoes as they do not have any soles, and are just with a string of pearls or crystals or coloured stones. These are a great option if the wedding venue has been combed for any sharp objects and if the bride does not want to add any extra inches to her frame.
Another popular shoe category for the beach wedding is the wedge heeled flip flop. The flip flop, not only adds some height to the bride, it may even be studded with shells, pearls, sequins, flowers  or other such natural things to make the look natural and great!
The wedding of any girl is a very very special event in her life. We hope that with these ideas, we could help you make yours even more special!
Image: Shutterstock