Right from when you were a small kid and used to wait for Santa Claus to leave the goodies in your stocking on Christmas, to now, when you are a woman, an item of clothing that has always held your interest is the good old Stocking.  Once considered the ultimate fantasy, the role of stockings in a woman's wardrobe has multiplied manifold. Stockings have been worn to provide warmth to the wearers since centuries and their role as a fashion statement and for aesthetic appeal cannot be undermined in today's times.
What are stockings and how to wear them?
A stocking is a close fitting, mostly elastic garment worn by women which covers their feet and lower legs. Also known as hose, Stockings could be knee or thigh length. For a layperson, stocking is a lot like socks, only longer and made in much finer materials.
Ordinarily, stockings could be held in place by the stretch fabric in which these are made. The upper band of the stockings is mostly in very fine thin silicon elastic, which resists slipping down the knee or thigh. Upper band could be plain or could have lacy designs, making them look ultra feminine. While choosing the 'stay up' kind of stockings, try them on and see if these are too tight for you. In case, these are uncomfortably tight, they would leave a red mark on your legs.
Stockings could also be held in place by garter belts. A garter is a stretch band of fabric (mostly lace) worn at the waist, with clip-ons or suspenders which hold the upper portion of the stockings, keeping it in place.
Both the options of holding stockings in place are common.
Times have surely changed since the time when the great American composer and lyricist Cole Porter once said "In olden days a glimpse of stocking was looked on as something shocking but now, God knows, anything goes."
Showing off stockings is no longer considered taboo.
Stocking as an outerwear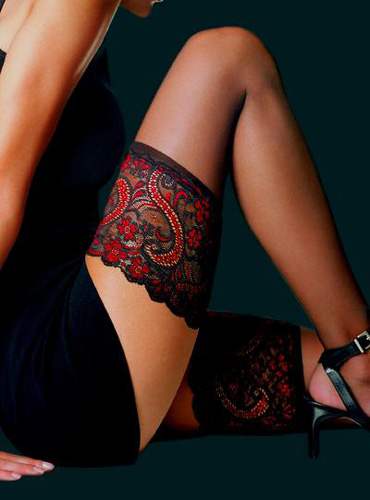 As an outer wear, stockings are always worn with skirts or dresses. Stockings are great for covering blemishes and unsightly marks on your legs, they streamline and smoothen your legs and make you feel more confident of wearing styles which expose your legs. Words of caution though, ensure that the length of the dress or skirt is long enough so as not to show how the stockings are held in place. Unintentionally showing your garter suspenders or lace stay ups is tantamount to a fashion faux passé and avoidable at all costs.
Stocking as lingerie
In the case of lingerie, however, stockings are usually worn by themselves. Teamed with other inner wear such as corsets or two piece set, stockings could be any man's fantasy.
Stocking: medical usage
Use of stockings to help medical conditions is also becoming popular these days. Compression stockings help to control problems such as varicose veins by offering support to the feet.
Kinds of stockings, their colours and fabric qualities
Stockings found in the market are mostly knitted and are found in a variety of fabrics. The most popular fabrics are of course, ones which have natural elasticity, the next best bet are fabrics which have stretch fibre knitted in them. Most popular fabric for stockings is undoubtedly nylon. Use of other materials such as fine microfibers, cotton and even silk is also fairly common. Use of different fabrics gives different appearances to the stockings and depending on the end use of the stockings is used accordingly.
When you go out to buy stockings, one term that is mostly used is "Denier". Denier refers to thickness of one fibre of nylon that is used to make the stockings. The higher the denier, the thicker the stocking and the lower the denier count, the finer the stocking material. It is good to know that sheer styles of stockings will fall between 15 or lesser denier and anything above 15 denier will mean moving towards opaqueness.
Different styles of stockings are found in almost all perceivable colours, though the most popular colours remain black, skin and white. Black is classy and is ok to be worn as a part of office wear and under darker coloured skirts/ dresses. They create an impression of slim, long legs and hence are great for almost all women. Nude or skin colour stockings look great with almost all outfits, especially with the summery outfits. White stockings are generally worn as a part of the bridal attire and could be reserved for special occasions.
Thigh-high stockings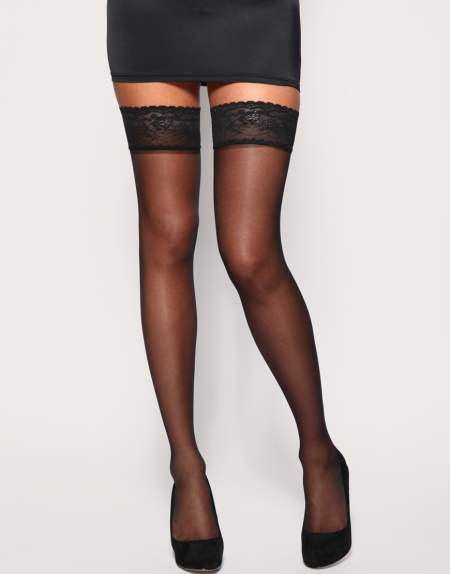 These stockings reach the mid thigh and can be held in place by either of the above methods explained above. Great to wear under knee length skirts and dresses, these usually are found in the classic colors black, skin or white.
Lace top stockings
Lace top stockings are stockings which have lace at the top opening portion of stockings. Lace is added as a design feature and is mostly made of stretch soft fabric, which sits well at the legs. Lace edges could be smooth or scalloped. There could be numerous patterns of laces available in the market, choose one which appeals to you. These look great as a part of lingerie outfit.
Opaque stockings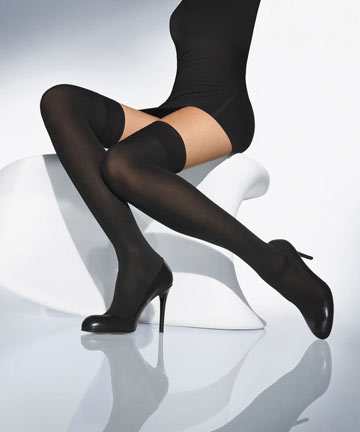 Opaque stockings are stockings which are made with fabrics through which skin does not show. These could be in solid colours or could be printed. While wearing opaque stockings, you could go wrong and overdress; in order to ensure you are not looking over the top, team these with solid skirts or dresses with not too much detailing on them. Solid stockings add an element of color and zing to an otherwise modest outfit.
Sheer stockings
Sheer stockings are stockings which are very very thin and through which the skin almost shows. These are mostly made usually in 15 denier or lesser fabrics and lend an element of smoothness to the wearer's legs. Great for masking flaws in your legs, they are a good bet if you have fat legs or thin and go well with all your outfits.
Fishnet stocking
Fishnet stocking is any stocking which has a mesh like structure on the entire length of the stocking. The fashion gurus suggest that any mesh which is bigger than 1/16th of an inch on wearing is inappropriate for formal office wear and should be reserved for pub outings or night outs with friends. The reason is simple; this look has been associated with frivolity and naughtiness and hence needs to be restricted for office wear. Fish net stockings come in a wide variety of colours – black, nude, and red being the most popular. Fishnets look great when worn with knee length skirts and even pencil skirts in ankle length. These looks could be paired with kitten heels, boots or even pumps. Pay attention to the skirt length, if it is any higher than knee length, fish nets could end up looking trashy.
Textured stockings
Textured stockings are stockings with some pattern or textures on them as a part of design. These could be made in all lace, may have embroidery on them, or could have some pattern like dots, diamonds etc. knitted on the fabric. Choose textured stockings in neutral colors such as white, black and nudes to add an element of zing to your otherwise plain outfit.
Other variations of stockings could be – open toes (no fabric at the toes), which are great for showing off well pedicured feet. They could be with demi toes (more reinforcement at the back of the feet at sole area, and the reinforcement ending just at the top part of the toes).
You could try out different looks with stockings, wear sheer, coloured, textured or fishnet and make your own fashion statement by wearing fishnet on top of a coloured stocking. Take care however, that the stocking is not ripped, does not have runs or snags as these could totally kill the look!