What are hats?
Hats and caps are head gears which may partially or fully cover the head of the wearer. These are sometimes worn for protecting the head and most of the times for making a style statement. Some form of protective covering on the head has been around since centuries, but the modern day form of hats and caps can be traced back to the earlier part of the 20th century. Hats at this time were primarily worn by women of position and were often adorned with jewels, feathers, conches etc. to reflect their standing in the society.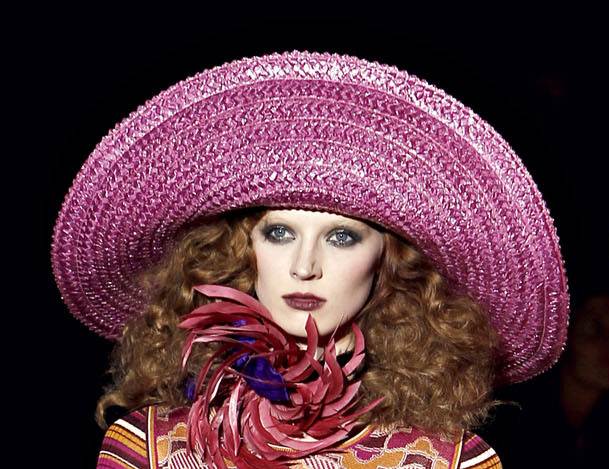 It is a good time to know about  the different varieties of hats as not only are the winters almost upon us and it is the perfect weather to take out our caps and hats but also, as a trend of hair accessories, hats promise to be really big for the upcoming Spring too!
Hats and their parts
The art of millinery, or designing, manufacturing and selling hats is a very important business and is extremely rewarding too. However, perhaps the most important part of this job is to get the fit of the hat right; since hats are worn to enhance the appearance of the wearer, the hats need to be made flawless too.
Hats could be divided into two parts – the bucket like portion of the hat inside which the head sits, is known as the crown, and the portion which sticks out from the crown (usually, parallel to the ground) and is responsible for protecting the face is known as the brim. The different kind of hats that we cover next, essentially play around with these two important parts of a hat.
Kind of hats, occasions for wearing these and things to keep in mind while buying
Hats could broadly be classified into two styles – with brim and brim less and two forms – caps and hats.
Caps
A hat which does not have a brim on any side, except an elongated front brim is a cap. Caps are usually well fitted and can be adjusted to the size of the wearer's head by adjusting straps at the back of the cap.
Sports caps / baseball caps
What is a baseball cap & how should it fit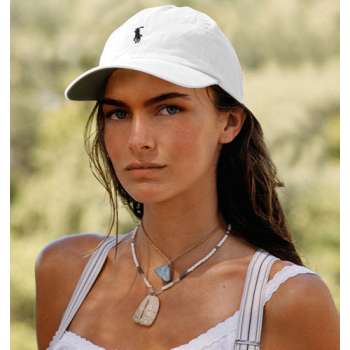 This front brim (also known as the visor), which juts out of the crown helps to keep away the sunlight. At times, there may be no crown on the cap and the visor is held in place by the adjustable straps at the back. Sports caps are primarily made of fabric such as pure cotton, canvas, denim and sometimes even leather.
When & where to wear baseball caps
Excellent to wear while playing your favorite outdoor sport, these are a must in every casual summer wardrobe for the protection they offer to the head as well as the eyes.
What to team baseball caps with
Team it with your favorite pair of denims, shorts skirts and a tee, racer back vest to complete the casual look forward.
Beret
What is a beret & how should it fit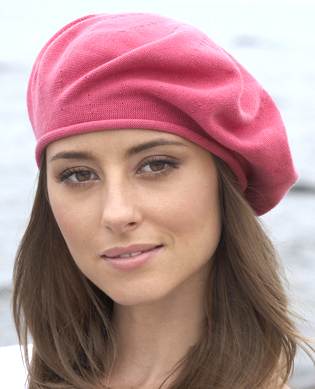 Round, flat, soft caps which do not have any brim and fit snugly on the crown of the head are berets. It can be worn pushed to one side or just like a usual cap, at the centre of the head. These are usually a part of most military uniforms and are worn by both men and women. Berets are timeless classics and can easily bring back the vintage era feel to an36y outfit.
When & where to wear beret caps
Due to their snug fit, these are used for keeping the head warm and hence, no prizes for guessing, berets are the best form of caps to wear during winters. They cover the wearer's ears too providing maximum protection from the cold breeze. These are considered formal and are usually worn at formal gatherings.
What to team beret caps with
Made of felt, wool or fabric, these usually are teamed with other items of winter clothing such as pea coats and trench coats, stockings and heels. Go in for bright coloured berets to add some color and cheer to a dull winter morning!
Skull caps / beanie caps
What is a beanie cap and how should it fit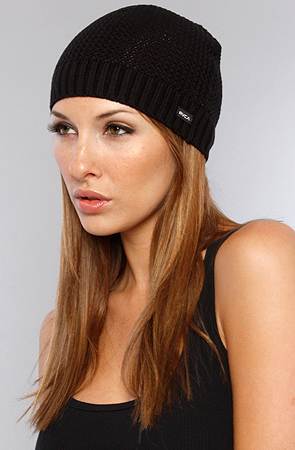 A cap worn to cover your skull is known as a skull cap or a beanie. Worn by a lot of Jewish, Catholic clergy and Muslim men as a part of the religious attire, a skull cap meant for religious purposes, primarily sits on the crown of the head, unlike the more fashionable skull cap, which primarily covers all of your head
Skull cap in its present avatar, was made popular as a fashion statement by young boys in the early 20th century. The trend caught on and a lot of youth fashion icons are seen wearing versions of this skull cap. A skull cap should fit you snugly and should be long enough to cover your ears, reaching just above the nape of your neck.
When & where to wear beanie caps
Skull caps are worn during winters primarily as due to their snug fit, they help in keeping the head and the ears warm. Hey are considered casual, so you could wear them on way to your office or to the market place, but not to strictly formal events. For more formal events, try and stick to a beret.
What to team beanie caps with
Skull caps are mostly made of wool as the fabric has a natural stretch. You could team a skull cap with colorful mufflers, sweaters, sweat shirts and coats, pair of denims and corduroy lowers look great too. You could opt for colorful patterned skull caps. Skull caps with embroidered bands which can be folded over to sit on the forehead are also very common and look great too.
Hats
Unlike caps, hats usually have a structured appearance in the form of distinct crown and brim. For the fashionable women, there are different hats which need to be worn for different occasions.
Derby hats
What is a derby hat and how should it fit
These are swanky hats to complete your fashion quotient and to be worn to– you guessed it right – the derby races. These hats are with large brims to shield the face and eyes from the sunlight and at the same time, add an element of mystery to the wearer.
Derby hats need to fit well on your head as these are considered extremely formal and a bad fit would totally play a spoilsport. So take your time to try out the hat and see if the hat sits pretty on your head.
Derby hats could be made pretty and unique with many additions such as bows, feathers, ribbons, beads and even jewels. Take your pick as these hats offer a unique, luxurious, one of a kind feeling to the wearer.
When and where to wear derby hats
The most obvious choice is the races of course; however, these hats can possibly be worn on any sunny day to any formal event that you can possibly think of. You could wear these to the luncheon date with that special someone or with your girl friends, you could wear these to a garden party on a warm, sunny afternoon etc. Both summers and winters are ideal for wearing this look.
What to team derby hats with
Large brimmed hats such as the derby hat bring attention to your face. The face therefore needs to be well taken care of. Ensure that you have taken care of the basics – flawless foundation and make up, perfectly made eyebrows etc. You could wear well fitted dresses, or tops and skirts with these derby hats. You could also wear statement jewellery such as large pearl necklace, gold chains etc. to complete the look.
Cloche/bell hats
What is a cloche hat and how should it fit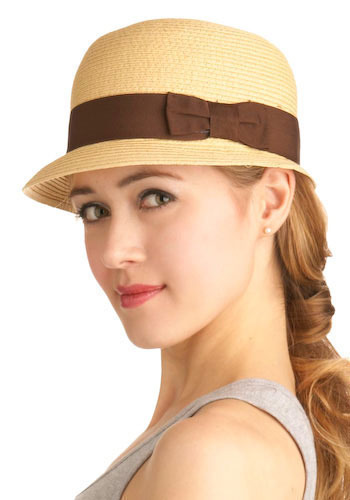 A hat which is shaped like a bell and fits tightly on the head is a cloche hat. It is characterised by a round crown and a small slightly up turned brim. Cloche hat is one of the hats that is extremely popular and you would remember Angelina Jolie donning one in her movie Changeling a couple of years back.
The fit of the cloche hat, like any other hat is important, the correct way of wearing a cloche is that it fits well on to the crown of the head and should sit low on the forehead with the wearer's eyes only slightly below the brim.
When and where to wear a cloche hat
A cloche is a must in any fashion conscious woman's wardrobe as this style is evergreen and can be worn in any weather – spring, summer, fall or winter. The fabric really decides the weather to wear this hat. You could have this hat made in fabrics such as felt, wool or good old cotton. The unpretentious cloche hat can be worn to a casual stroll or market place, a cloche adorned with feather, ribbons, feathers or even bows can be worn to slightly more formal gatherings.
What to team cloche hat with
Cloche hat spells vintage, so team it with classics such as dresses, gowns and skirts. You could team a cloche with a well fitted pair of trouser for an avant garde look. However you plan to wear this classic piece of hat, don't forget to have one as this classic piece really is a master piece in any style conscious woman's wardrobe.
Bucket hats
What is a bucket hat and how should it fit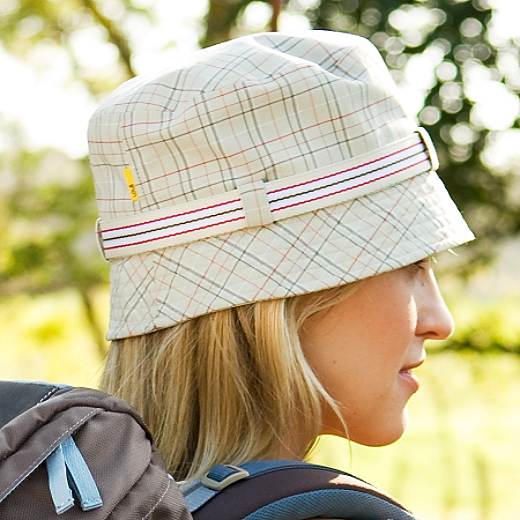 A bucket hat resembles just that – a bucket. Bucket hats have small brims and are popularly worn by young girls. . However, they are perfect for you too, if you are looking at wearing something cool and casual chic. The brim of the hat is soft fabric and has multiple rows of parallel stitches.
While buying a bucket hat, look for a relaxed fit as this definitely is a casual relaxed hat. Pay attention to the multiple rows of stitches that appear on the brim of the hat, as if these are not neat, they may end up spoiling the entire look of the hat.
When and where to wear bucket hats
The main idea behind these is sun protection and is hence quite a popular form of hats during summers. They are available in light weight cotton fabrics and even eyelet, embroidered fabrics. They may be adorned with a small bow or ribbons, but nothing really fancy. Wear it to a movie or to a time out with your friends, these look cool. Some bucket hats are also available in leather and interesting weaves such as the hounds tooth.
What to team bucket hats with
Since the look is cool and casual chic, sun dresses, shorts and tee, skirts and tops and flip flops all look really great with this hat. This hat will suit all kinds of looks – grunge or neat and you really do not need to accessorize too much with this hat!
Western hats or cowboy hats
What is a cowboy hat and how should it fit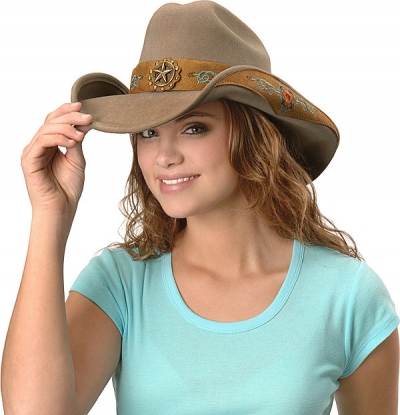 A cowboy hat was meant only for the men, well that was some years back. Cowboy hats or western hats are back in demand again. These hats are usually stiff and with wide brims and slightly upturned side brims.
These hats are unisex and both men and women can wear the same hats. Just ensure that the crown of your head fits well into the hat.  Usually, these hats have an adjustable rope like fastener from one side of the hat to the other to prevent it from flying off!
When and where to wear cowboy hats
If you are thinking that cowboy hats are only meant to be worn on ranches, you would be incorrect as this look has travelled from the ranches right to the beaches and restaurants. You would have seen quite a few celebrities donning this look at some place as common as a shopping mall.
These are usually made of straw as straw really keeps the unique shape of this hat intact. The straw could be woven in different styles. The hats usually do not have any sort of adornment, save a braided leather rope tied around the crown. Essentially this kind of hat is worn in summers or extremely sunny places.
What to team cowboy hats with
These look best with western shirts, skinny jeans and boots, as this completes the look of a cow girl. Avoid feminine dresses, tops and skirts as these may be considered a total fashion faux passé. Keep your accessories and make up minimal and let the western hat make a bold statement for you!
Fedora Hats
What is a fedora hat and how should it fit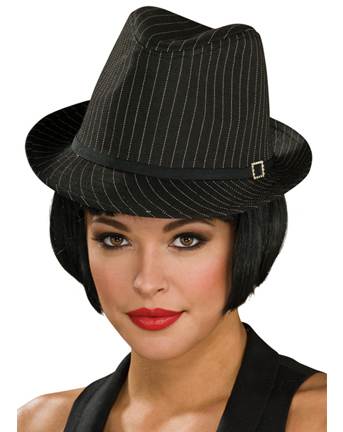 Remember the ever popular Michael Jacksons hats – well those were Fedora hats. This style of hat have been worn by women as well since centuries and were once considered very elite, to be worn only by the rich and famous. However, in the recent years as the popularity of hats has picked up, these hats are worn by any style conscious woman. Fedora hats for women are usually not wide brimmed and have slightly upturned brims.
When and where to wear fedora hats
A fedora is considered formal wear and any formal event is a good place to wear a fedora hat. This is a perfect accessory to wear in either the hot summer months or the cold winters, depending upon the fabric these have been made in.
You could have these hats made in rich fabrics such as velour, satin, fur and velvet or in interesting weaves such as the herringbone and even knitted fabrics and braids. Like other hats, these could be adorned with ribbons and plumages to add an element of drama too it.
What to team fedora hats with
As these hats are considered formal, wear it with a western suit or well fitted trousers and shirts and dresses. You could accessorize it with bold jewellery pieces and to add a bit of a drama, even have darker make up to complete your formal look.
Hats and caps have a unique ability
They can transform you from looking wane to looking prepped up. The best part – if you choose well you can wear them in the summers and winters. While buying hats, therefore, invest in pieces which are classics and well fitting.