A quick quiz – what is that one color which you would team with your fuchsia tank top, a pair of olive green or khaki cargos, a canary yellow shirt, and a classic pair of blue jeans? If I am guessing right and your taste is not too over the top, you would have most probably answered – WHITE! They can under play a bright color and bring out the beauty of a neutral color by providing a pleasing background.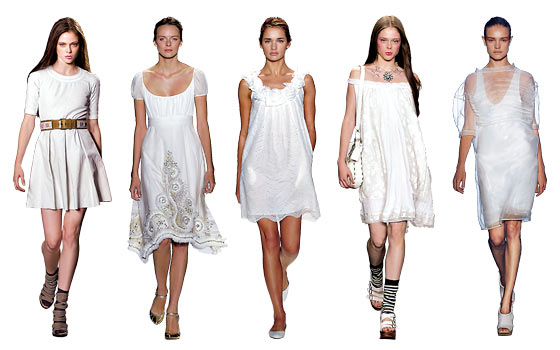 White garments symbolize different emotions in different cultures. Where on one hand, white is the most preferred color as a wedding gown for most brides in the West, symbolizing the impending purity, happiness and long life; in the Indian subcontinent, it is considered a bad omen to be donned by married women as it symbolizes a colorless, zest less life.
Significance of color white
Culture issues notwithstanding, colour specialists call white the colour of the pure, innocent and peaceful. The color white brings in an amount of serenity and calm very few other colours can and hence is the perfect neutral colour to wear with all shades – be they bright, pastel, neutral or dark! It is the most popular color to be worn during summers, as it reflects heat; it is a great colour to be worn when it snows as it deflects light…. Considering that white signifies such purity and can be worn when it is extremely hot and when it snows too, no wonder, it has achieved the status of being called a Staple colour in any woman's wardrobe.
Must have white garments for women
White Undergarments and night wear
Beginning from the most basic, a white undergarment looks classy and is the only color to wear underneath a translucent white top or bottom. Contrast colored and printed undergarments are a big no-no, as they attract too much undesired attention to you. You could choose from a variety of fabrics available – satin, knit, nylon, lace or the good old cotton. Comfort and style are the two most important considerations while choosing an undergarment.
White satin and lace two/three piece suit is every woman's fantasy of looking desirable. If you think you are the more basic sorts, you could still choose from white cotton pyjama sets, or sleep shirts and keep your cool quotient intact. You could even have fun comic characters or floral prints on your pyjama set or sleep shirts.
White Swimwear and beachwear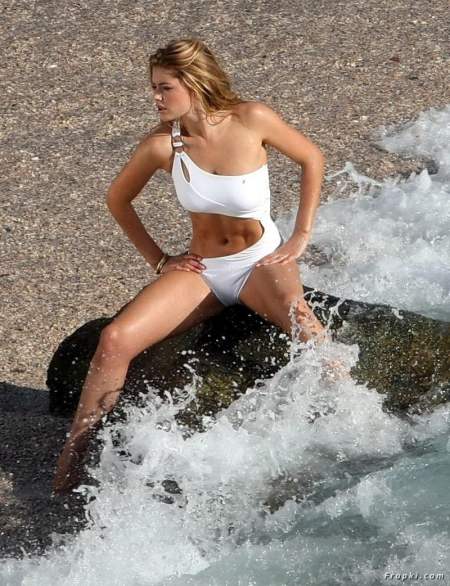 White reflects heat and light and is one of the most preferred colors in beachwear. In swim wear, white comes a close second to black bikinis and swimsuits as black creates an illusion of slimness. However, if you have a shapely, well toned body white is the color to don. A combination of black and white swimwear has always been a trend in every designer's summer range.  You could choose from a wide variety of swimwear styles such as a bikini set, a cut out monokini and even a bandeau. Simply white and a combination of black and white will never fail to impress your peers!
You could also choose a white beach cover up in a wide variety of styles such as a pareo, kaftans, and even a baby doll dress. Pair your white beach wear and cover up with colorful flip flops and a wide brimmed hat, and you are ready to rock the summers!
White Casual wear
During the summers, you could see a host of celebrities teaming their white racer back tee shirts, or figure hugging stretch tees with the basic washed out denim jeans to create the cool yet chic look. Now, you could achieve that look too with the list of must-haves in your casual wear wardrobe in colour white.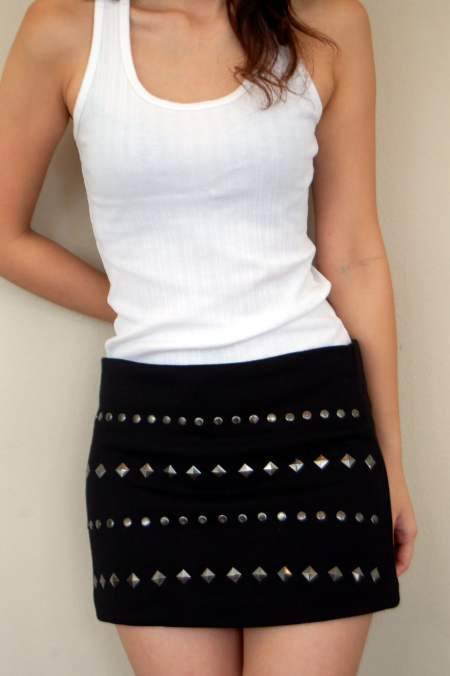 Invest in a well fitted white tank top which could be worn with a tie dye mini skirt, or underneath a denim overall. It is the perfect answer for a casual outing in summers.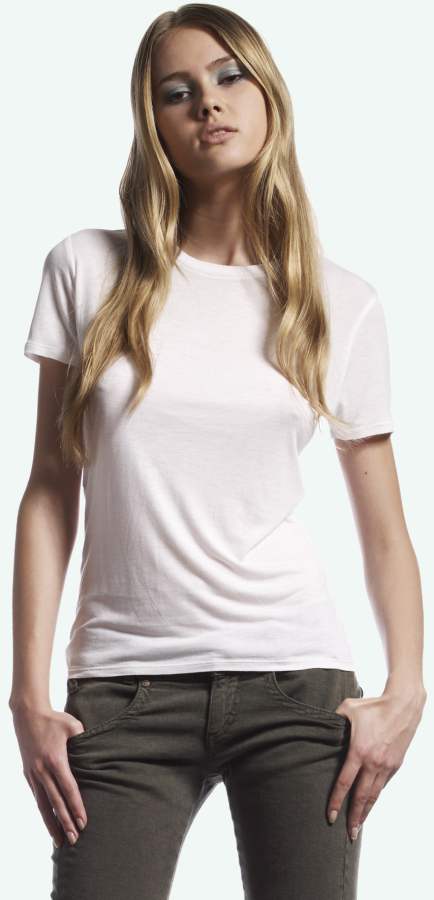 A white tee shirt goes well with any colored skirt, shorts or trousers; it is a sure shot answer to look cool and chic at the same time. To create a new look with the same old tank top / tee shirt, pair it with a denim jacket. It not only transforms your casual look, to being a little more dressy and provides you the warmth and at the same time. Your wardrobe tee shirt staples could include a cap sleeve/ sleeveless, v or round neck, light weight cotton knit tee shirt for summers and a polo neck, full sleeve tee shirt in heavier weight cotton or even polyester / viscose spandex for winters.
Choose your white tee shirts wisely, since they are most basic items and you could team them with almost everything in your wardrobe, choose a brand that is known for its quality and fit and care for them well so that they last you long enough.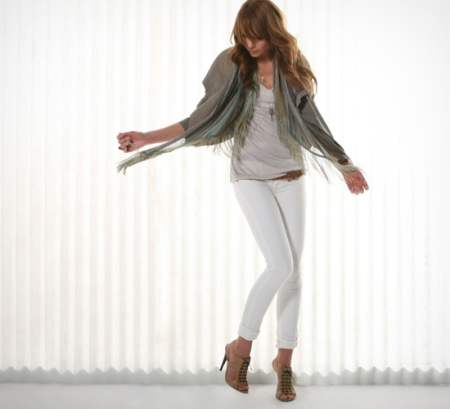 White denim jeans / skirt – Though the classic blue denim jeans is an all time favourite, an all washed out, almost white denim  also sometimes referred to "Alice blue" colour in a pair of well fitted pair of jeans or a skirt is a must in any style conscious girl's wardrobe. The key to wearing the white denim is having a great fit. White has a tendency to highlight the flaws and so fit is the key to looking great in this look.
White Formal wear
Some must haves in colour white in every girl's formal wardrobe are the following items:
Sleeveless shift dress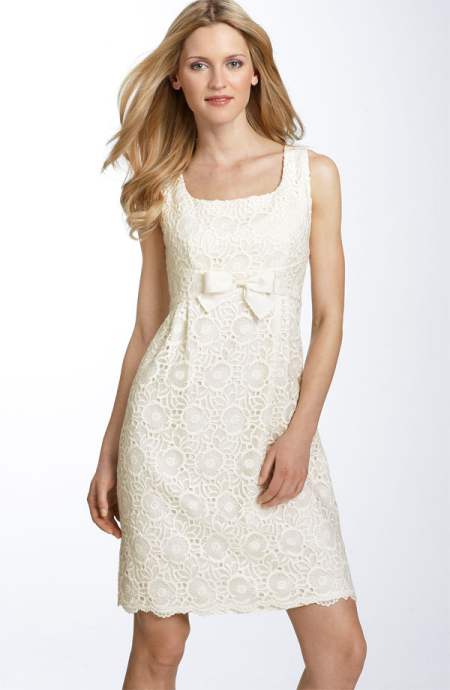 Great for summery office wear on its own and when worn with any color turtle neck sweater underneath, great for a cold winter evening as well, this shift dress is a must for every girl. A shift dress hides the flaws and is great staple item if you are top or bottom heavy. Avoid having too much detail on the dress and pair it with some large beaded necklaces to glam up the basic dress while heading for a party.
White trousers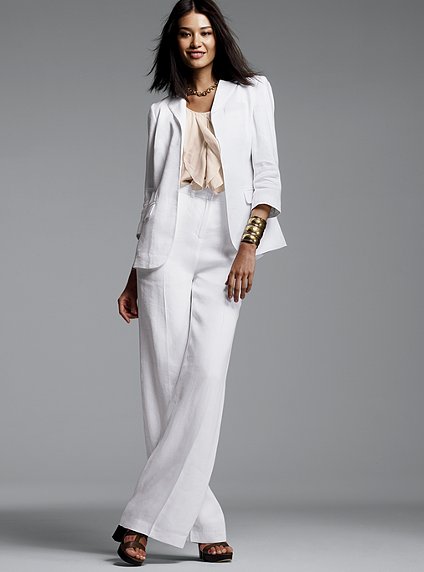 White trousers – Ok, this can truly be tricky. Research shows that white bottoms can make you look at least a size larger than you actually are. So avoid white trousers if you are pear shaped. If you have an hourglass figure, or are top heavy, choose well fitted white trousers. Avoid loose ill fitting trousers, if you are bordering on the heavier side.
Flirty white dress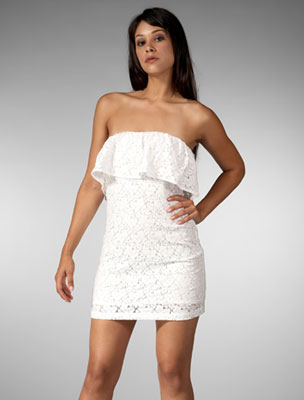 Flirty white dress – Heading out for a party and do not want to follow the mundane black dress code? Pick an A line white silk chiffon dress, which is sure to make heads turn. You could choose the length and shape of the dress depending upon what you want to highlight or hide in your body.
White button down collar shirt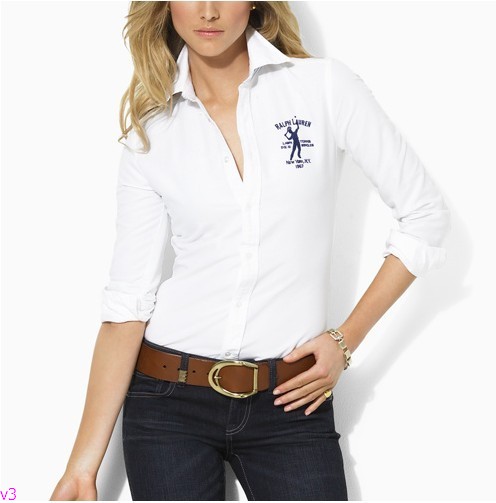 White button down collar shirt – There are so many options of this classic shirt available in the market that you could easily be spoilt for choice. You could choose from self textured dobbies, to pin tucks to plain white and what not for use at office meetings and for partying post the office hours. Accessorize right and you could change the white shirt in a jiffy from serious to playful! Grab as many different kinds of white shirts as you can. You will not regret it!
Off-white skirt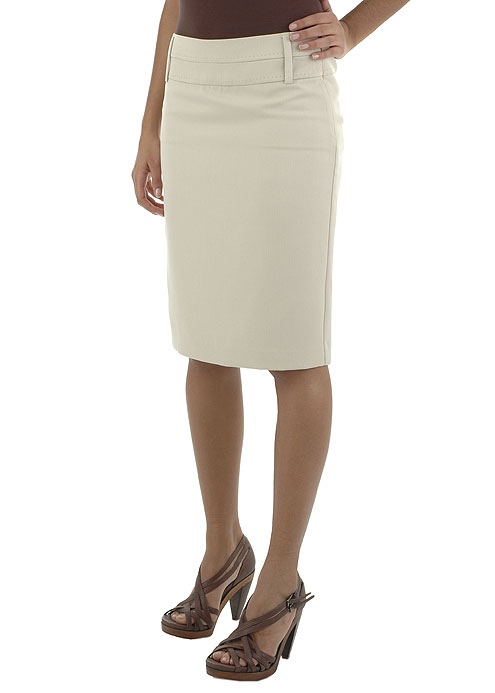 An off white skirt – You could choose from mid knee to mid calf to ankle length off white skirt for your office and post office party wear. Team it with the right kind of top and accessories, and you are ready to be a head turner at any event! Do refer to the article on the different kinds of skirts and the body shapes it suits for more details.
A White blazer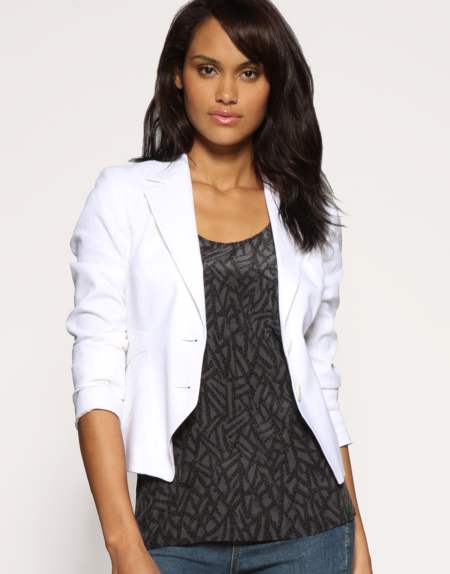 A blazer – Leave the traditional black and navy for the boring! Choose a well cut and fitted white blazer. You could team this with a contrast color trouser/ skirt and top and look classy.
White Indian wear
White kurta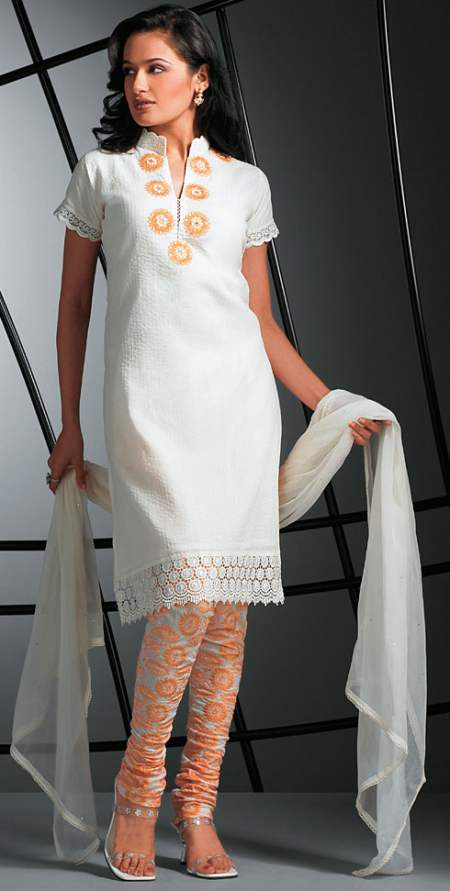 The kurta in Indian wear is quintessentially a crisp white. A kurta could be teamed with a pair of jeans or trousers to give you a casual air, or it could be teamed with the white churidar (fitted pants) to give you a classy look. You could choose from a variety of fabrics and styles for the white kurta, starting from an all over embroidered one, to a dobby textured one, a self stripe one in silk, cotton , linen , khadi and so on.
White Sari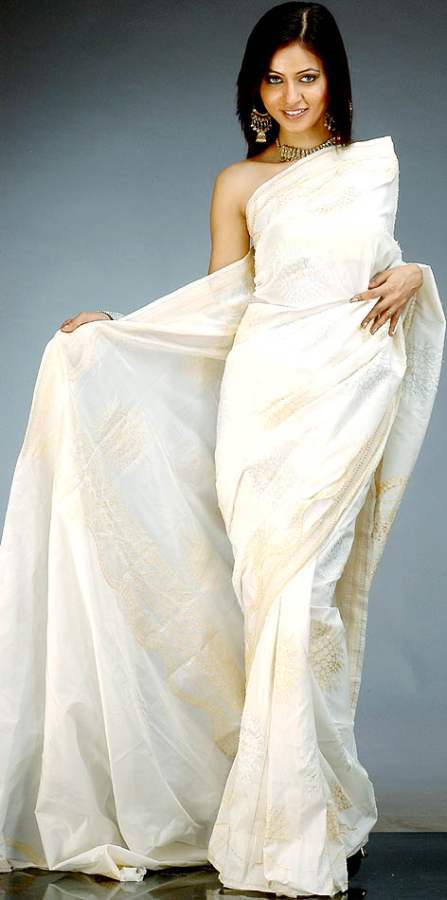 Sari – Times have changed and a white sari is no longer relegated to a garment to be worn only by widows. Today, a flowy white sari is the epitome of grace and beauty. A shimmering white sari with silver sequins and embroidery is sure to turn heads. Team it with a dangerously low cut blouse or a halter top, or even a bikini top and look every bit the ultimate diva!
Caring for your whites
Whites look best when they are – white, not yellow or stained. Perhaps the most difficult part of having a white garment is maintaining it. However, a little care while wearing and laundering it goes a long way in keeping your whites just that way.
Use a detergent which is meant for whites or lighter coloured clothes.
It is best not to mix whites with other coloured clothes while washing.
Remove stains from your white shirt as soon as possible – perhaps use the services of a professional dry cleaner!
Almost all whites can be washed using a bleaching agent, unless the fabric is too delicate or the wash care suggests otherwise. A good bleach, keeps your whites clean. However, do read up the instructions on the bleach bottle as too little may prove useless and too much may weaken the fabric. Pour bleaching agent only as instructed, mostly after you have already rinsed the garment with a detergent once, as addition of bleaching agent deactivates your washing powder.
Iron and store your whites as per instructions provided.
Following these simple tricks will ensure that your whites last you long, however, do bear in mind that the environmental pollution does get to your whites and the whites may over a period of use start looking dull and yellowish.
Colour white is in direct contrast to the other basic colour black which signifies everything mysterious, sexy and even macabre. However, white still manages to stand its ground year after year, season after season due to its versatility. Enjoy wearing whites this season!