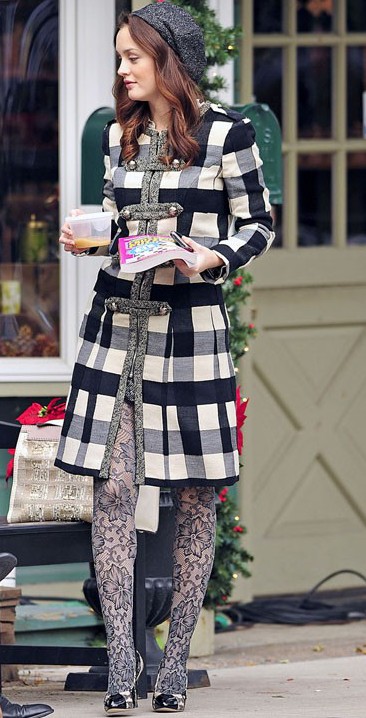 Leighton Meester better known as Blair Waldorf, the queen of the gossip girl series, lives up to her status as the fashion icon of Constance Billard School even when she is just chilling off sets, of the American teen novel turned sitcom.
Leighton was sighted wearing block checks in a grayscale paired with what I feel, showcases the comeback of this very femme fatale stockings, but instead uplifting it to another level, making it look absolutely elegant. The floral creeper in grey, dressing the bare legs beautifully for the season, lends umber sophistication to the simple look. Not to miss the shoes which seem as though they were custom made to match the dress coat. The oriental style fastenings which appear to be made from the same sheer fabric of the leggings and the lace beret complete the look with finesse.
Stockings also referred to as tights or hose nearly vanished completely from the fashion scene during the late nineteen fifties. It did make on and off appearance, especially in its bright neon coloring, but autumn winter 2010 sees it in its new sophisticated avatar.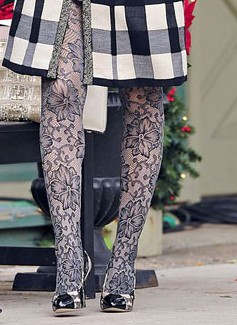 Get the Look
Where checks often make a bold statement pairing them with a very feminine pair of sheer lace leggings makes the ensemble look very elegant and chic.
Pairing stockings with any monotone, if you can't lay your hands on a checked dress coat, will still give you this sophisticated look.
Ensure you complete this look with a good pair of pumps and a matching beret.