Every girl dreams of finding her Prince Charming and being swept off her feet. In the mean time you know what the best part is; you don't have to be in a dream to look like a fairytale Princess. And that's exactly what two very talented designers proved through their gorgeous creations.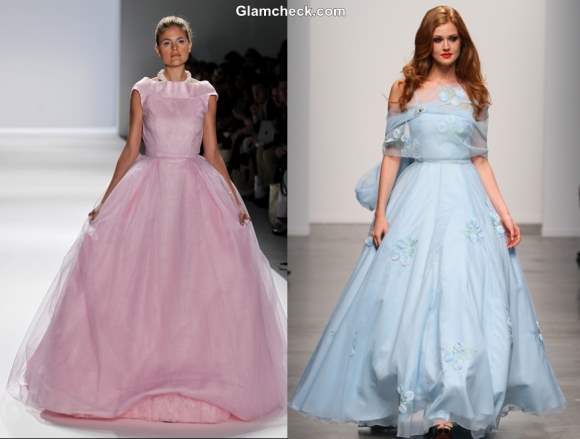 Style Pick of the Day Fairytale Ball Gowns for S-S 2013
For our style pick of the day, we've chosen two glamorous gowns from next season's collections that are sure to rock your world. Designers Zang Toi and Telina Webb each presented their Spring/Summer 2013 Collections in New York in September 2012. While each individual collection had a unique flavor, the two gowns that we've selected are beautiful enough for any girl to charm even Prince Charming himself!
Pink Ball Gown s-s 2013 – Zang Toi
Malaysia's fashion icon, Zang Toi presented his latest collection at the Mercedes Benz Fashion Week Spring/Summer 2013 Collection on September 9, 2012. In his world, party dresses with ruffles, layers, embellishments and sparkling jewels are essential for any spring/summer celebration this coming season.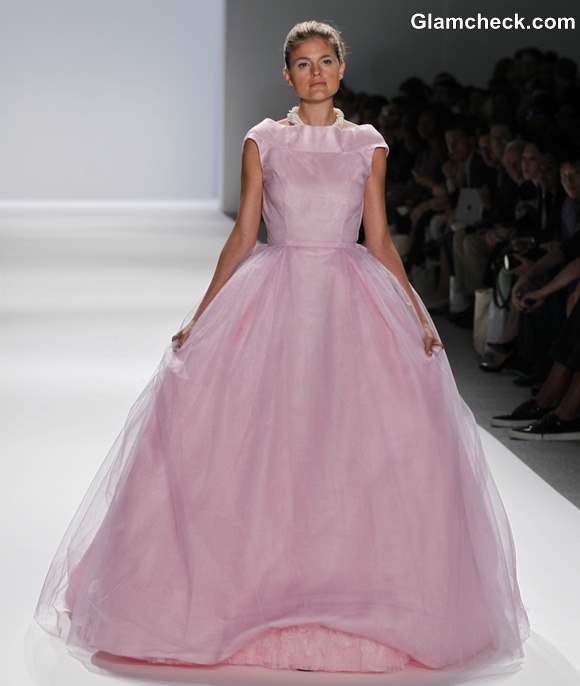 Pink ball gown Zang Toi s-s 2013
The pieces featured were inspired by the French Riviera and ranged from elegant flowing ball gowns to chic evening wear. For our style pick of the day, we chose a piece that would fulfill any romantics' dream; a light pink gown.
This princess seam gown was created using organza and multiple layers of lining to add to the body of the gown. The bodice of the gown was designed to perfection with a folded-over boat neck at the front that ran all the way down the back to form a plunging U-shaped neck that ended just above the gown's skirt.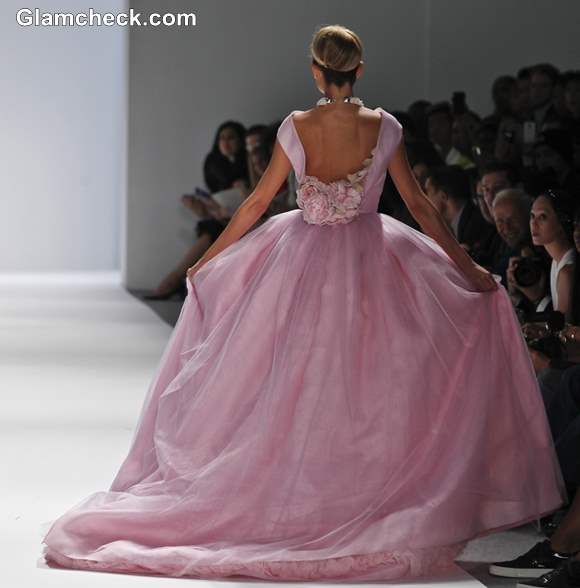 Pink ball gown Zang Toi s-s 2013
The skirt of this floor-length gown was delicately made using a luxurious amount of fabric and was stylishly trimmed around the base. Also, the back of the skirt tapered off into a romantic chapel train.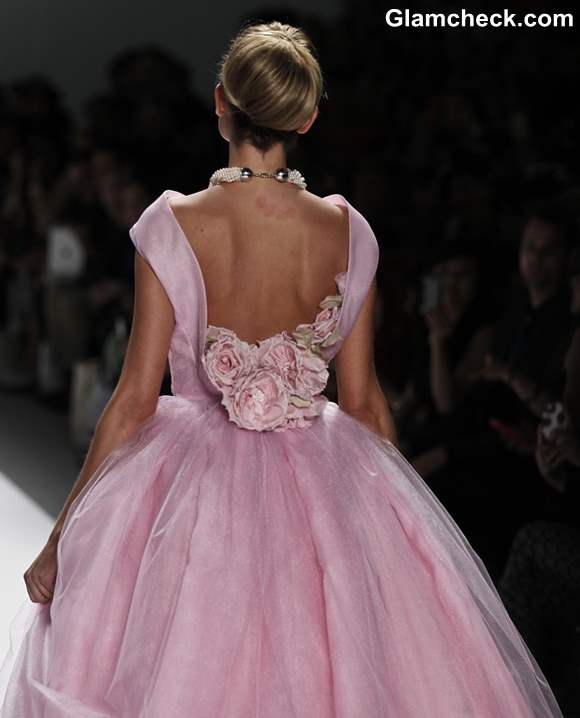 Pink ball gown s-s 2013 Zang Toi 
The neck at the back of the gown was elaborately filled with flowers of varying sizes in a shade similar to the gown, with a hint of pale green visible in the form of leaves.
The model's hair was tied up in a sock bun to show-off the back of the gown, with the rest of her look kept as natural as possible. The only piece of jewellery needed to complement this ensemble were a heavy set of stringed pearls worn around the model's neck.
Light-Blue Ball Gown s-s 2013 -KabukiU
On a similar note, designer Telina Webb showcased KabukiU's Spring/Summer 2013 Collection during the Nolcha Fashion Week on September 12, 2012.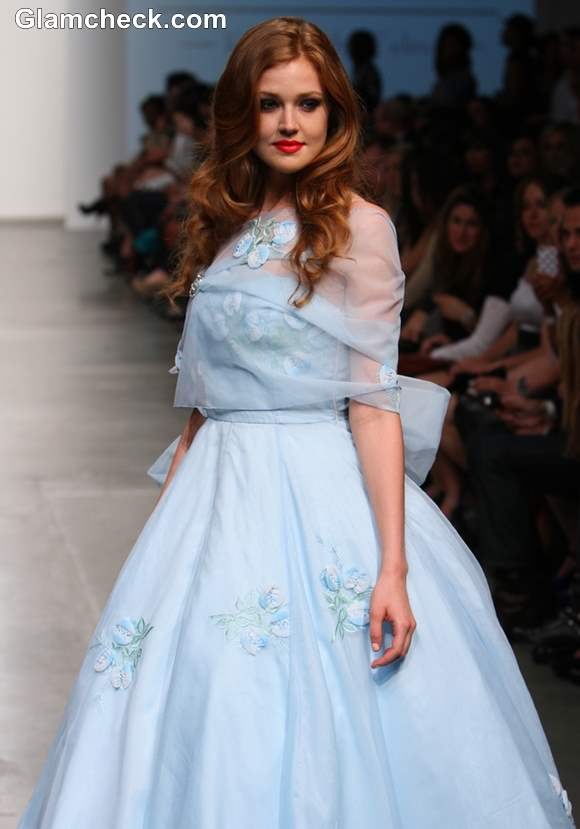 Ball Gown s-s 2013 -KabukiU
This Australian-origin brand presented a range of colorful kimono inspired ensembles along with dresses and pant-suits inspired by a mix of cultures, namely that of Europe and Asia.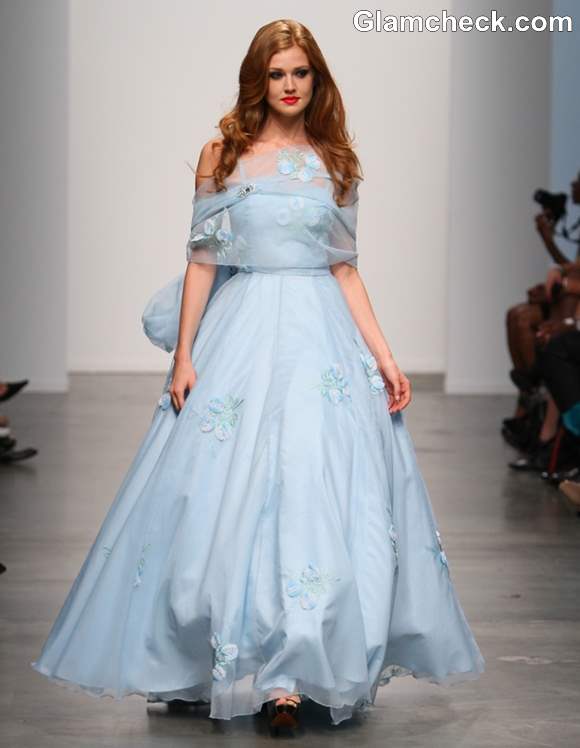 Light-Blue Ball Gown s-s 2013 -KabukiU
Inspiration was also taken from the 1950's, as seen in the romantic evening gown styles on display. One gown in a shade of light blue caught our eye, because it definitely fulfilled our "Princess" criteria.
This gown was intricately designed for a traditional yet modern woman. The skirt of this elegant, multi-layered gown had flowers on it that were both embroidered and embellished.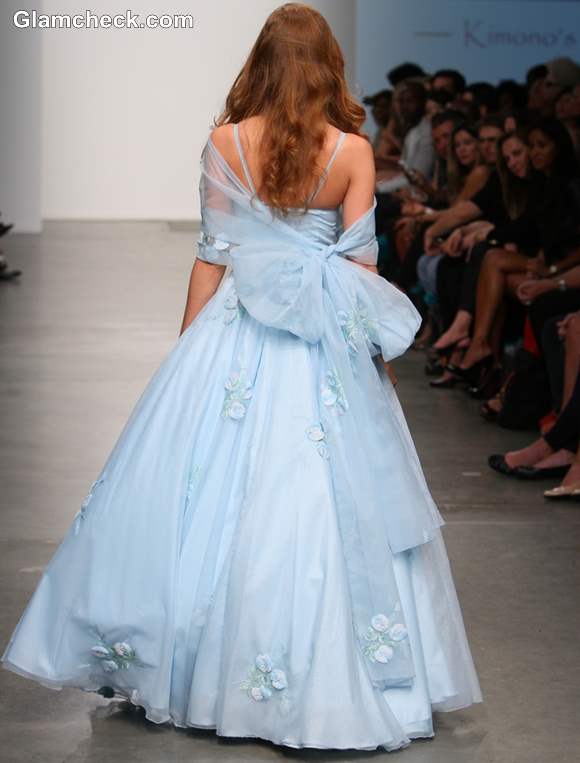 Light-Blue Ball Gown KabukiU s-s 2013
The close fitted bodice of the gown had spaghetti straps that were covered by a beautiful see-through wrap that extended from the front, around the left shoulder and ended in an elegant bow at the back, which was tied to one side. The wrap had the same pale blue and white flowers as the gown and was fastened to the bodice with a studded broach.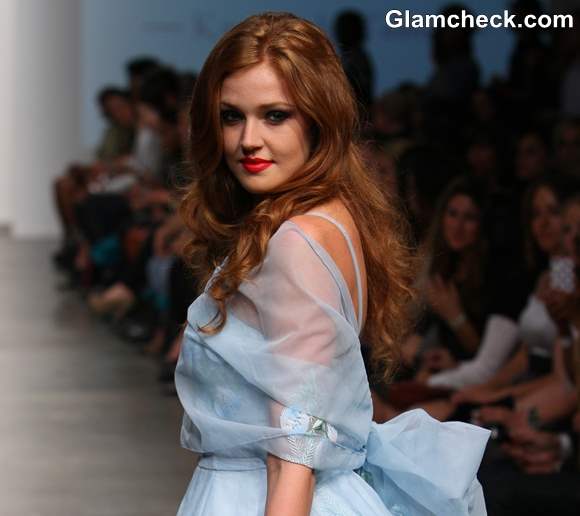 Blue Ball Gown s-s 2013
The only additional color that the model wore was a bright red lip color. The rest of her look had a minimum of makeup and her locks were left to cascade gently down her back.
Tips to Remember While Wearing a Ball Gown
While wearing a ball gown may not be an everyday affair, when you do get a chance to look like Princess, here are a few pointers to keep in mind.
Make sure that the jewelry you pick complements the gown and doesn't clash with it in terms of color and size. Delicately styled gowns should be worn with more subtle and exquisite pieces of jewelry. You could choose from a wide range of bracelets, earrings, chains, necklaces or broaches.

Keeping in theme with the coming season, you could try flaunting a bright color in form of a lipstick or creatively doing up your eyes and nails.
Gloves are another great option while wearing a gown. Remember the general rule for choosing your gloves is that the shorter your sleeves, the longer your gloves can be. You could choose opera gloves for a strapless or sleeveless gown. You could also choose gauntlet or elbow length gloves depending on your preference.
If you choose a gown in a pastel shade, make sure that you don't over compensate for the lack of bright colors in the form of bags or shoes. In such cases, less is more.
Lastly, make sure to wear a pair of sturdy heels that can comfortably take you through an evening filled with dancing. After all, no evening affair with Prince Charming ever ended without a perfect dance!
So this summer, be it a ball, the opera or a wedding, get ready to have a great time in a gorgeous gown because it's going to be an evening you won't soon forget!
Shutterstock