Day 3 began with young designers showcasing their designs, and ended with the industry biggies.
Designer Mrinalini A/W 2011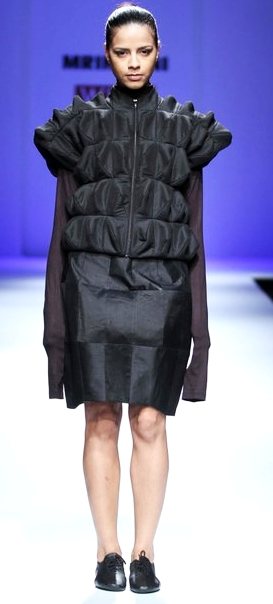 Designer Mrinalini opened the day 3 with a very strong angular sense of silhouette. Her theme was graphic and designs reflected that. Silhouettes included jackets – quilted and structured, knee length dresses, slashed loose blouses,  fitted tops with extra long sleeves and crop pants. The colour theme was black and white which made the designs look even starker. Detailing included quilting, 3 dimensional design features and cut outs. While the designs looked great on the ramp, they will need to be really toned down to include in your day to day wardrobe. Trend to watch out for is surely the structured fitting of the garments, this autumn winter.
Designer Ritu and Rochanas A/W 2011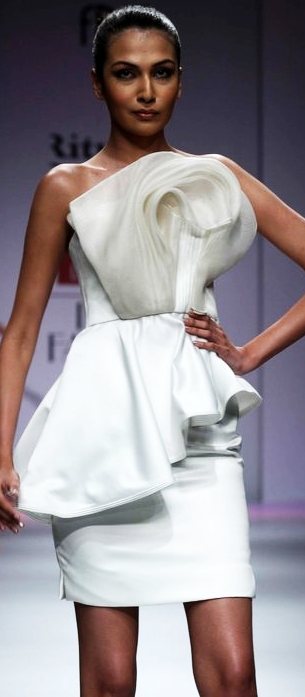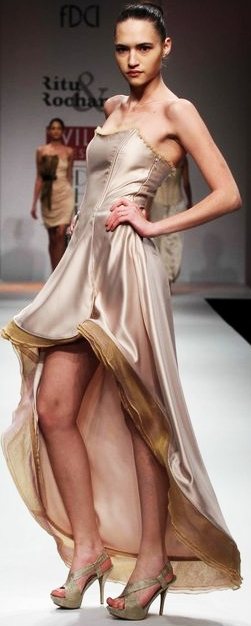 Ritu and Rochanas show was next, where the designs were elegance personified. The collection was marked with sophisticated fluid details and played around with textures.  Mostly evening wear, the shapes included one shoulder dresses, asymmetrical blouses paired with surface design skirts etc. The fabrics were satins and silk chiffons. Colours included – beige with a hint of grey and orange, the classics white, black and red. Trend to watch out for is the surface ornamentation by way of ruffles, layers and gathers – it can make any ordinary design extraordinary.
Designer Jyoti Sharma A/W 2011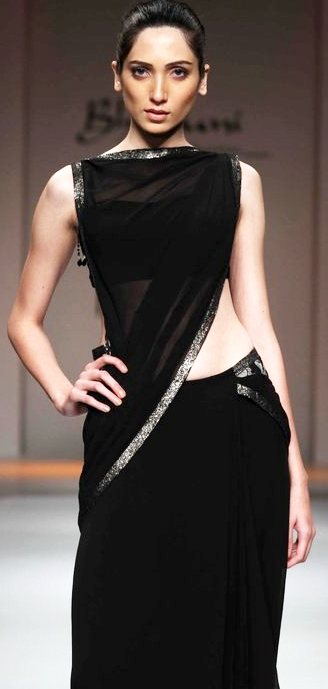 Design collection "Bhanuni" by Jyoti Sharma was deeply inspired by drape and fluidity. Her collection included saris and flowing dresses, dhoti pants worn with fitted tops etc . The fabrics were mesh, chiffons and chamois satins. Designs were accentuated with subtle yet glamorous design features such as contrast shimmery border on an otherwise plain black sari, tonal embroidered grey dress, colour play between grey appliqué embroidery and sheer black under layer. Colours included dull rose, black and browns. Watch out for the trend of feminine, fluid designs and the dull rose colour from Jyoti's collection.
Designer Chandrani Singh A/W 2011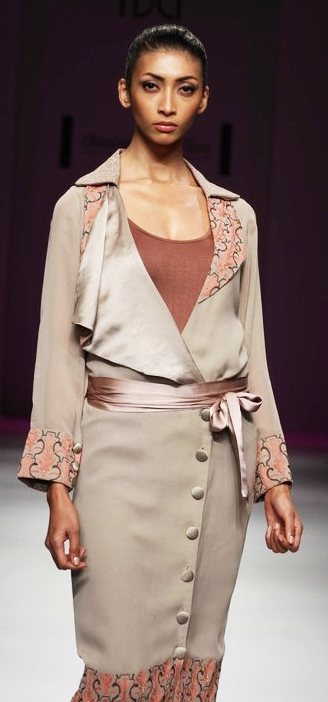 Luxurious, textured and embroidered are three words that come to mind when discussing Designer Chandrani Singh Fllora's collection. Her designs were inspired by the artworks of William Mortis. Subtle colour play between the prints and the main garment, tonally different jackets and dresses, mix of prints and embroideries to look as one were some of the features that made her collection look different yet great. Colours included a wide spectrum ranging from dull oranges, browns and pinks to lively colours such as deep reds and maroons. Silhouettes included dresses with accentuated waist using a sash belt, long boleros, well constructed waist coats, ruffle tops and straight skirts. Watch out the ruffle trend that is being showcased by many more designers and subtle surface ornamentation.
Designer Divyam Mehta A/W 2011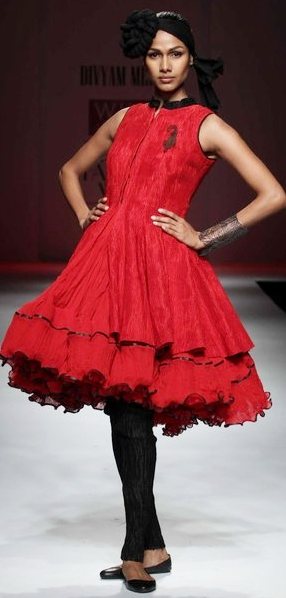 Designer Divyam Mehta with his collection VAAK, tried to blend the modern with traditional Indian elements. His designs were mostly in monochromes – reds and blacks mostly, using fabrics apt for Autumn winter – silks, drapy satins, crinkle chiffon and cotton. Silhouettes included flouncy dresses, well fitted short jackets teamed with pleated skirts, godet panelled tops teamed with dhoti pants and sheer leggings and shift dresses with sheer sleeves. Most of his garments had a small embroidery motif in contrast or pewter colour, which brought in the traditional element to his design. Watch Divyam's take on blending modern silhouettes with traditional designs this Autumn winter.
Designer duo Hemant and Nandita A/W 2011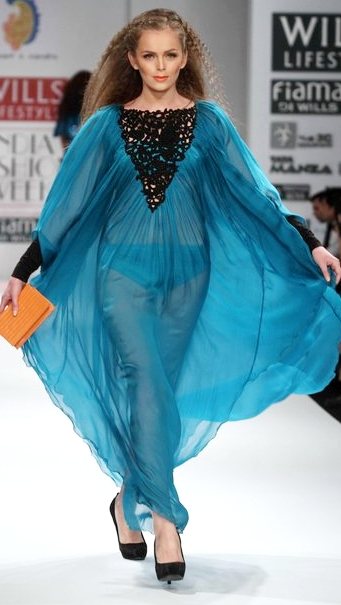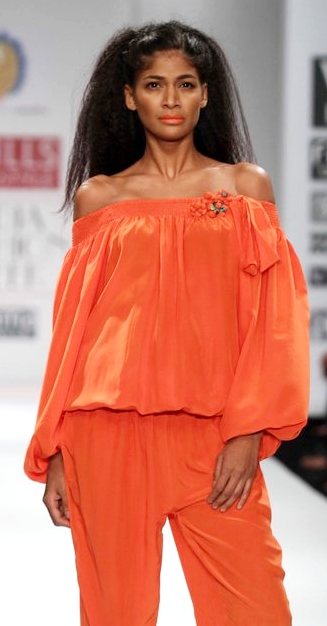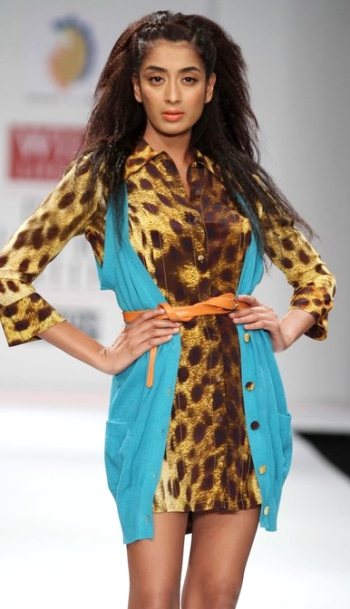 Hemant and Nandita's show in the afternoon came as quirky, fun and stylishly witty and a sharp contrast to the morning shows. The collection in satins, chiffons, velvets, crepes and cashmere used unusual colours such as grey blues, oranges. The use of large flower placement print and animal prints carried forward the element of zing in their collection. Jumpsuits in solid and animal print, placement printed dresses, cropped pants worn with same coloured vest and contrast flowing robe, billowy top worn over balloon shorts, metallic embroidered boleros worn over rose printed pants were some of the shapes that blended the fun design elements with great classic shapes. Watch out for mix and match of animal prints with solids in the usual silhouettes these winters!
Designer Pratima Pandey A/W 2011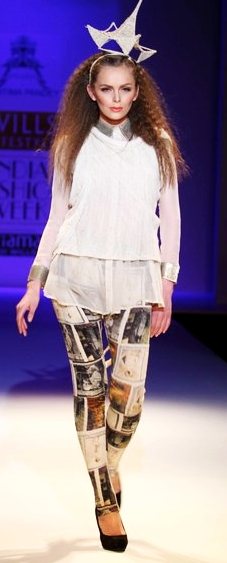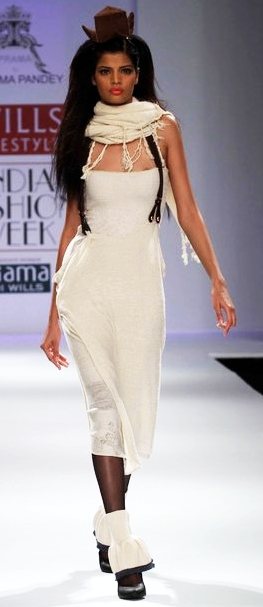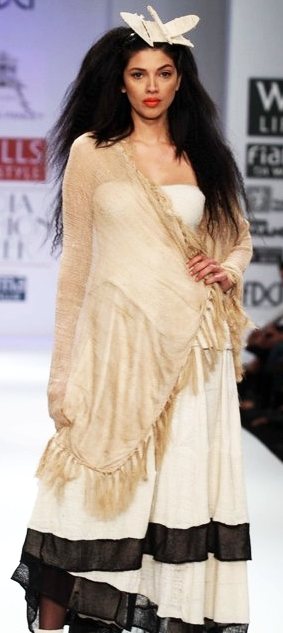 Pratima Pandey's "Prama" showcased  understated elegance using simple designs and evergreen fabrics – knits and khaadi. Her collection was chiefly in whites and beiges with some design feature in black. Silhouettes included printed leggings, crochet tops, asymmetrical skirts, long dresses teamed with long embroidered capes. Layering different garments, mostly similar coloured on top of each other was prominent. Trend to include in your personal collection is for sure the comfortable and chic khaadi and layering ideas.
Designer Tanvi Kedia A/W 2011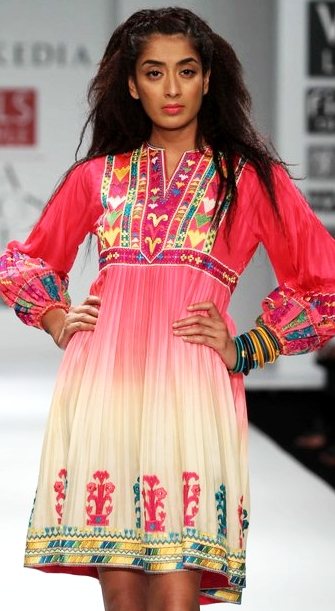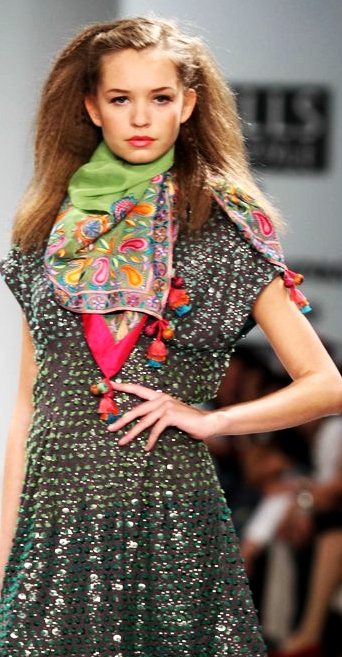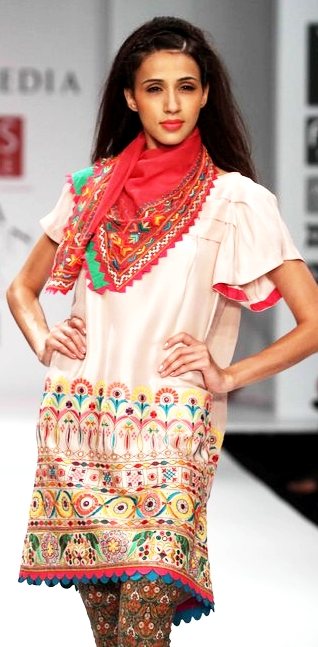 Designer Tanvi Kedia in her collection aptly titled 'Mixed Media' presented a great and hitherto unseen mix of folklore, fantasy and glamour in a riot of colours, effects, ikat weaves and embellishments. Embroidery techniques included the world famous "kutch " glasswork embroidery in a riot of colours with motifs which screamed India – peacocks, elephants and rajas on horses etc. The colour palette included the bright oranges, pinks and teals jostling with blacks,navy, beiges and greys. Shapes included kaftans, tunics, printed leggings, dresses and long coats. Trend to watch out for is definitely colourful chic kitsch and printed leggings – just loved the look!
Designer Gayatri Khanna A/W 2011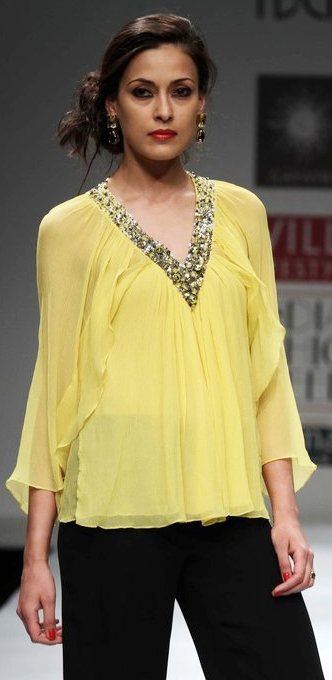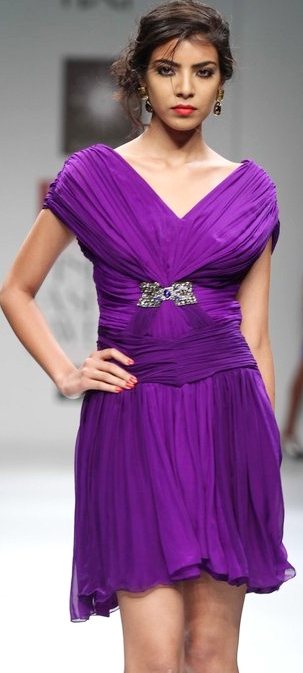 "Gayatri" by Gayatri Khanna had a central theme – Jewelled poetry and this common theme was carried forward in almost all her designs. Colour pallete was a rich mix of aubergine, indigo, lemon yellow and shades of red. Evening gowns with embellished shoulders, empire line dresses and intricately embroidered bodices were the main attractions of this collection. Watch out for how jewelled pieces can adorn a simple outfit this Winters!
Designer Raj Shroff A/W 2011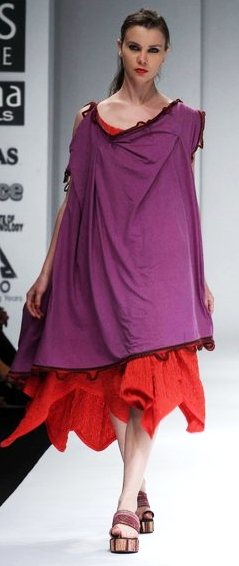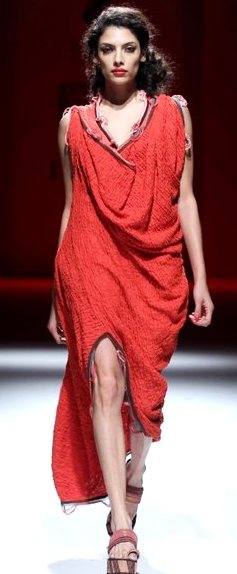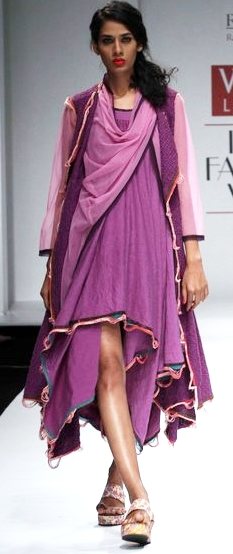 Raj Shroff 's collection was dramatically indigenous yet international. It used vibrant colours such as matt orange, lilac and ombre effect of brown on black. Wrap-around capes, asymmetrical hem dresses, cowl necks were some of the looks that the models wore. Khaadi, loosely woven cotton, chiffons were the fabrics used in this chic and comfortable collection.
Nidhi and Divya Gambhir A/W 2011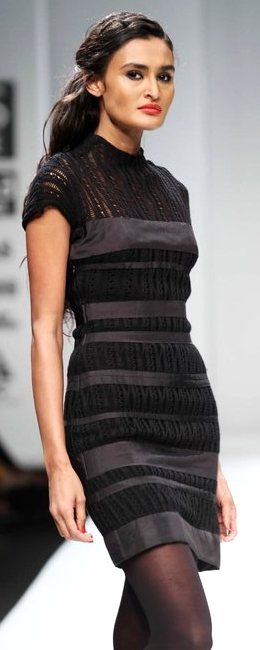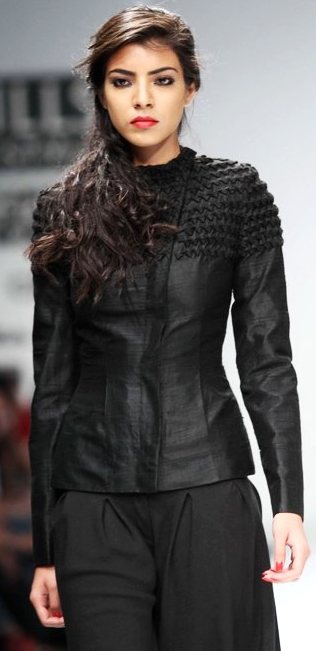 Walnut by Nidhi and Divya Gambhir showcased styles which truly represent what today's modern woman wants to wear – Indo western and western. Engineered fabrics with 3 D effects were common and found their way in almost all designs. Felt appliqué, cutwork and use of sheer net as sleeves and complete dresses also made the collection different.  Jackets, printed pants, fitted tops were the main bodies. Colour story was overpowered by the presence of black, subtle hints of dark teal and oranges were found in a few designs. Check out the trend of layering and appliqués for your bold dressing days!
Designer Sonam Dubal A/W 2011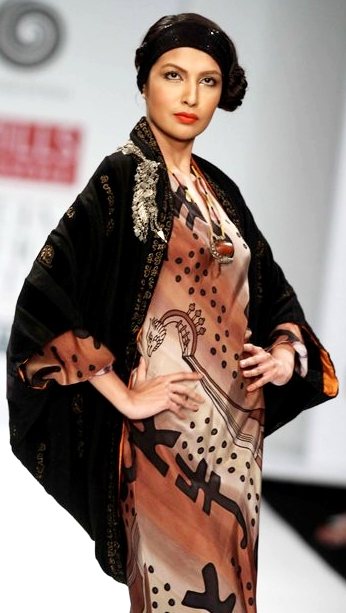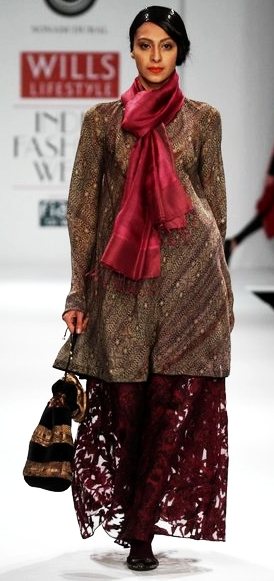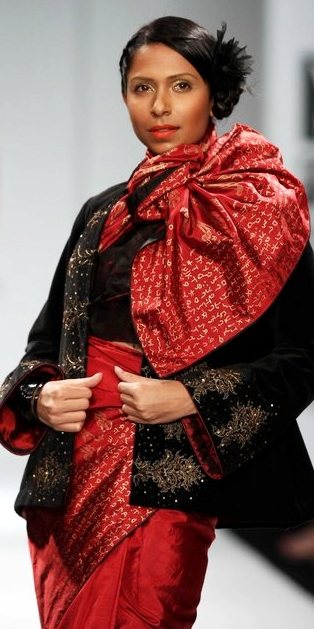 Sanskar by Sonam Dubal heavily drew inspiration from Middle eastern and Morroco. The designer used the dervish hats on the models to recreate the magic. The designs had print on print motifs, coin embroideries ( similar to the ones worn by Belly dancers), vernacular prints et al. In terms of colours – they were kept to the shades inspired by the desert– browns and shades of it, blacks and tonal shades, browns. The occasional reds and bright oranges and some sequins added the glimmer of the sand that is sometimes seen in these parts of the world. Shapes included well fitted jackets, wraps, long Nehru collar jackets, A line dresses. All in all, a trend worth watching would be the print on print and middle east inspired embroidery.
Designer Jason Anshu A/W 2011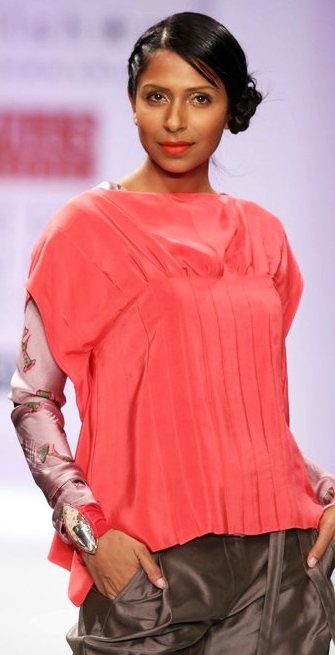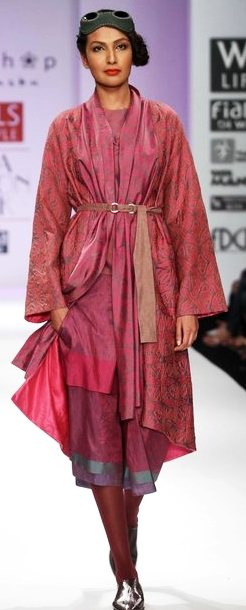 Small shop by Jason Anshu used unusual blend of colours and hand processed natural drapey fabrics in their collection. Their collection was dreamlike and the quaint accessories in silver added to the glamour. Silhouettes were loose, anti fit and did great justice to the 'dream' theme. Corals, aqua, teal, rich brown and red were the colours. Garment styles included coloured leggings, asymmetrical draped and panelled tops, anti fit jackets etc. What to watch out for? Great blend of unusual colours – let your imagination run free and the natural comfort that the silhouettes and fabrics give to the wearer.
Designer Shantanu and Nikhil  A/W 2011



S and N drape by Shantanu and Nikhil is the new bridge brand launched by the designer duo and they pleasantly surprised their followers by moving in a very different direction from their red carpet dresses. The collection showcased modern, edgy, young and glamorous short dresses, ruffled jackets and fitted silhouettes and drew inspiration from vintage Indian colours and culture. The colours included, predictably orange, gold and black. Surface ornamentation included fur, leather trimmings and an element of bling using sequins. Animal prints, tonal self prints were also revolutionary. All in all, watch out for leather trimmings and bling this upcoming winter season!
Designer Rohit Gandhi, Rahul khanna A/W 2011



Rohit Gandhi,  Rahul khanna went linear and geometric in their designs, drawing inspiration from modern art. They used 3 D textures and colour blocking. Silhouettes were straight and sharp and included fitted, layered dresses, jackets and trousers. Colours included neutrals such as slate grey,  and brights – burnt sienna, deep blue, tomato red and matt gold. Detailing included a liberal use of fine cut-outs, slashes, mix of sheer and opaque and panelling. Trend worth following is surely the cut outs and limited but intelligent use of 3 D patterns.
Designer Namrata Joshipura's A/W 2011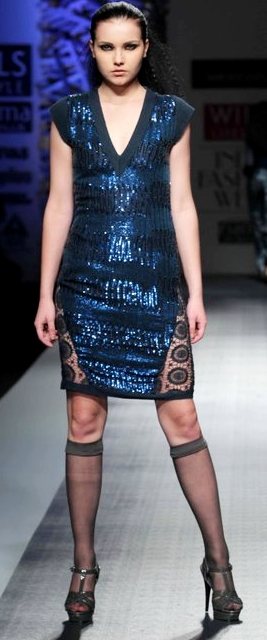 Namrata Joshipura's collection was strong and feminine, just like most of her designs. In a collection which was predominantly dark hued – blacks, teal and grey, Namrata revisited some classic silhouettes and added some new ones. Jumpsuits, wide leg trousers, body suits, panelled dresses, floor length capes were all there. So was the 3 D detailing that seems to be the flavour of the season – ruffles, loops, sequins dressing up the smart silhouettes. Plunging necklines, deep slits and a sexy, confident wearer were the trademarks of this show. The trend we must watch out for is the ever green jumpsuits and the sexy necklines!
Designer James Ferreira A/W 2011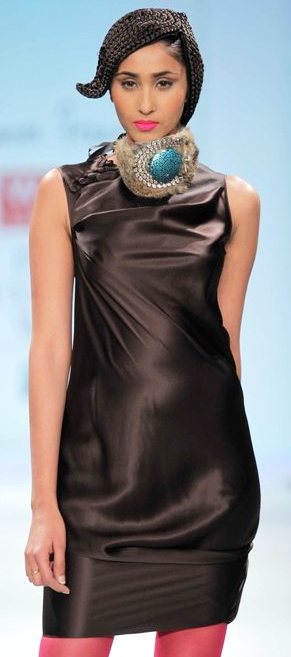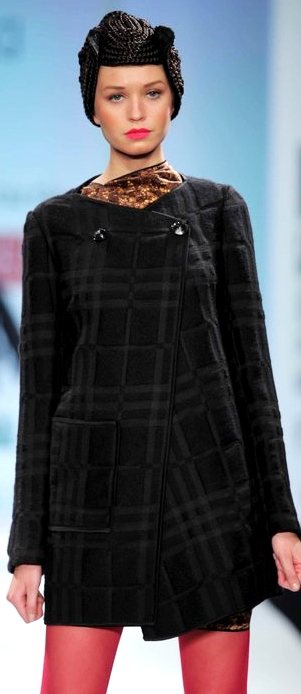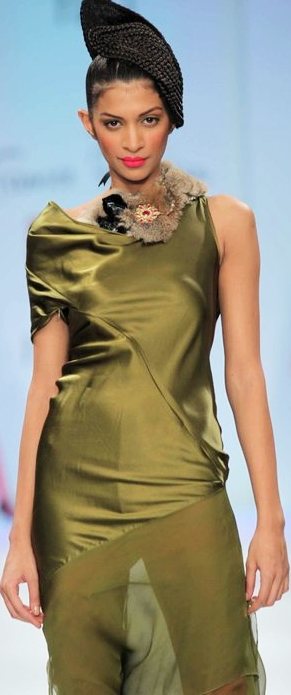 James Ferreira made sure that everyone, including himself had fun in his show. While the designs wowed everyone, what really made everyone's day was the impromptu jig by the designer himself to the popular Bollywood number – "Sheila ki jawaani" as he took his bow. The colour palette was inspired by winter hues – moss green, burnt sienna, gold and yellow. There was an old world charm about the entire show- braids and evergreen bias cut dresses, reminding you of the 1950s.Coloured leggings, capes, draped bias cut evening dresses, tweed dresses were all perfectly cut and draped well on the models. Fabrics used were just right – silks, tweeds and wool and the designs had embellishments made from fur, leather and textured textiles. Adopt the colours, fabrics and the silhouettes for a truly memorable autumn winter.
Designer Manish Malhotra A/W 2011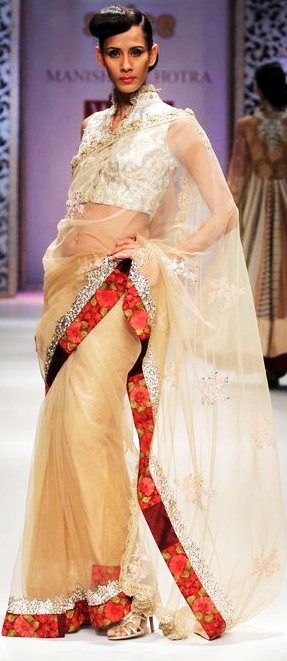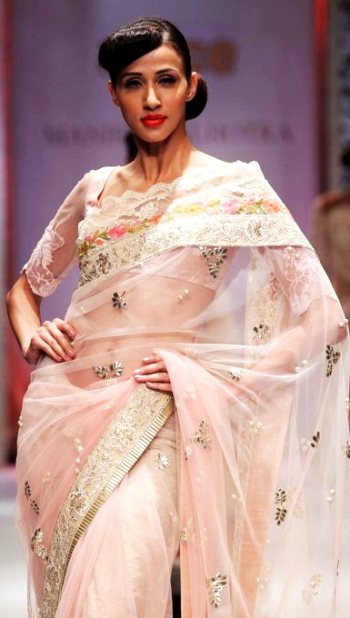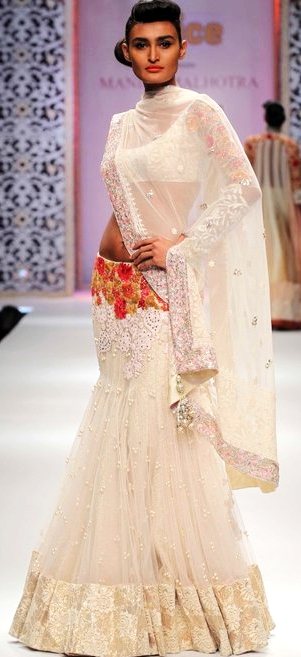 Manish Malhotra repeated what he is best at – wearable, classic Indian wear. Colours were pretty, silhouettes flowy and there was an element of Indian-ness , that is so 'Manish' to all his designs. Colour palette was navy, black, grey and brown for the men folk and pretty pinks and pastels for the women folk. The designs used Chikan-kari and Kashmiri form of embroidery. Traditional 'gota' work added to the bling. The shapes for men were 'bandhgalas'and sherwanis in different lengths worn over dhoti pants, fitted churidaars and cropped pants. For the women it was the oh-so-hot anarkali suits and saris draped in interesting fashion. The entire collection was a masterpiece and the colours, shapes, embroidery techniques are all worth including in your personal wardrobe!
Day 3 was about 3 Dimensional detailing and modern sharp and edgy silhouettes when it comes to western wear and playing around with colours and traditional forms of embroidery when it comes to Indian wear.
Image: WIFW