The rule of fashion is to always make a comeback after a certain interval of time, holding true to this adage – this summer we see the return of the retro swimsuit in both design and pattern.
The style gets a thumbs up from us for its glam quotient – after all can you think of something more eternally timeless than the 50s pin up posters of models in retro swimsuits? Think Marilyn Monroe, and for that matter even animated characters like Betty Boop, and you will get the answer.
Types of Retro Swimsuit
Retro swimsuit is not restricted to just one type of style; it envelops a broad category of designs and patterns under its name.
Body Covering One Piece Retro Swimsuit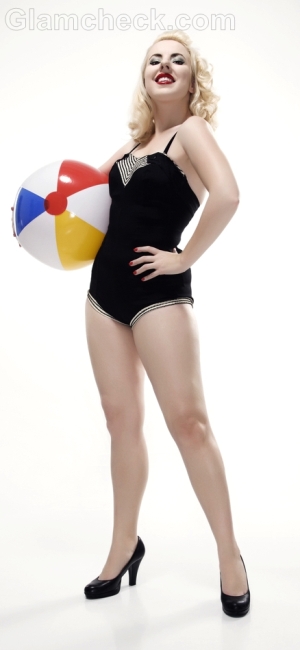 This is the most famous of the retro swimsuits and it is making a comeback for the right reasons. We agree that showing skin is sexy, but smartly hiding it and offering just a flash induces a mystery quotient which lends charisma to the wearer – precisely the reason why we like this style.
This type of a retro swimsuit is available with straps, tie ups, with a halter neck, as an off shoulder and with the bottom totally covered. Therefore, it suits quite a lot of purposes – the biggest of them being hiding bulges and love handles. T
he waist is smartly trimmed by these swimsuits, which gives the coveted hourglass shape to even the non shapeliest of bodies.
The buttocks are also nicely covered, so you do not have to worry about cellulite or orange peel from showing, plus it also tightens this area making it look firm. This swimwear is ideal for women who have just given birth or those who want to hide their stretch marks.
It surely does a great job of hiding the features that you don't want to show and highlighting the areas that you consider a plus point – without looking like a matron.
Tunic Retro Swimsuit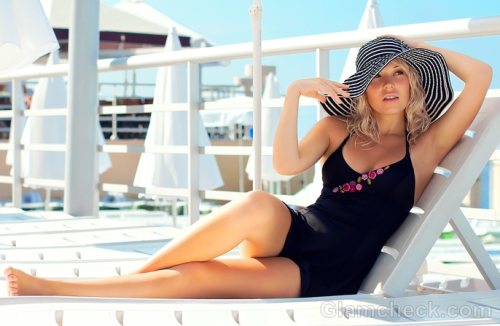 These one piece swimsuits reach till the upper thigh and also cover the buttocks adequately – making it great for those who do not feel comfortable about showing off their posterior. Another advantage of this style is that you can play it up by adding a belt to the midsection – which gives more shape to the body.
Corseted Retro Swimsuit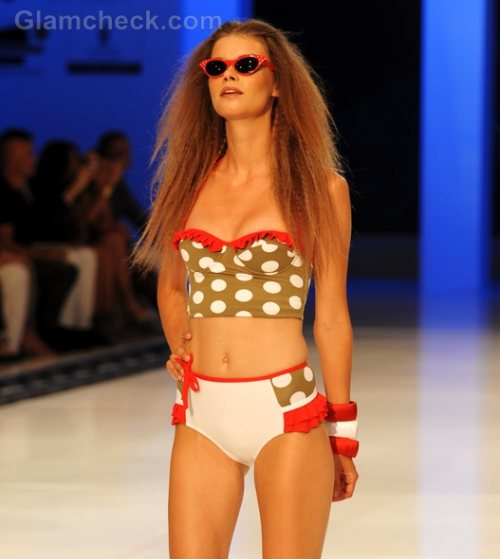 These are a dream and a gift for those who consider themselves out of shape, as the corseted swimsuits give shape to the body by holding on to it tightly at the right places. So, if it is curves that you want, and not flab, then this number can be your friend.
Two Piece High Waist Bottom Retro Swimsuit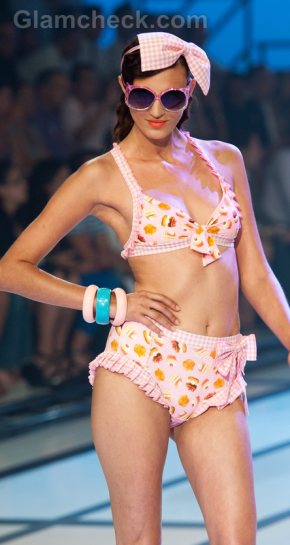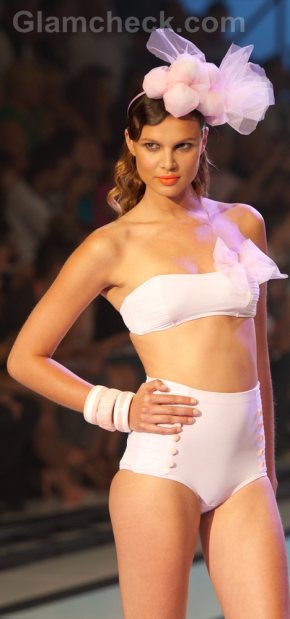 If you thought a retro swimsuit was only about a one piece suit, then you are wrong as these are also available in two pieces. So, those of you who are bikini lovers, you too can sport a retro swimsuit with élan without giving up on trend. The retro two piece swimsuits are characterized by their high waist bottoms – which again makes it perfect for making your body look shapelier. You can choose a bottom that totally covers your backside or one that is cut up higher on the sides – all depending on what you are most comfortable with.
Skirted Retro Swimsuit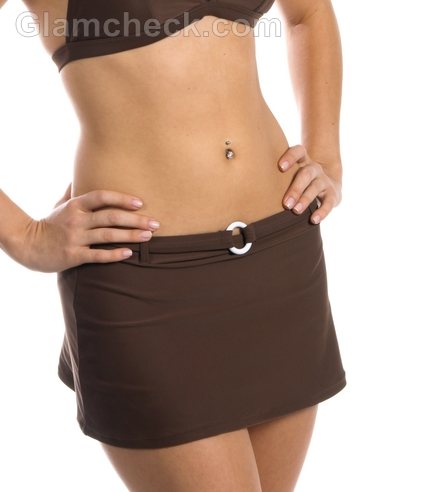 Another variation of the retro swimsuit is the one with the skirt, which is found on both the one piece as well as the two piece style. They give a very feminine appeal to the swimsuit. This style is also great for those with straight body types – because it gives the impression of curves.
Retro swimsuit Prints and Patterns
If you are someone who does not want to wear the above mentioned types of retro swimsuits, but at the same time want to follow the trend – there is an option for you too. Just pick up a retro patterned swimsuit. Yes, the trend of retro swimsuits is not only about wearing swimwear that has a vintage design, you can also wear a regular swimsuit with retro patterns. So, you can choose from regular stuff like bikinis and monokinis in prints like polka dots or checks – and you shall be fine.
Tips To Wear a Retro Swimsuit According To Body shape
If you are heavier on the buttocks and thighs then choose the bottom covered style. You can also pick the skirted styles as these will draw away attention from areas that you find faulty.

Those with lean legs can choose high cut bottoms.

If you have love handles or bulges in your middle section then choose a one piece retro swimsuit as it will smartly conceal the problem areas and make you look visually slimmer.

In case it is your worked out abdomen that you want to show off then choose the two piece retro swimsuit.

For those who want to hide flab – the corseted type should be your option.
 So get gorgeous and glamorous with your choice of a retro swimsuit and be ready to make a splash.
  Image: Shutterstock