Jillian was seen talking to the 'What's The Buzz About MTV's Awkward'. Jillian, who started as a child star at the age of 5 has been in the fashion circuit for quite a while.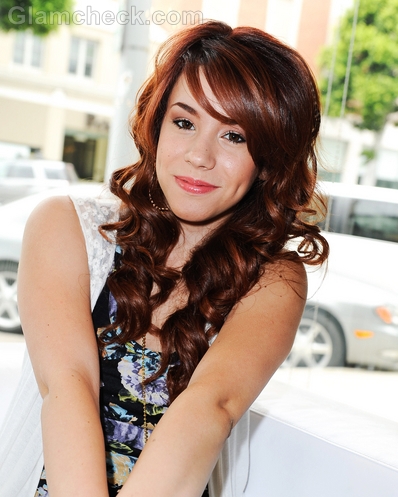 Jillian has very luscious auburn tresses that she generally wears straight. Though, instead of opting for the limpness she chose to wear her hair in fun and tight curls, at the event. The side swept bangs fell on her forehead giving softness to her face. The glossy hair-do added glamour to her appearance.
This look is very easy to achieve if you already have wavy hair. While blow drying your hair, you could scrunch it by taking small portions in your hands. This will give volume to your hair and definition to the curls. Scrunching works on almost all types of hair. But, the girls who have poker straight hair, might require most that just hands to get the look right.
Many products are available in the market for personal choices. You can use a curling tong, rollers, braids or curling sticks. Use styling gel or a hair spray to let the curls stay longer.
Things to keep in mind while curling your hair.
Avoid brushing your hair once you have curled them. This will just give it a frizzy and disheveled mess and spoil the curls. à Run your fingers through it if you want to separate the curls.
Do not use a styling gel before curling your hair. That will make the curls stick in bundles, which will not give a very original look.
Do not use a curling iron very frequently as it spoils the texture of the hair.
With your curls in place you could give a new meaning to the phrase 'let you hair down'.
Image: P R Photos