If you want some great ideas for up-dos and ponytails, then you should definitely take a look at Beyonce hairstyles. The diva is known for making appearances on the red carpet in glamorous hairstyles. Whether, it is straight, curly or tied hair, Beyonce's hairstyles inspire us to try them on ourselves, so here we bring you the "how to do steps" of some of her popular updos.
Super Slick Ponytail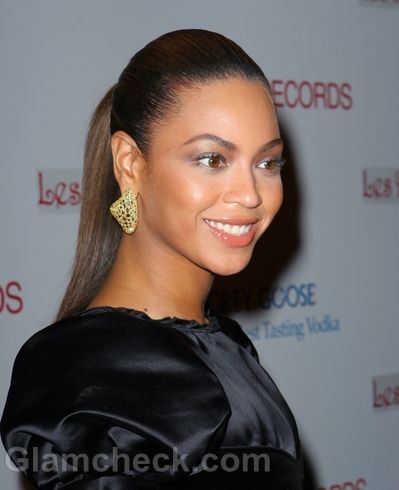 The super slick ponytail is a great way to show of each and every contour of your face, so if you want people to focus on your face then this is a hairstyle that will work wonders – like Beyonce shows us here. This hairstyle can be worn with gowns, dresses, jeans and even track pants – it suits every kind of attire and occasion.
Do it yourself:
Begin by combing your hair so that there are no tangles or uneven edges.
Pull back your hair with the help of a fine tooth comb – for getting the smooth finish.
Tie the hair firmly at the back of your head. 
You can use a hair spray on the front part of the hair so that there are no stray hairs or fly-aways.
Playful Ponytail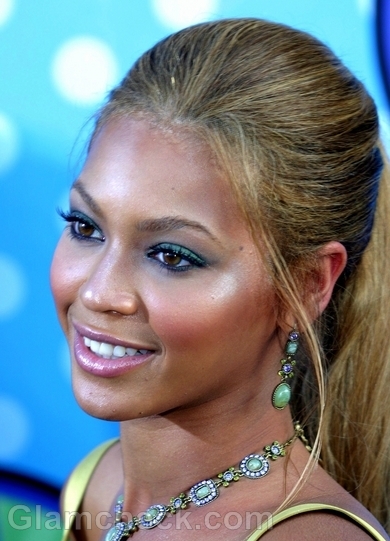 The playful ponytail gives off a very carefree yet feminine appeal as we can see on Beyonce.  It lends softness to the face and is a youthful hairstyle. One can sport this hairstyle for casual as well as formal occasions.
Do it yourself:
Gather your hair at the back of your head and secure with a rubber band or scrunchie.
See that the hold on the hair is firm yet not "too firm".
Pull out one two strands of hair in the front – to create the carefree look, and arrange them artfully around the face.
The trick is to make the hairstyle look slightly messy, though you might have spent some time to create the "deliberate" messy look – for it to appear playful.
Low Ponytail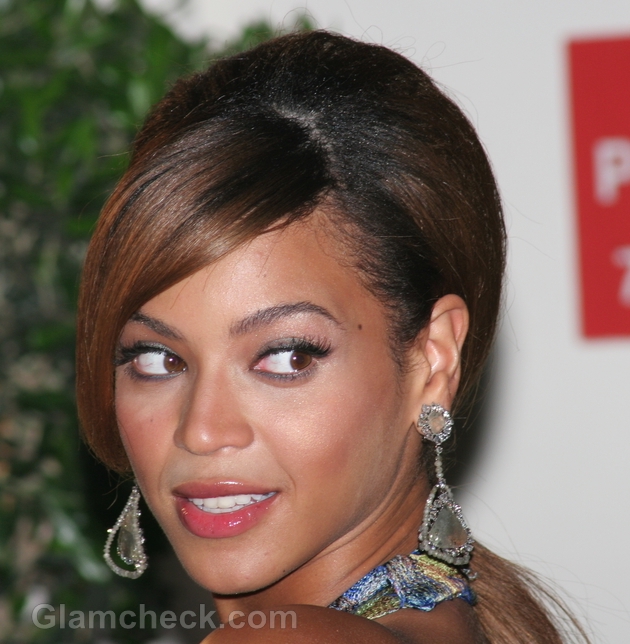 The version of the low ponytail that we see on Beyonce is a side-parted variant with a slight touch of a bouffant. This hairstyle adds length to the face and is good for those who want their face to look longer.
Do it yourself:
Make a "U" shaped parting in your hair right at the front of the head, with a rat tail comb (See Photo).
Comb the front portion of the hair to the side of your face – to give a side swept look. You can pin the hair right behind the ear to ensure that it stays like that. You can also use a hairspray to hold the Hair in place.
For the back portion of the hair, you have to back comb it to give the hair a slight lift – like a bouffant.
Once the "slight bouffant" has been achieved, tie the hair at the base of your neck in order to get the low ponytail.
You can also tie the hair at the side of the neck to get a side ponytail.
Braided Bun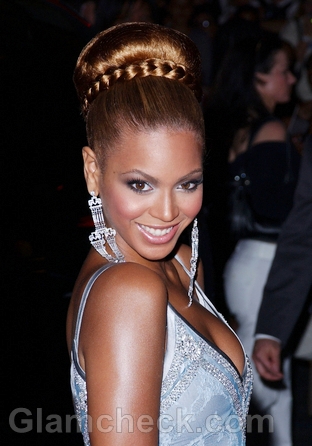 Beyonce's braided bun is a hairstyle that you can wear to super formal occasions like a wedding or a prom. If you think that you need really long hair to sport this style then you couldn't be further away from the truth.
Do it yourself:
Start by following the steps of the super slick ponytail, and tie a tight ponytail at the top of your hair.
Now, if you have long hair then make a bun with the ponytail. If you have short hair, then buy an artificial bun, in a color that is closest to your hair color, and place it on the top of your head, where your own hair has been tied into a little ponytail. (If you have short hair then most probably the ponytail won't be bigger than a stump so it will be easier to pin the artificial bun on it) Secure the bun with the help of pins.
Artificial braids/plaits are easily available in the market and you have to get yourself one of those (whether you have long hair or short hair), again in a color that is closest to your own hair color. Now wrap this braid neatly around the bun and pin it in a tight manner – and your braided bun is done!
You could use hairspray on your hair after you are done making the braided bun, so that the hairstyle stays put.
Don't forget to use a lot of pins so that your hair doesn't fall off! At the same time, see that the pins are not visible because you wouldn't want that.
To get a really neat effect you can always enlist the help of a friend – after all a friend in need is a friend indeed! And, this is need because, otherwise, you will have to shell out a significant sum  to get the same style at the beauty salon.
So, achieving the Beyonce hairstyles is actually not all that tough, and you have to thank Glamcheck for that! (Yes, we are unabashedly patting our own back, but hey – we did make the steps easy for you, didn't we!)
We hope you have a good time trying the Beyonce hairstyles, and like we always say – send us your photos when you successfully flaunt it!
Image: P R Photos, Shutterstock