Not everyone is born with fairytale hair, however, thanks to modern innovations like hairstyling tools, it is not impossible to achieve that look. Hair tools consist of the basic brush to the more advanced curling iron, and all that is between.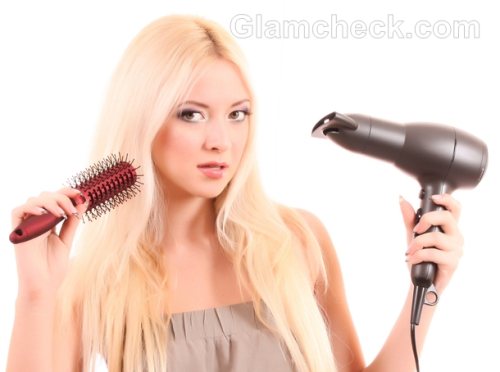 Broadly speaking, we can divide these tools into three basic categories:
Combs and Hair Brushes
So, why am I even talking about things as rudimentary as brushes and combs? Well, because you should never underestimate the power of these little magicians. They wield the strongest power on hair stylization; after all, can a girl really ever do anything with her hair, when it is hanging about in a tangled mess? Of course, you might want to go ahead and give the "bedraggled look", but in that case this may not be the article for you.
Every hair care routine needs a comb or a brush at one or the other point.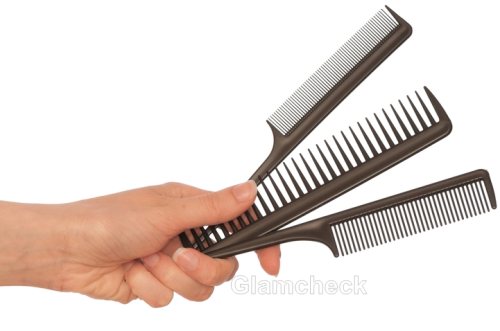 A comb is used for a multitude of purposes, right from detangling to parting or for gathering hair in a neat way or making a puff or poof. Combs can be made of plastic or wood and they can be wide toothed or fine toothed, and you should choose one according to your hair volume.
Wide toothed & fine toothed comb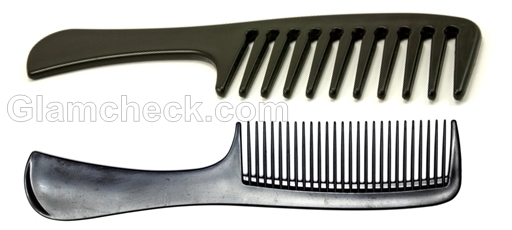 Wide toothed combs are usually used to detangle hair; they are also a handy tool for those who have medium to thick hair. If your hair is on the thinner side then a fine toothed comb is your best ally.
Rat tail comb

The rat tail comb is used to part or style hair neatly. You must have seen your hairdresser use it deftly when you go for haircuts. The hair brush gives a smooth gleam to the hair, it is also used to add volume and detangle, and comes in a variety of options.
Paddle brushes

Paddle brushes are perfect for all types of hair, thin or thick. They are meant especially for smoothing out frizz and detangling.
Military hand comb / brush

Military hand combs do not have a handle and you have to hold them in your palm. They are mostly used for back brushing and giving a sleek look to the hair.
Round or radial brushes

Round or radial brushes have the appearance of a roller. They go hand in hand with a hair dryer and are used to get cascading curls. The diameter of the brush may vary in size and you should choose one according to the type of curls you want.
Half radial brush

The half radial hair brush is best to keep a "bob" intact or to give a wavy look to the hair. If you want straight hair then the cushion brush should be yours. For those with short hair, who want to try a different style, the sculpting brush will help you get the desired look.
Hair Dryers
If I called combs and brushes, little magicians, then I would like to call the hair dryer, the magic wand. Nothing can instantly cheer up limp, drab or wet hair more than the hair dryer. With the fast pace of life, a lot of us do not have time to settle for air dry. Hair dryers not only save our time efficiently but also are an integral part of hair styling. They also add shine and polish to the hair when used in combination with a hair brush or hair rollers.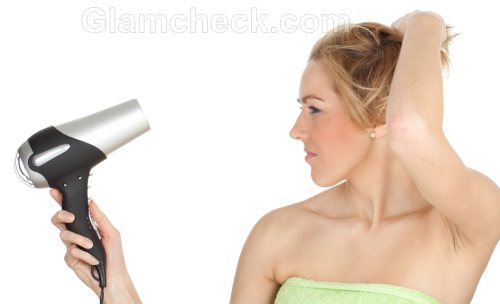 Hair dryers can be of different types such as nano titanium, tourmaline, ionic and ceramic. Nano titanium dryers help in controlling frizz. Hair dryers made of tourmaline are the best for fast drying, straightening and styling. The ionic dryer produces negative ions that make the hair look shinier and silkier. Ceramic ones are best for evenly heating the hair.
Dryers also come with attachments such as the volumizer, concentrator, diffuser and picks. As the name suggest, the volumizer helps to give volume to the hair. The work of the concentrator is to quickly dry up the hair by concentrating the air flow on the specified section. The diffuser helps to remove frizz and also lifts and sculpts the hair, thereby creating curls, waves and volume. Picks for the hair dryer come in various sizes and you should choose one according to length of the hair. They add lift to the hairstyle.
Disadvantage of hair dryer
Though hair dryers have a gamut of advantages, too much of something can never be good and this applies for dryers also. Over use can lead to hair that looks like "roasted straw", and you wouldn't want to sport such a style that is best suited for scarecrows, unless, of course, you are auditioning for the role of one!
Hair Irons
Irons are definitely the icing on the cake when it comes to hairstyling tools, and getting red carpet hair every single day is not impossible any more. Whether you want sleek, straight hair or dreamy curls or "just out of bed" tousled tresses or movie star lustrous locks, you can have it all in a jiffy with irons. Better still, you can actually sport all of these hairstyles in one day itself if you have an iron.
Hair irons are available in different types, such as the straightening iron, curling iron and crimping iron, to suit your specific hair style requirement. They, too, are made of different materials like tourmaline, titanium and ceramic. The ceramic ones are the most popular because they are easy to handle and give a smooth finish. If it is "safety for hair" that you are looking for, then opt for the tourmaline ones. Titanium irons are usually used by professional hair stylists and beauty salons.
Hair straightener or flat iron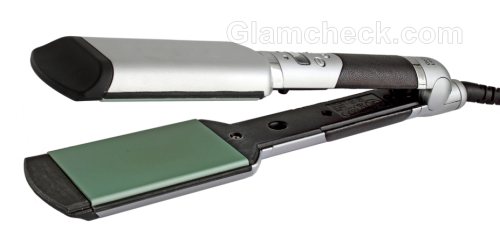 A lot of women, especially working ones, say that the straightening iron, also known as the hair straightener or flat iron, has made their life easier. They are easy to use on the hair and give a "professionally done up" look.
Curling iron or curling tong

The curling iron or curling tong is used to achieve a dressier look, think night about town or a hot date. This hair tool instantly glams up your hair. The barrels of curling irons come in different diameters, the bigger ones usually lend volume and waves while the smaller types give spiral curls. The handles of the curling tongs also differ in style, and can be spring clipless, springloaded or Marcel, each working the clamp of the barrel in its own way.
Crimping iron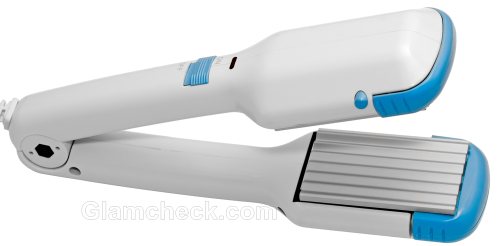 The crimping iron is for all those ladies who want to sport a different look from their usual fare.
Drawbacks of hair irons
All of these hair irons are easy to use, maybe that's what contributes to the drawbacks. The over use of irons can burn the hair, especially if it is wet. Try to refrain from over using them. In fact, you can keep the hair style intact by using hair sprays to hold the style in, and many times even this is not necessary. The style stays put for at least 2-3 days after using the iron if you don't wash your hair. Split ends are another problem that frequent hair iron users face.
Apart from combs & hair brushes, hair dryers and hair irons, there are two other types of hair styling tools that definitely deserve a mention.
Haircutting Scissor
Well, we all know the importance of the haircutting scissor in styling the hair, so I won't dwell on that. Instead, I'll talk about the various kinds of scissors that are used to transform "yawn" hair to "va-va-voom" hair.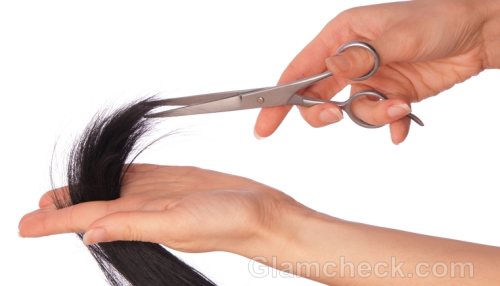 All hair cutting scissors can be broadly classified into convex bade and bevelled edge scissors. The convex blade scissors are on the heavier side whereas bevelled ones are the sharpest of them all and used for smooth cutting and slicing.
There are variations of haircutting scissors based on handle type too, namely crane, offset and even handle. The crane has a straight top handle. The offset has one handle longer than the other. The Even or level handle scissor is the most common of the lot and one that we see most often. It is straight and has symmetrical handles. Apart from these, there are the flex and twister scissors too that provide greater flexibility and maneuverity to the user's hand.
Hair Curlers
Also known as rollers, these little tools keep on having their fair share of iconic moments now and then, what with movies devoting entire scenes to women, and in some cases men, in hair curlers.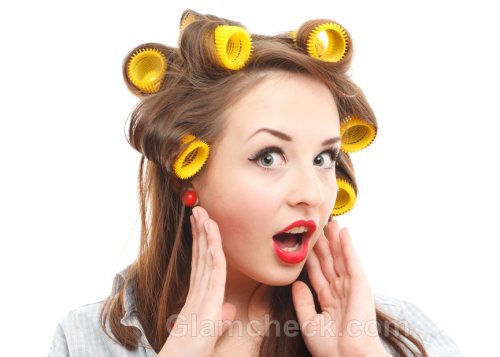 Hair rollers add curls and volumes to the hair. They can be heated for long lasting curls or non-heated which usually need the help of a dryer to get the job done, and come in styles that range from magnetic, foam, plastic to snap-on, Velcro and flexi rods. The plastic and magnetic ones are best to curl wet hair whereas foam ones are more suited for dry or fragile hair. Velcro rollers can be used on both wet and dry hair and are a good choice for short hair. Snap-on ones give a good grip but at the same time can also damage the hair. It is best to stay away from them. Flexi rods do not need clips or pins to hold them up and are extremely easy to use, they are also my personal favourite! The diameter of the curlers matter too, the thinner ones give tighter curls and the broader ones give a wavier and more natural look.
All of these hairstyling tools work wonders and if used correctly, can turn the most unmanageable or lacklustre hair into crowning glory that Rapunzel would be jealous of.
Image: Shutterstock