Many of us associate the tone of our hair with the season. Say for example, we often blame the winters for the unwanted frizz and dryness in the scalp and summers for the uncanny oily look. This makes us wonder if there really is a season for sporting shiny and lustrous hair at all! Contrary to the above mentioned popular belief, experts say that it is no rocket science or matter of seasons to get shiny hair, in fact, bearing lustrous and worth head turning locks is a matter of your hair and care.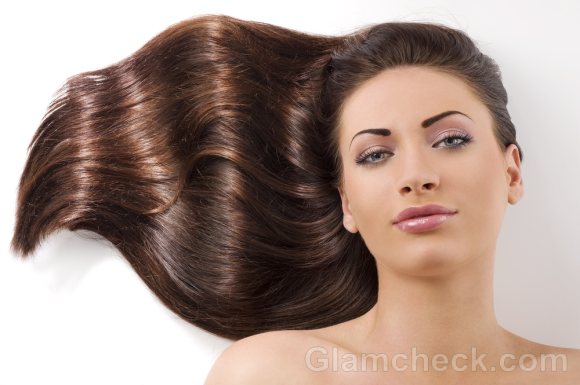 Bearing shiny hair is undoubtedly a dream of all. Blame it to our super busy schedule that leaves us no choice but to use varied treatments and machines to enhance the look of our precious locks. We are left with no time to implement a proper hair care regimen that would take care of most of our hair problems naturally. So ladies, if you too are yearning to get shiny hair follow these easy-to-follow methods on the guide "how to get shiny hair".
How to get shiny hair
Be aware of sulfate- the key to get shiny hair is to avoid contact with sulfate as much as possible. Sulfate is the primary ingredient of most of our shampoos; therefore, limited usage of this cleansing product is strictly advisable. For the same reason, most of the guides on how to get shiny hair promote avoiding over-washing or regular washing of the hair as doing the same causes the hair follicles to dry. If the hair would become dry, they would be far from looking shiny.
Apply conditioner- Another important tip offered by most of the guides on how to get shiny hair is the application of the conditioner after every wash. A good moisturizing conditioner keeps the hair locks well hydrated which consequently prevents chances of hair fall, hair dryness and premature breakage. In fact, to get shiny hair, it is recommended to use the conditioner even on days when you don't want to cleanse your hair. Remember, one may attain shiny hair only if they treat their precious locks like gentle fabric which ought to be given nourishment on the daily basis. Further, it is important to apply the conditioner starting from the root to the tips of the hair.
Massage- Another effective measure on this guide on how to get shiny hair is the regular massage of the hair scalp with natural oil. Oils like eucalyptus oil, coconut oil and olive oil have the potential to effectively nourish the hair and hence make them lustrous. As per the experts, regular massage of the scalp, enhances the blood circulation and hence helps you get shiny hair.
Learn the right brush stroke- If least attention is paid, your mere hair brush is likely to cause more harm to your precious locks than any other factor. Therefore, another important point worth noting from this guide on how to get shiny hair is the correct usage of the brush. Stroking the brush hardly through wet entangled locks leads to the development of split ends and hence robs away the needed moisture. It is important to run wide toothed hair brush while detangling the locks to get shiny hair.
Stop ironing- Application of hot ironing machines and curling tools may steal the essential moisture from your precious locks and render them dry and frizz in tone. So, another point on how to get shiny hair is the absolute stop or occasional usage of these styling machines. Simply keep your hair well nourished and let them look their natural best.
Make wise choice of products- Hair utilities, nevertheless simple or luxurious must be chosen wisely so as to avoid chances of hair damages. It is better to stick to natural and earthy products, especially, shampoos and conditioners for your hair. Styling creams and hair gels simply make your hair dry and undernourished. Avoiding their usage is another significant point to keep in mind while trying hard for getting long and shiny hair.
How to get shiny hair naturally
Try the below mentioned home based remedies to get shiny hair naturally. Most of these recipes work wonders to make your hair shiny, thick and lustrous.
Honey and water for shiny hair
Mix 3 teaspoon of honey with not more than one pint of clear water. Apply the paste on your hair and leave it on for 20-30 minutes. Rinse with cold water and shampoo.  Make the mixture in bulk and apply it once a week to get shiny hair.
Espresso for shiny hair
A well brewed cup of strong coffee when cooled and applied onto the locks help you attain the shiny hair you always dreamed of. Pour the mixture over the dry hair and leave it on for 20 minutes. Rinse the hair with cool water and shampoo. Apply the same recipe once in every week to get shiny hair.
Cider vinegar to get shiny hair
Mix around ¼ cup of apple cider vinegar with water and apply the same over the hair. Wash and then rinse your locks with water and shampoo. Use the mixture at least once or twice a week, at least 30 minutes before wash to get shiny hair.
Lemon juice and water to get shiny hair
Many experts strongly recommend the usage of lemon juice over hair for adding natural sheen and shine to hair. In fact, treatment with lemon juice as the main ingredient of many shampoos and conditioners is used in many spas and hair care salons to get shiny hair. To avail the natural way, it is recommended to simply apply lemon juice mixed with drops of water and then apply to the hair to get shiny hair.
Coconut oil
There is no treatment more potent than the proper massage of the scalp with coconut oil. This natural oil for hair when permeated into the roots properly nourishes the hair and keeps them well moisturized. This makes the hair shiny and lustrous.
These were some of the most effective tips on how to get shiny hair!
Image: Shutterstock