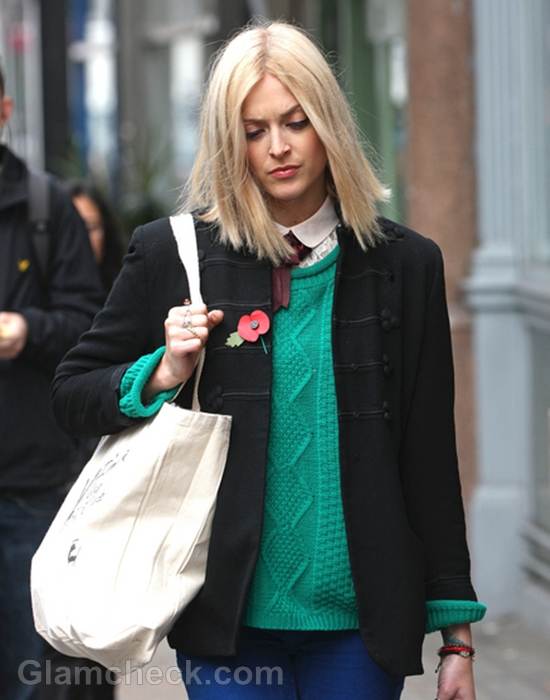 Brit TV presenter Fearne Cotton seemed to be PO'ed as as she left the BBC Radio 1 Studios in London on November 10. But her clothes were quite a contrast to her sullen mood. The 30-year-old looked very stylish in an ensemble with some nifty color-blocking to make things interesting.
Fearne paired classic blue jeans with a white collared shirt and maroon tie under a light teal knitted sweater. The bold color of the sweater did a great job of dominating the look without overwhelming it.  She completed the outfit with a black jacket that had a very cute bow and a poppy brooch. Yes, she wore the red poppy  in remembrance of those who were killed during wars. Fearne brings the color blocking trend back with a bang with her choice for a working day at the BBC.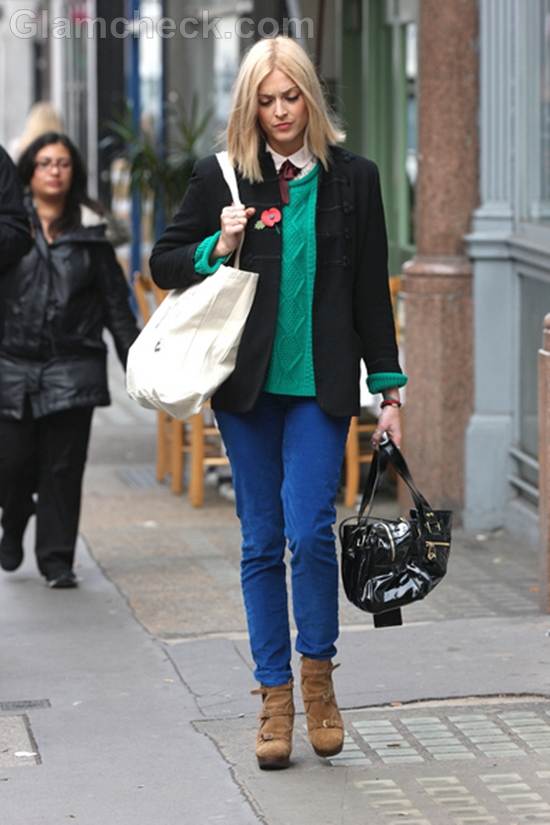 The only thing that was a little off about this look was the camel-colored shoes she chose to wear. They did not really match the ensemble well. The style could perhaps have worked if they were in a different color.
She carried a large black purse and an even larger white shopping bag. Her straight blond her was parted in the middle and left loose – quite pretty in its casual messiness. Fearne's make up was natural and minimal – some gloss on her lips, some mascara to darken the eyes. A couple of rings and a red and black bracelet gave her the finishing touches.
Get The Look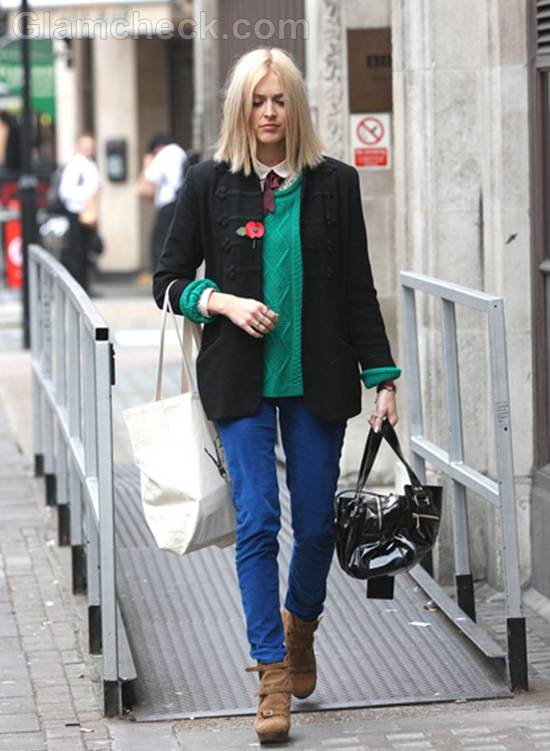 If you are interested in giving the color blocking trend, keep a couple of things in mind to help you pull off the look. One, color blocking looks best with bright colors. Dull colors will not stand out as much and will not seem like color blocking at all. Two, the colors do not really have to match. They can, of course, but even contrasting colors will look very good. And three, do not combine more than four colors at a time or it will look to busy.
The color blocking trend is not a hard one to follow. You can have color-blocked clothes, shoes, jewelry and even hair.
Image: P R Photos