Our feet are subjected to loads of abuse on a daily basis. We're on our feet most of the day, cramming them into tight shoes and smothering them in socks, exposing them to heat, dust and germs. And most of us do not even bother pampering our feet in appreciation of all the hard work they do. Does this sound like a familiar scenario to you? Are your feet dirty and callused with hardened soles? Do you feel like the burden of the world is on your feet? If you answered 'yes' to even one of these questions, then what you need is a luxurious homemade foot scrub.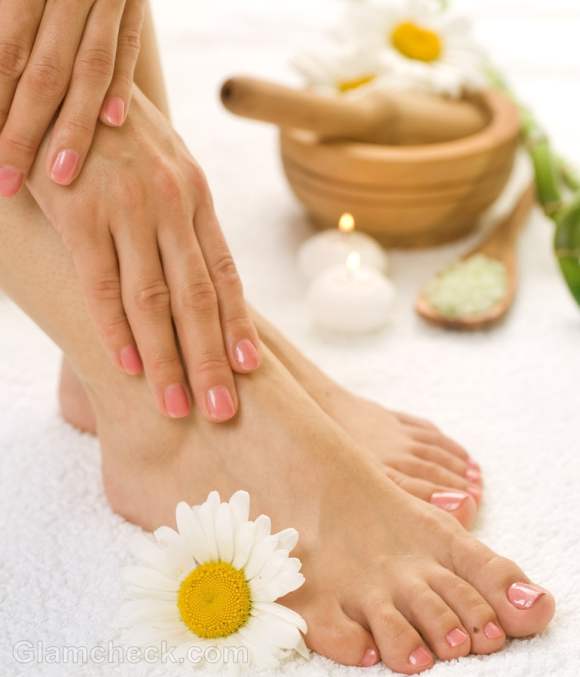 You've probably gotten a foot scrub at a visit to the spa. If you haven't, you may at least have heard of a foot scrub from someone else. So you have some idea of how wonderfully calming and therapeutic a foot scrub can be. Why wait to go to a salon to get a foot scrub? You can whip up some amazingly effective foot scrubs right now with a few simple things which you have on hand at home itself. Homemade foot scrubs are just as good, if not better, than salon foot scrubs.
Why Get A Homemade Foot Scrub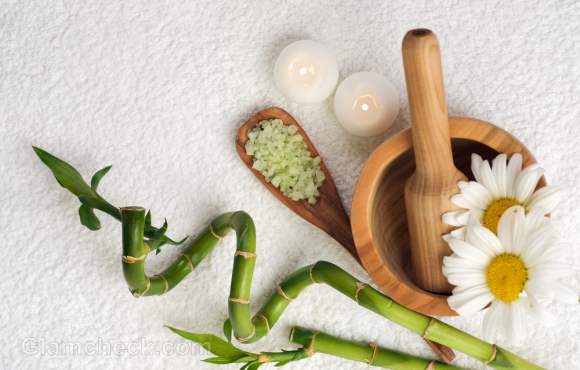 Homemade foot scrub gives your tired feet the pampering they so richly deserve. But if that's not enough to convince you, here are a few more reasons you should get a homemade foot scrub.
Healthier Feet With Homemade Foot Scrubs
A homemade foot scrub will stimulate blood flow to the feet. This will make your feet healthier and allow faster healing in case you have any foot injuries or problems like corns or hardened heels. It also sloughs away the unnecessary dead skin cells and dislodges the layers of dirt that inevitably get on your feet. Dirty feet can lead to infection and body odor. So your homemade foot scrub will be helping you maintain the health of your feet.
Relax with a Homemade Foot Scrub
You know this one already. There are few things more relaxing than a homemade foot scrub. After a homemade foot scrub, most people feel a sense of contentment and peace. You will probably even sleep better after a homemade foot scrub.
Quality Assurance with a Homemade Foot Scrub
If you make your own homemade foot scrub, you can use ingredients that are natural, of high quality and which you know are safe for your skin. Most commercial foot scrubs contain fragrances, chemicals, dyes and harsh artificial substances which cause great damage to your skin in the long run. Avoid the repercussions of these harmful products by choosing a homemade foot scrub over a commercial one.
Save Money With a Homemade Foot Scrub
The best thing about a homemade foot scrub is that you can make it with easily available and economical ingredients, many of which you probably have lying around your kitchen. So your homemade foot scrub will cost a fraction of a trip to a salon or a spa.
Your homemade foot scrub can be as cheap or as expensive as you want it to be. There are so many homemade foot scrub recipes that you can decide whether you want to go simple or high-end. But whatever you are in the mood for, you can bet that even your most complicated homemade foot scrub with exotic ingredients will cost less than a pedicure at a salon.
Homemade Foot Scrub is Convenient
You can give yourself a homemade foot scrub in the privacy and comfort of your own home. So you get to sit in your pajamas, not have to go through traffic, surround yourself with comfy pillows and turn the TV on while you give yourself a homemade foot scrub. You can do your homemade foot scrub at 2 am if you want to. You can scrub and massage your feet for five minutes or half an hour. It's all up to you and whatever you want goes. Want to wear your strappy sandals to a party and realize at the last minute that your feet look like hell from the long work-week? No problem. Use your homemade foot scrub for five minutes and it will make a world of difference. You don't have to waste time making an appointment with a spa or running around to get a homemade foot scrub.
Feet Look Better After a Homemade Foot Scrub
Do you shy away from open-toed shoes, flip flops or strappy sandals because you can't stand the sight of your feet? Try a homemade foot scrub once a week and you will see your feet transform into things of beauty that you will be more than proud to show off. Nail polish will shine against your clean, glowing feet post a homemade foot scrub.
Making and Using Your Very Own Homemade Foot Scrubs
A good homemade foot scrub needs to have two main things. The first is an abrasive ingredient that will help to exfoliate the dead skin cells from the feet by creating friction. The second is a moisturizing ingredient that will make your feet soft. Generally though, even just having a homemade foot scrub with an abrasive ingredient will do because the feet naturally get soft and clean after the dead skin cells are exfoliated. Plus, you can always apply a foot cream or moisturizer after your scrub.
So we'll be listing some really simple homemade foot scrub recipes which you can make with stuff lying around your kitchen. But if you get adventurous and want to try making your own homemade foot scrub, you now know the kind of ingredients you will need to add to make a successful batch. As you go through the following homemade foot scrubs, you will get a better idea of what should be included in a good homemade foot scrub and you will definitely be inspired to make your own.
Before we look at the homemade foot scrubs though, let's briefly cover how to use it since this is the same method regardless of which of the following homemade foot scrubs you use.
How To Apply Homemade Foot Scrub
Once you have made your homemade foot scrub, apply with hands on your feet and use gentle circular motions to massage into skin. You can increase the pressure on areas of the feet that are harder or have thicker skin like the heel and base of the toes. Don't forget to massage in between toes and each toe individually, your ankles and the top of your feet too. The homemade foot scrub's grainy texture will dislodge dead skin cells and the nourishing ingredients will penetrate the skin and moisturize your feet. Take your time with the massaging part of your homemade foot scrub. You can do it for two minutes or twenty minutes, it's really a matter of personal preference. Use a pumice stone so that the homemade foot scrub gets some help working into your feet.
After the scrubbing, leave your feet alone for about five minutes so that the ingredients have a chance to further nourish and clean your feet. Then wash off with warm water and pat dry with a clean towel. Don't forget to dry between your toes too. Moisture between the toes is one of the main causes for foot infections and can contribute to foot odor too.
Post-Homemade Foot Scrub Procedure
Your homemade foot scrub will definitely work wonders in making your feet feel better. But you need to take extra care after applying them to maintain and enhance the benefits of a homemade foot scrub.
Once you have patted your feet dry, dab a little olive oil on your feet and slip on a pair of thick socks for about an hour. Olive oil is an incredible natural moisturizer and your skin will drink it in. You won't need to wash the oil off because it will just soak right into your skin. Your feet will feel super soft, you will feel like the weight of the world has been taken off your shoulders and you will probably sleep like a baby.
Basic Baking Soda & Epsom Salt Homemade Foot Scrub
This is the simplest and the most highly recommended homemade foot scrub there is. It is very effective and very cheap. This recipe comes to us from way back in time when there were no such things as manicures.
Mix two tablespoons of Epsom salts or sea salt with two tablespoons of baking soda. Add enough water to make a paste. You can also put in a few drops of lavender oil for a little aromatherapy in your homemade foot scrub.
Peppermint Homemade Foot Scrub
This pepper homemade foot scrub smells like heaven and is one of the most nourishing homemade foot scrub recipes you will ever try out. The ingredients may sound exotic but they are easily available at health food stores and even larger supermarkets today so you shouldn't have a hard time whipping this one up.
Combine about 4 tablespoons of brown sugar with 2 drops of peppermint oil, 3 drops of eucalyptus oil, 3 drops of rosemary oil and approximately 10 tea spoons of grape-seed oil. Store this in a glass container, not plastic or metal.
Before using this homemade foot scrub to pamper your feet, warm it up for a few seconds so the flavors of the oils can properly infuse and permeate. The warm oils will also make for a more nourishing homemade foot scrub. The peppermint oil in particular will give your feet an invigorating boost from the tingly, minty freshness that the herb naturally imparts.
The best thing about this peppermint homemade scrub is that it can be stored and used later unlike most other homemade foot scrubs. That's because the oils used in this homemade foot scrub act as preservatives and keep it from spoiling. But ensure that you make only small batches and do not keep it on the shelf for too long.
Exfoliating Homemade Foot Scrub
Yes, all homemade foot scrubs exfoliate. But if you need extra exfoliating, then you need to use even more abrasive ingredients which will do a good job of removing the dead skin cells but will still be gentle enough to not damage your skin. There are plenty of foods that are abrasive without being harsh. We'll be looking at some great homemade foot scrub recipes which include these foods.
Brown Sugar Exfoliating Homemade Foot Scrub
Brown sugar is one of the best natural ingredients for any kind of scrub. It is even gentle enough to use on your face. But for now, we'll give you a recipe for a great brown sugar homemade foot scrub which will slough off all dirt and dead skin cells and make your feet feel soft and luxurious.
Here is what you will need for this homemade foot scrub. The quantities mentioned below are just general guidelines for a homemade foot scrub. You may have bigger or smaller feet which need more or less homemade foot scrub paste. So make the first batch with these quantities and note your individual requirements for the next time you make your homemade foot scrub.
Brown sugar – 2 tablespoons
Oats – 2 tablespoons
1 teaspoon of honey
1 teaspoon of lemon juice (freshly squeezed is always better, but you can use the bottled variety too)
1 teaspoon of almond oil or olive oil
Aloe vera – 2 tablespoons
You may have guessed already that the oats and brown sugar in the homemade foot scrub will do the exfoliating. The honey and aloe vera will clean, moisturize and protect your feet. The lemon juice is an excellent cleanser and natural bleach which will help to lighten the skin of your feet. And the oil is the essential nourishment that your feet so desperately need.
Before you mix these ingredients together, you need to grind the oats into a powder because whole oats will scratch the skin. Yes, we want an abrasive homemade foot scrub, but we do not want it to give us cuts and scratches. So work those oats in a food processor or a regular grinder until they have the consistency of sand with a little flakiness.
Mix the ground oats to the rest of the ingredients and blend with your hands till you form a paste. The oil, honey and lemon should be enough to create a paste-like consistency. But if you feel that it is too thick, add a little water to the mixture to thin out the homemade foot scrub.
Basic Exfoliating Homemade Foot Scrub
We're calling it a basic homemade foot scrub only because it has few ingredients, not because it is any less effective than the more exotic homemade foot scrub recipes listed here.
Stir half a teaspoon of eucalyptus oil into half a cup of jojoba oil. Add this to a three-quarter cup of ground oatmeal or ground cornmeal and blend well with a spoon, a brush or your fingers. Use this simple homemade foot scrub to cleanse your feet of dirt and stress.
Yummy Fruity Homemade Foot Scrub
Strawberries are known to be natural cleansers and exfoliants because they contain alpha hydroxyl acids. That's why they make great face scrubs and why they are rubbed on teeth to whiten them. These gentle but abrasive properties of strawberries make them the perfect ingredient for a fruit-based homemade foot scrub. So here's how you go about making this delicious homemade foot scrub.
Take about a dozen strawberries and cut into manageable pieces if they are too big. Crush them into a paste. You can do this with your hands or a fork. Try not using a blender as this will get it to a liquid consistency which we do not want for a homemade foot scrub.
Now add one teaspoon of sea salt and two tablespoons of olive oil. Use your hands to blend this into a paste. Your awesome-smelling homemade foot scrub is ready.
You can replace the sea salt with brown sugar if you do not have sea salt. But be warned; this one will smell and feel so good that you'll be tempted to eat it!
Aromatic Coffee Homemade Foot Scrub
Even your morning cup of java can contribute an essential ingredient in a homemade foot scrub. This homemade foot scrub has super-duper exfoliating properties that will leave your skin soft, clean and smelling great to boot. Get together the following ingredients:
Ground coffee – 4 tablespoons
Corn meal or ground oatmeal – 3 tablespoons
Sea salt – 3 tablespoons
Almond oil – 3 tablespoons (you can substitute with olive oil too)
Lavender oil – 2 drops
Simply mix these ingredients together well to create your homemade foot scrub.
Let us know how these homemade foot scrubs worked out for you. And if you have a homemade foot scrub recipe that works wonders in making your feet soft, don't forget to share.
Image : Shutterstock