Its summer again at last and we are living it up while looking for more innovative ways to look trendy and be comfortable. The messy side braid is synonymous with sultry and elegance and gains all our attention, while stealing the limelight at Cibeles Madrid Fashion Week during TCN catwalk.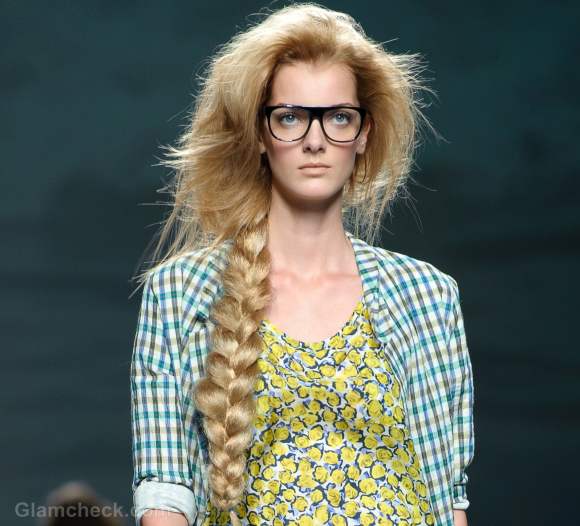 The side braid hairstyle had a messy look on the crown with a side braid resting on the shoulder of the model. The look balanced well the combination of neat and unkempt and used artificial plaits/braids. While you are trying to look sexy yet fashion-forward, get this hairstyle by following this how-to guide.
Hairstyle How To: Messy Side Braid with an Artificial Plait
Braids are a look which can never die-out, but has been over and over again experimented with and brought to front stage in revamped looks. Celebrities have been carrying this messy side braid hair-do to formal as well as casual occasions and this one is sure to top your preferences for its effortless yet tousled look.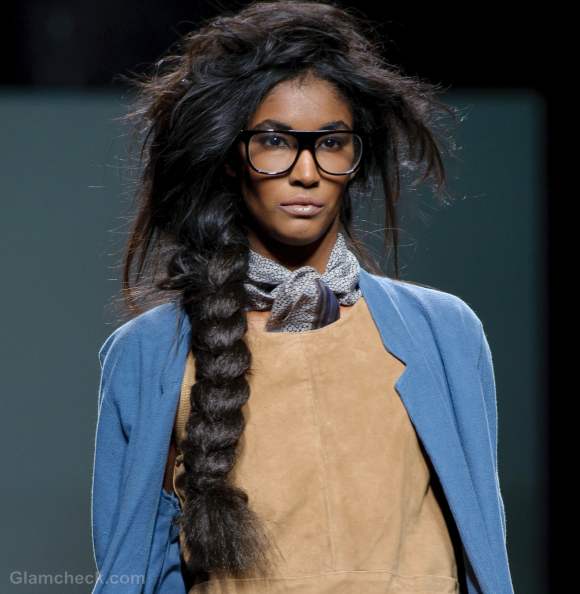 Messy Side Braid Hairstyle
You will need: Bobby pins, hair-tie, hairbrush, curling iron ( for 1" curls), texturing spray, hold-hairspray, heat protection spray
To begin, thoroughly wash your hair and dry them completely using hairdryer.
Once the hair is dry, comb it to remove tangles until smooth.
Now mist the hair with texturing spray for more volume and ease, for the braid.
Now take all your hair to any one side you are comfortable, resting the braid.
Reaching almost the bottom of your ear, divide the hair into three sections vertically and start braiding loosely.
Secure the braid using a hair-tie.
If your hair is not long and thick enough, use an artificial plait/braid to achieve the look.
Now, divide the hair onto the crown section into parts using a hairbrush and begin curling it. Use a heat-protecting spray before beginning to curl, if necessary.
Make the curls in the direction away from the ear or curl it inside, as per your choice. The curls need not be perfect, the messier the curls the better the look would be.
Now spritz some hairspray, to have the mess on the crown area stay in place and scrunch it once for more volume.
The strands can be secured using bobby pins wherever necessary.
Why try this Hairstyle ?
A look which is messy on purpose and is an instant attention grabber.
The look is alluring enough to go for all kinds of outfits and occasions.
A chic-urban hairstyle, which can be done in minutes and can look simply mind-blowing.
A hairstyle, which will suit any face-cut and hair length.
Tips:
Purposely, pull out strands of hair from the braid or the crown for a more unkempt look.
This look is all about experimentation. One can experiment with the crown area or the type of braids.
Have a few wisps escape and let them stand out messy.
Use a hair accessory to jazz up the look.
The celebrity look is a couple of minutes away. Just get going and feel on top of the world with this messy yet eccentric version of a braid. Spin it your way and this is sure to become your summertime favorite, to beat the heat.
Image: Shutterstock