Some matches are made in heaven, especially when it comes to the classic and evergreen combination of black and gold. May it be in terms of clothing, bags or accessories, they looks absolutely stunning and a gorgeous amalgamation of two chic and regal colors. The use of black and gold is very versatile in terms of setting up any look. Mat it be some party wear or ethnic wear, it adds on to the entire look by making it a lethal combination of classiness and imperialism.
The black makes the bright gold a lot toned down and starts giving away a very antique look which is the main the reason why it has become so hugely popular in the market. Black in itself looks urbane but that little hint of antique gold gives a break from the mundane idea of keeping it plain.
There are numerous ways in which you can carry the Black and gold combination stylishly. If wearing a plain and not so embellished dress then a black and gold clutch or purse can be your statement piece.
Ariadne Artiles was seen at Glamor beauty awards 2012 Pacha Nightclub-Madrid, Spain wearing a magnificent red and pearl grey paillettes dress by Emmanuel UngaroIf teaming it well with a black and gold clutch and plain black pumps.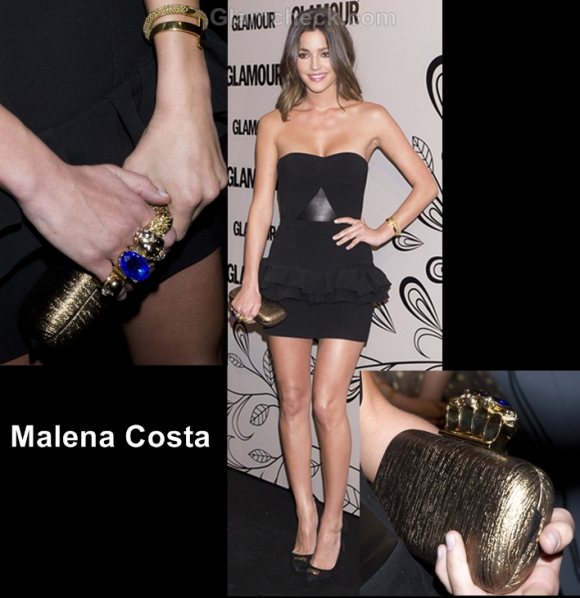 Also seen at the beauty awards was Mialena Costa who wore a stunning LBD, black pumps with a golden bow and an absolutely gorgeous clutch.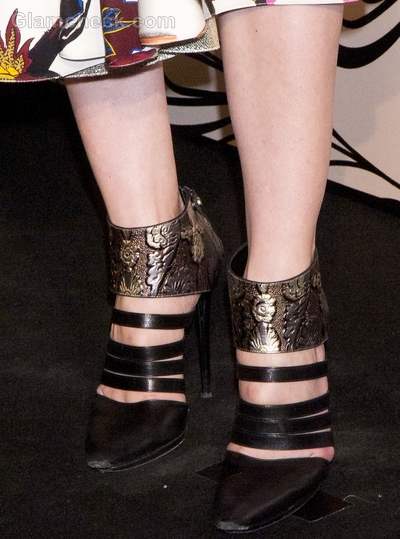 If not a purse then you can definitely go for a pair of pumps in the same combination, like Vanessa Traina also present at glamor beauty awards 2012,who wore a printed ensemble and paired it up with ultra chic strap on stilettos with an embosses antique gold band covering her ankle.
 In terms of accessories, don't throw in everything. Just wear a statement neck piece or a chunky bangle which will be enough for standing out. If your dress has a lot of black and gold in it, then it would be best to leave it simply the way it is.  Just add minimum accessories and you are good to go.
Even in the Indian market the black and gold has a high inspiration. A lot kurti's, anarkali's and lehengas will have a black and gold combination which sells like hot cake. The combination looks great and the commercial viability is also 100 percent.
Image: P R Photos