A tattoo today is a style statement. It has become the fashion to get yourself inked to mark a significant event in your life, to pay a tribute to someone or something that is important to you, to reflect traits of your personality that you most identify with or to showcase your beliefs. Angelina Jolie, Megan Fox and Johnny Depp are some of the noted celebs whose tattoos are as famous as they are. Reality star Audrina Patridge's tattoos join those echelons of expression as even her tattoos are discussed more than her work on blogs across the world. Many fans are inspired by them and constantly trawl web pages to find a clear enough image of her tattoos so they can get themselves inked the same way. Audrina gave us a view of the famous tattoo on her neck as she hosted Epic Saturdays at The Pool After Dark at Harrah's Resort in Atlantic City, New Jersey on March 24.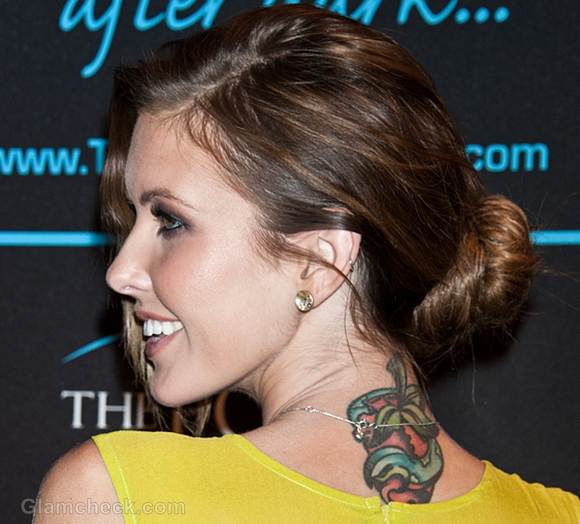 When you first look at Audrina's tattoo, it appears to be a snake wrapping itself around an apple. A closer look reveals that the apple is actually a hybrid of the fruit and a heart with four chambers. This is a unique design which has garnered interest from both tattoo fans and tattoo artists around the world.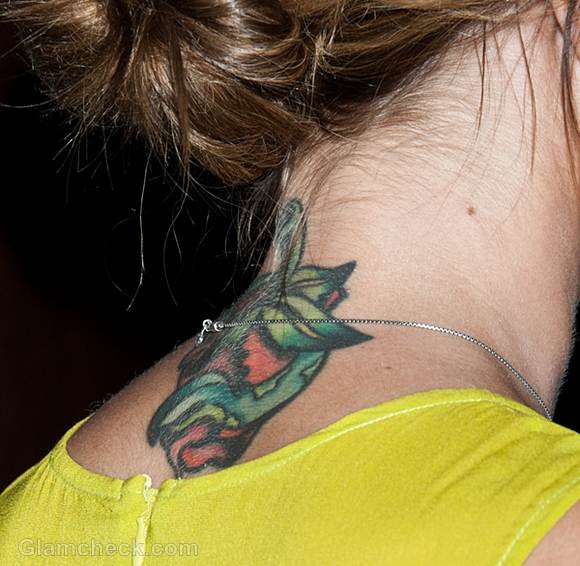 The tattoo employs vibrant colors that pop and the size is large enough to draw attention to it. It leaves a vivid image in your mind and you won't be forgetting how it looks for awhile. Perhaps that is why her neck tattoo is more popular than her other tattoos. Her sister has the same one. The positioning of the tattoo is quite smart as she can simply leave her hair down to hide it when it does not complement her outfit.
Like all art, tattoos too are open to interpretation. The same symbols and images will have varied  meanings in different parts of the world. Sometimes, an image can have multiple meanings in the very same culture.
The apple and snake seem to be quite obvious references to the Bible's Adam and Eve story with the apple standing for temptation and the snake a depiction of the serpent in the garden of Eden who lured Eve to take a bite of the apple which caused God to ban Adam and Eve from Paradise.
But the heart which is a part of the apple is a tougher nut to crack.
When talking about her tattoo, Audrina only touched up on the serpent, saying that in many ancient cultures the snake represented both Gods and demons. She did not elaborate further so we're left to come to our own conclusions.
We think the apple and heart combined indicate desire, maybe for life or things or knowledge or all of these. The serpent – since she specified that it stood for both good and bad – may be symbolic of how we as human beings harbor both good and evil within ourselves. Our desires and our conscience usually dictate our actions, which is why even seemingly good people make bad choices and why bad people often do surprisingly good things. Audrina's tatoo seems to be an accurate, honest representation of humanity.
We know we're not the only ones out there pondering the answer behind this enigmatic inking. So what's your take on the meaning of Audrina's tattoo?
Image: P R Photos