It's that time of the year again when we all are either planning or already have our bags packed for a vacation. So what do you take along when you romance landscapes and dip in leisure – a free spirit of course! And what better way to channel it than letting the hippie in you come to life. Rock this look with Glamcheck if you are in a state of tranquil and letting your hair down is the first thing on your mind.
Rock the Fashion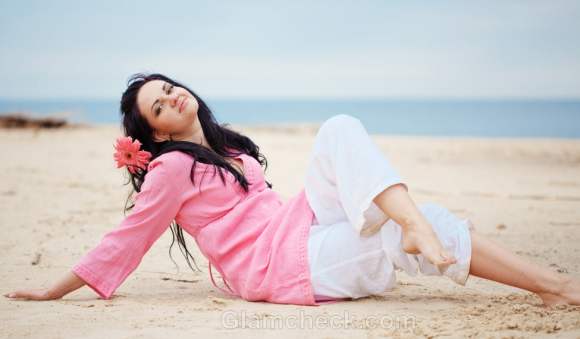 The first rule here would be to choose comfortable fabrics only – cotton, linen and rayon maybe. Start with an empire line tunic with a deep V neck (for your bikini to show through!) We would suggest going for a pink to establish a sweet feminine side. Give loud colors a miss as only cooling ones will soothe the eye- you could go for coral peach too. Pay attention to the details of your tunic, a hand crafted one with minimal embroidery always adds a touch of bohemia. The details will save your look from looking too plain.
Pair it up with a wide legged cotton pants in crisp white. The key is a relaxed fit. Your pants could be detailed out with a crocheted hem too, as they would readily complement your tunic!

Rock the Beauty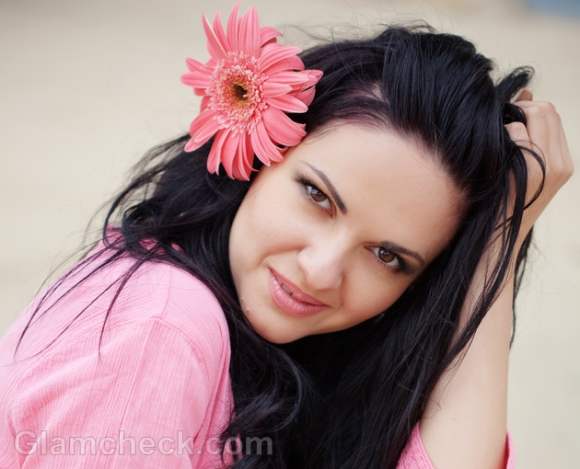 Think natural, think dewy, think fresh. Put a natural pink color onto your lips. Remember to moisturize them before, as drying lips take all the charm away. Make sure your brows are tweaked to perfection as they usually make or break a natural look. Apply very light kohl on the lower rim of the eye just enough to define them slightly. You could use transparent mascara too which would thicken the lashes. A little rouge can give a blushing effect and add to your enchantment. 
Rock the Style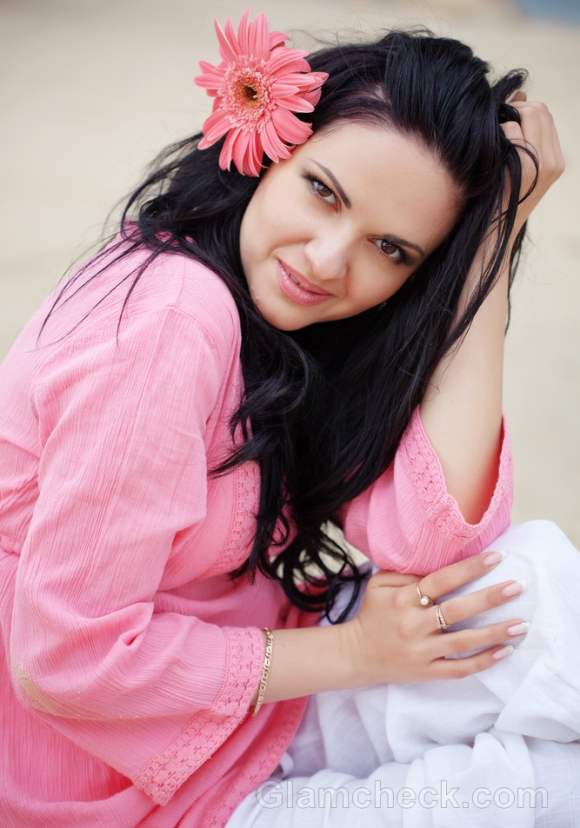 Remember Brigitte Bardot in the late 60s? The flowers in her hair and the headbands? Picture her and pick up a blooming pink daisy and set it in your hair on one side. The hair should look essentially unkempt so combing them just with your fingers should serve your purpose. Use a pin to hold a few strands into place. Add a delicate gold bracelet with a ring or two. Steer clear from flashier pieces as the focus should be on the flower and the color in this look. French manicured nails add the polished dimension, so consider that or a clear varnish.
Glamcheck's Rocking Tip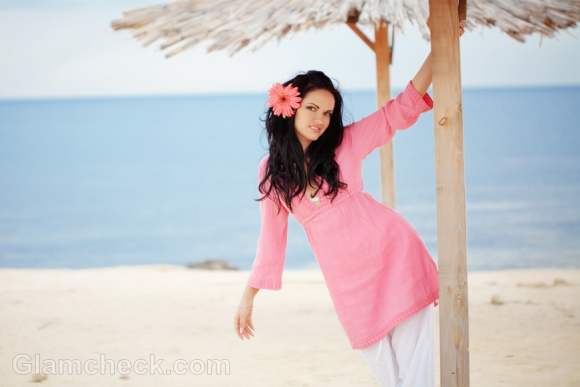 Dare some more and add a thin string woven headband too. Match it up with the daisy or go for neutral beige.
The look works even minus the pants – if the tunic looks like a beach cover up. Showing some skin on the beach never harmed anyone!
A nice pair of flip- flops in cutesy stripes or straps embellished with shells and buttons would definitely complete the look.
Image: Shutterstock.com