"If you wear lipstick and pluck your eyebrows, you could wear nothing else." – Courtney Cox
Lipsticks have that amazing quality of transforming even a plain Jane into a style diva. With one of the world's foremost color forecasting agency Pantone, naming Tangerine the colour of the year 2012, world's fashion pundits have welcomed the neon trend into the world of makeup too, making tangerine a hot color in yes, you guessed it right – lipsticks!!
While most of us may balk at the thought of wearing a tangerine lipstick, it is actually an easy color to wear and blend in with the rest of you look. We tell you some top tips of how to make tangerine lips (matt and glossy) work for you.
How to choose the right orange for your lips and some general tips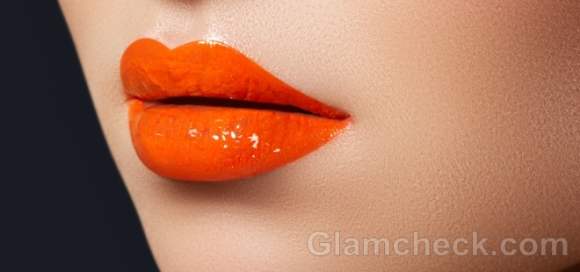 With most of us worrying about if tangerine will clash with our complexions, it will be surprising to know that orange is a shade that will work for most of the complexions. The trick is to choose right. 
The thumb rule with choosing the right shade of orange is – the lighter your complexion, the brighter the shade of the orange you can don and vice versa.
So if you are on the duskier side, stick to darker and duller oranges and ditch the bright neon orange shades.
As with any other beauty products, it is always better to test the shades of orange you are likely to buy, at the beauty counter before buying them, for suitability to your complexions.
If you are a conservative dresser, yet wants to join the beauty bandwagon, opt for matte tangerine shades. Glossy tangerine shades tend to stand out more. Once you have the confidence of carrying the color, go in for glossy shades too.
How to achieve perfect looking tangerine lips
If you find the orange shade intimidating, makeup artists the world over suggest thinking about a tangerine color as a brighter shade of coral. Keeping that in mind, our top tips on how to achieve perfect looking tangerine lips (both glossy and matt) are sure to prepare you for the ultimate color of the season.
For the perfect matt tangerine lips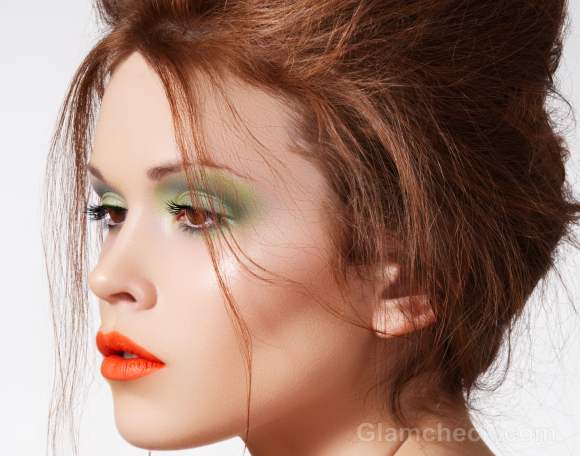 If you have recently bought a matt orange shade, prep your lips up with some lip balm or conditioner first. This will ensure that the lips are well moisturised and will also set the base for smooth application of the color.
It is ok to ditch the lip liner and apply the lipstick directly or with a brush.
Blot your lips with a paper to remove any excess lipstick and then reapply for longer lasting lip color.
While the color orange is quite bold, and most make up experts suggest keeping the rest of the look either nude or at best prepped with similar tones of orange, I personally feel matt tangerine look can handle some more color in the form of contrast eye shadow such as a venomous green. Try this look for an evening do and I am sure, you will get some appreciative glances.
For the perfect glossy tangerine lips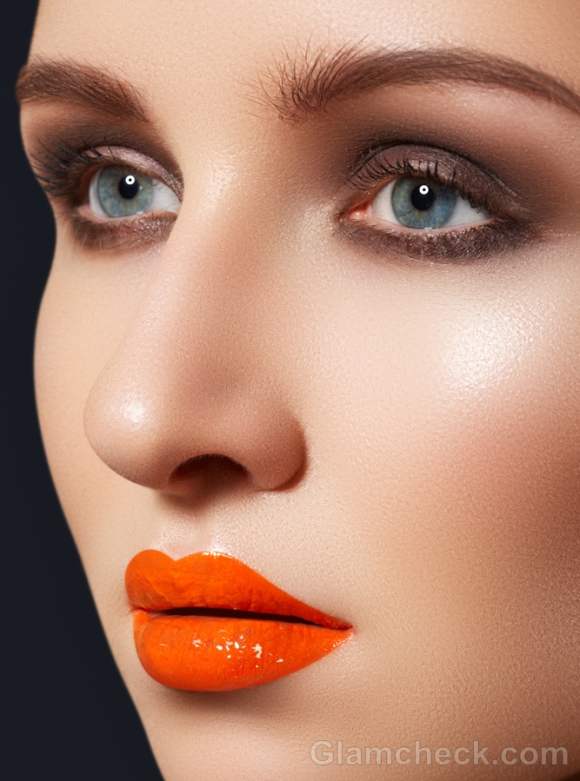 Glossy tangerine lips are sure to catch attention, so ensure that the look is perfect.
For a perfect pair of lips, having a lip definition is a must , so go in for a transparent or matching lip liner to ensure that the lips are well defined and the gloss does not go beyond your lip lines.
You could opt for a glossy tangerine lipstick or a matt tangerine lipstick touched upon with a glossy top coat. Both would work equally well.
While opting for a glossy tangerine lipstick, have the rest of your look nude or with paler shades of orange on your cheeks and eyes.
 Since glossy true tangerine is such a shocking color, it goes best with fairer skin tones and lighter hair shades (such as auburn and blondes). For those with duskier skin tones and darker hair color, it would be best to stick to darker shades of glossy tangerine.
Tangerine lips are hard to carry off as the color in itself is more edgy than red. Keep the above tips in mind and usher in the color of the year successfully!