Every fashion week ever held had a special story to tell. Be it through the cuts, styles or colors, there was something new to see each and every time. The S/S 2013 Swimwear Collection showcased during the Mercedes-Benz Swim Fashion Week held at Miami this July was no different. Each piece of clothing begged attention and all that was required on our part was to stop and stare.
Over the years swimwear has evolved from simple functional garments into items of clothing that not only serves one's purpose, but enables us to do so with style. And this Fashion Week once again showed us just how to do that.
At this show, there were bathing suits with embroidery, sheer and crochet cover-ups, bikinis in vibrant colors, and swimwear teamed-up with laces, sequins, tassels…you get the idea.
Amongst the various designers that showcased their collections, as the style pick of the day, Anna Kosturova's swim creation consisting of a two-piece bikini and crochet cover-up caught our eye. Her collection this year ranged from bikinis and cover-ups to long tunics, shorts and tops mostly done using crochet.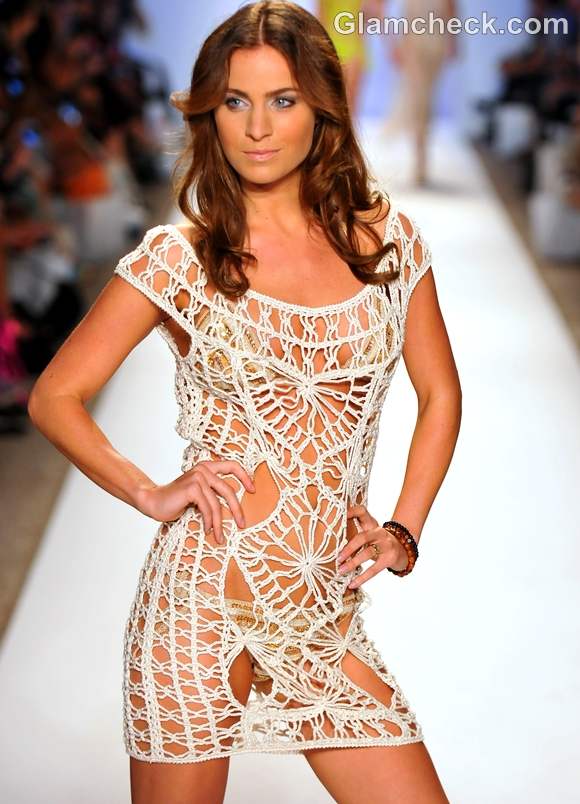 Our style pick was one of her many creations in white. To brighten things up, aqua and lime were also used as was a bit of gold. There was a special emphasis placed on see through crochet structures and the surface and textural effects of those garments are definitely worthy of note.
The Look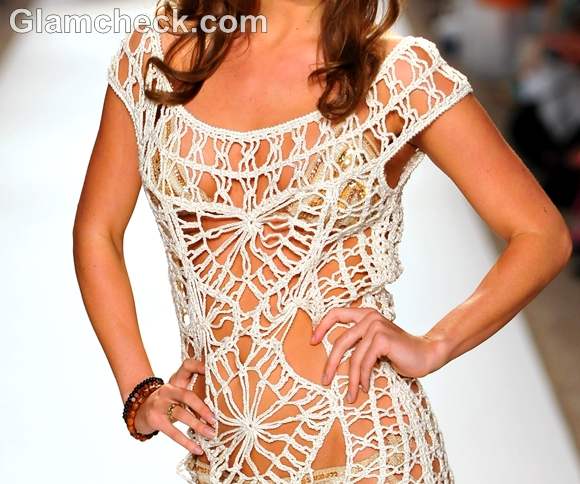 This glamorous swim cover-up is a must have especially for those with who would like to let others have a sneak-peak at their bikinis. The two-piece sequined bikini worn inside is in white and gold and complements the cover-up perfectly.
Accessories:
By way of accessories, you could use a large bangle to add a bit of color or keep it simple by wearing something in plain gold instead. Rings are another great option. And don't forget to finish up with a pair of trendy beach footwear.
Makeup:
If you're going for a day time outing, you could keep your look as natural as possible and add a bit of color to your eyes and lips. If it's an evening party that requires you to spice up your look, then add a pair of heals instead and get ready to party!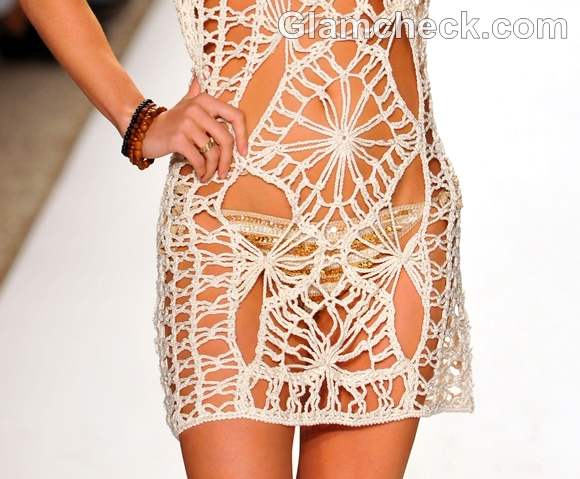 Tips:
Since the crochet cover-up is designed to reveal what you are wearing underneath, you could even wear a brightly colored bikini underneath in colors like aqua or lime and still look trendy.
Don't over-accessorize as the look does not require it.
Ideally, this look is for people with hourglass figures. If you don't have one, you could opt for something else in crochet that isn't as revealing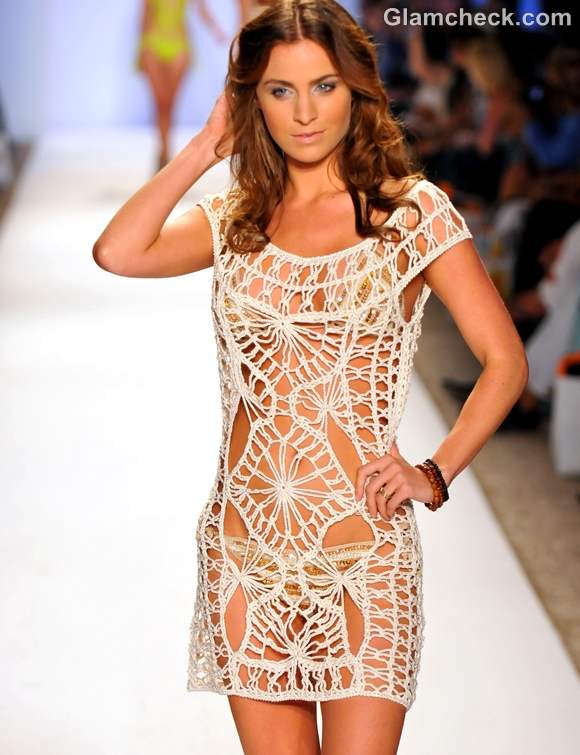 On the whole, this collection is all about being comfortable in your own skin and flaunting as much of it as you can. So take out your suntan lotion and get ready to hit the beaches!
Author: Marilyn
Image: Anton Oparin / Shutterstock.com