Chicas who have fine hair should take tips from actress Milla Jovovich on how to style their tresses. Ms Jovovich is usually seen sporting chic hairstyles on as well as off the red carpet. Let us take a look at some of the updos and open hairstyles that she has sported in recent years.
Updos for fine hair
The model is quite partial to her pretty updos, and we are rather taken up by them and hence bring you steps to do them yourself. Here are 7 hairstyles which are not only easy to recreate – but no one would know you have fine hair when you stylize your tresses in one of these styles.
High Bun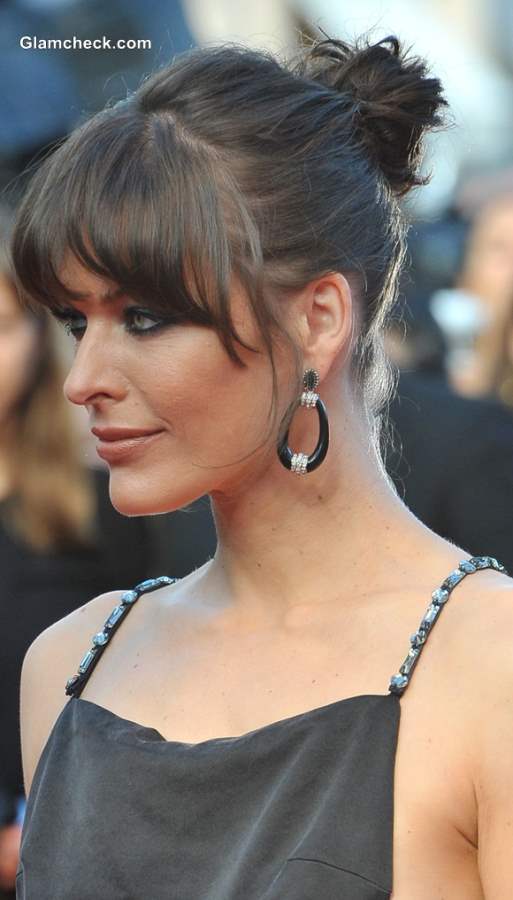 Hairstyling Fine Hair like Milla Jovovich High Bun
Ms Jovovich makes a fetching picture in her high bun and bangs hairstyle. This is a very easy hairstyle to do yourself. If you do not have your hair cut in bangs, like the pretty lady here, fear not – a high bun will look good even without them. Just pull back all your hair by backcombing with your fingers instead of a brush (this will give a better look) and hold in place with a hair elastic.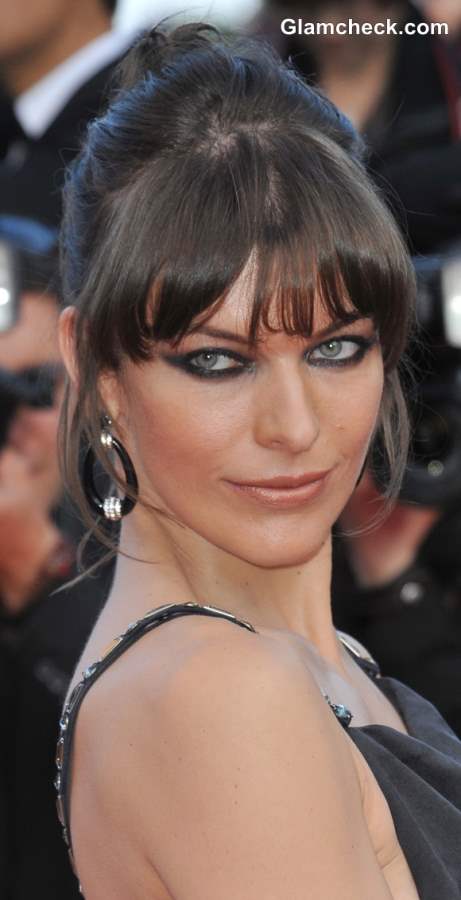 Hairstyling Fine Hair like Milla Jovovich Bun with Bangs
Now make a bun with the tied hair by swirling it round and round. Hold the bun in place with a bobby pin or a hair scrunchie. You could pull out a few thin strands randomly from the front-side part of the hair. You can flaunt this hairstyle at semi formal occasions or laid back evenings with friends.
Elegant Chignon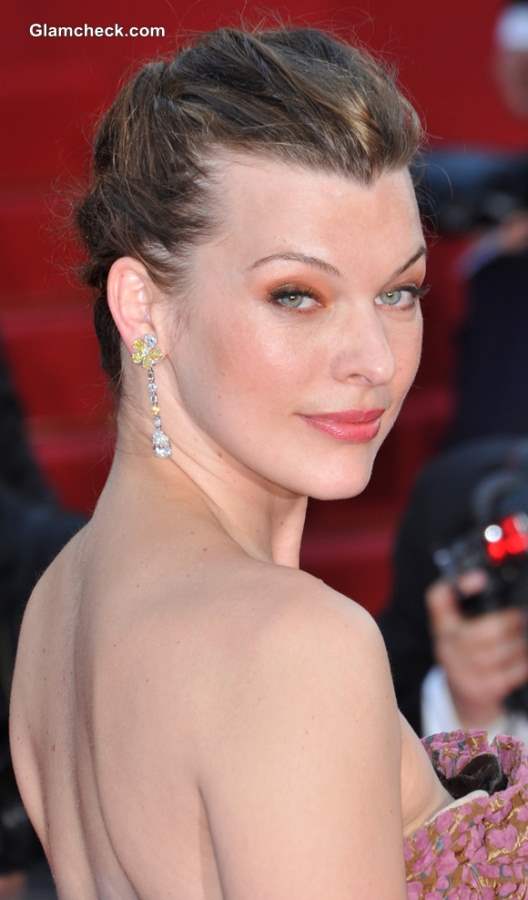 Elegant Chignon hairstyle for fine hair like Milla Jovovich
This hairstyle has a very chic and elegant feel to it and is ideally suited for formal events and parties. This hairstyle is also easy to do yourself. All you have to do is back brush your hair and make a chignon near your nape. If you want the hairstyle to look fancier, then make a French braid till your nape and secure with a hair elastic. Then make a chignon with the hair tied at the nape. For more inputs on the French braid bun head to our section Hairstyle How To: French Braid Bun
Twisted Updo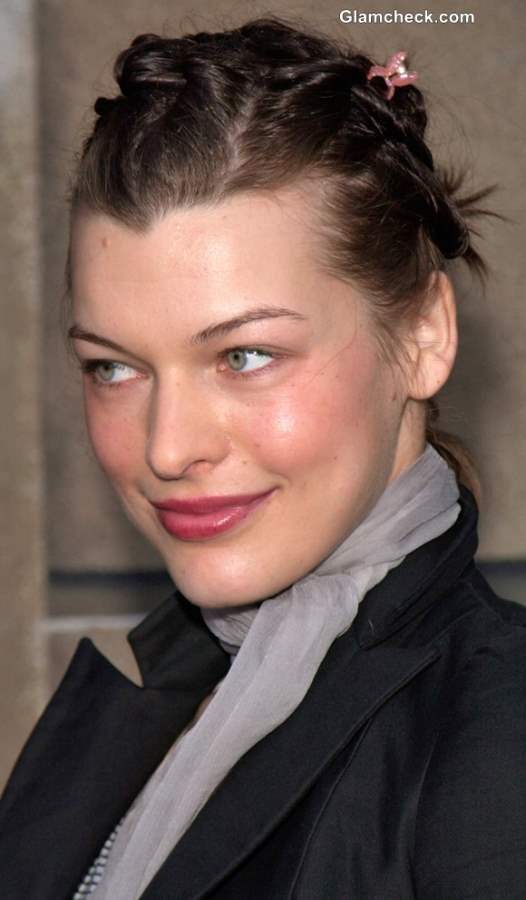 Twisted Updo Hairstyles for fine hair
This is a very cute hairstyle which can be sported on days when you feel funky. It has a very carefree yet trendy look about it. To get started on it, take random sections of your hair and twist each section till the length of the strands get smaller and then secure in place with a hairpin. With some other sections, you can make a bun out of the twisted strands – which again can be held in place with a hair pin. Follow these steps until all your hair is in twists and twisted buns. Do remember to take thick sections of hair – otherwise this hairstyle will take forever to achieve plus it won't give its full effect if the sections are thin. Use some hairspray from a distance of two hands away to give more hold to the hairstyle. Add a few cute hair clips randomly on your hair – as you can see Milla has done in this picture.
Milkmaid Braid Bun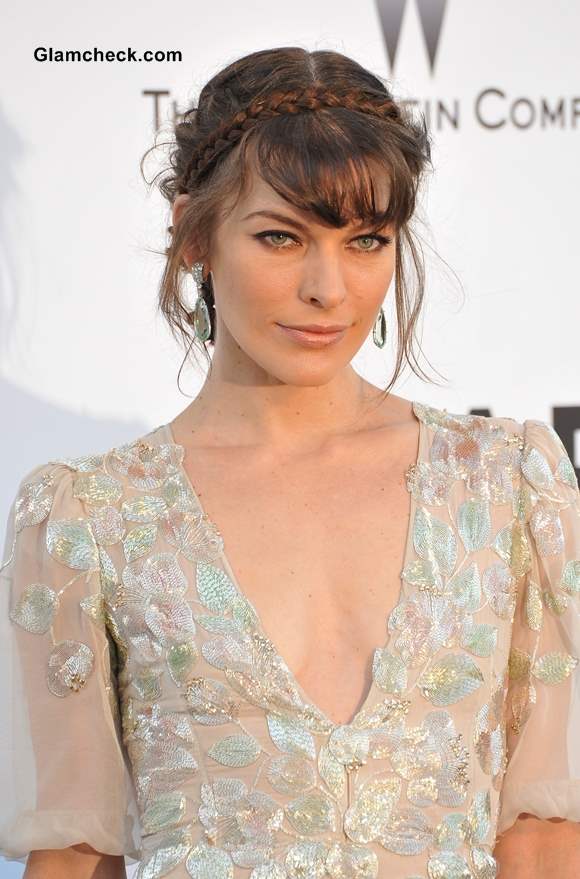 Hairstyles for fine hair – Milkmaid Braid Bun
The milkmaid braid bun is a good hairstyle for fine hair. This is because you can use a fake braid, in a color closest to your natural hair color, for the milkmaid braid part. Fake braids can be easily bought. You just have to pin it neatly on your head from side to side. These days fake braid hair bands are also easily available – they make the job of achieving this look even simpler. For the back portion of your hair – you can tie it in a chignon or a messy ponytail. Pull out a few random strands from the side of your hair to give the style a carefree look. For those of you who do not have bangs, either make a middle parting and secure the rest of the hair at the nape or back brush the hair and tie near the nape. And place the braid an inch or two behind the hairline.
Open Hairstyles
All of Ms Jovovich's open hairstyles, which are shown below, feature a blunt cut and bangs. However, this does not mean that those who do not have their hair cut in bangs cannot follow them – because the rest of the hairstyles can be taken inspiration from.
Curly Messy Blunt Cut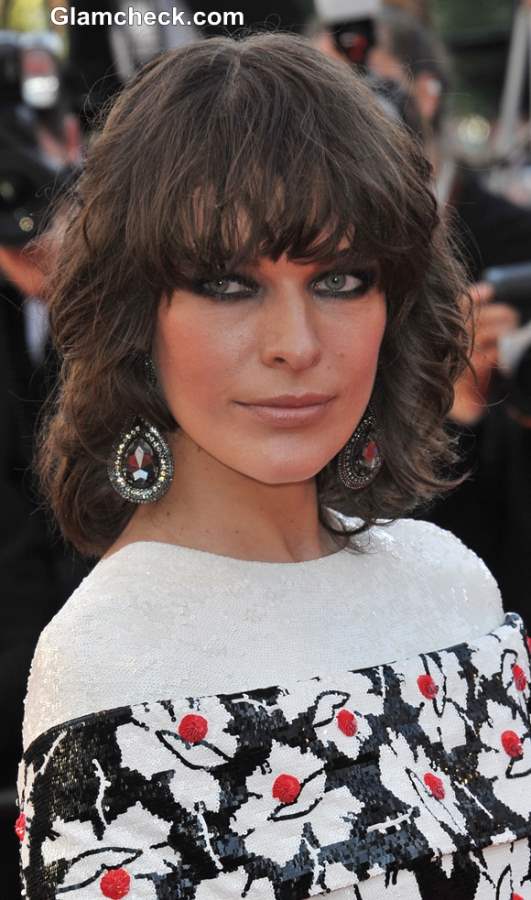 Blunt Haircut for fine hair like Milla Jovovich
For those of you who are bored of their regular blunt cut, this is a good hairstyle to sport. It also adds volume to fine hair. All you have to do is use thin rollers all over slightly damp hair, and then use a hair dryer until the locks are dry. Take off the rollers, bend your head down and give a gentle shake while running your fingers through the curls to loosen them – and you will get a hairstyle like the Russian beauty. This look also has a very 70s/80s retro feel to it, making it great for a party where you want to let your hair down – metaphorically and literally!
Layered Blunt Cut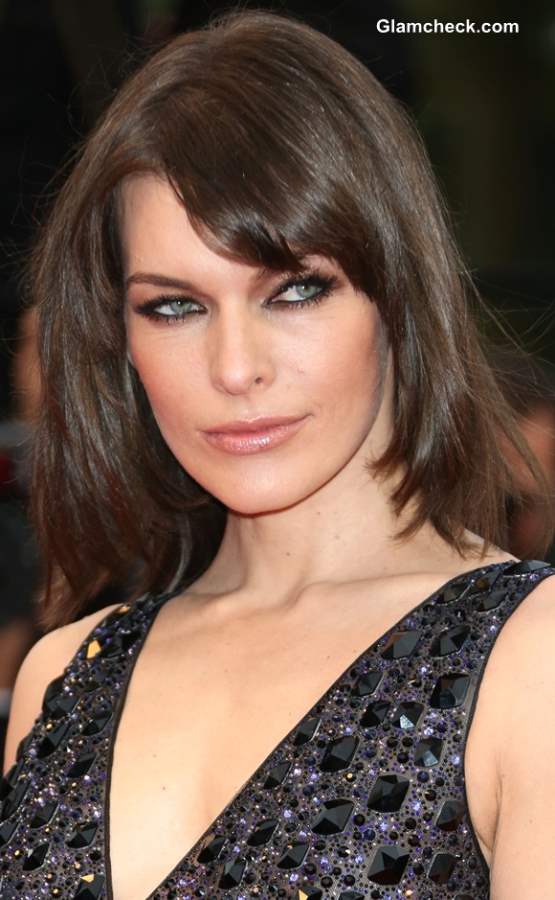 Haircuts for Fine Hair like Milla Jovovich
The layered blunt cut as seen on the actress is a good hairstyle for those who have fine hair. The layering adds volume to the hair. One can see that Ms Jovovich has chosen to keep her bangs side swept in this look, which is going well with the overall effect. This hairstyle is ideal for everyday wear, without the hassles of extra styling or hair products needed.
Wavy Blunt Cut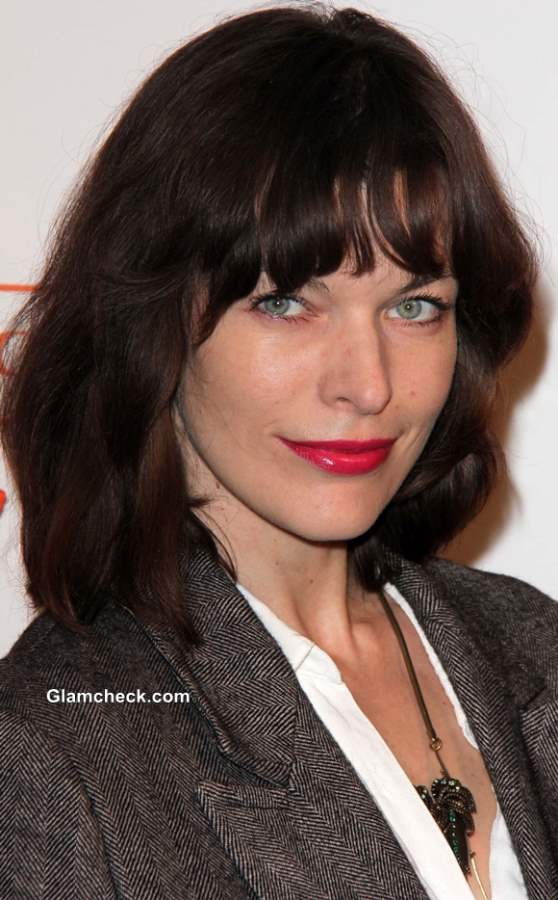 Haircuts and Hairstyling ideas for Fine Hair
For those who have a blunt cut, this is a style which is quite easy to achieve. All you have to do roll random sections around a one inch thick curling iron – to get the waves. After that run your fingers through the hair in order to get the carefree wavy look that is seen on the actress in this photo.
We hope you have fun recreating these styles, while at the same time you will add volume to your fine hair. 
Image: Shutterstock