Mumbai, Friday, August 3, 2012: Day One of the Lakmé Fashion Week Winter/Festive 2012 season opened with a great show by the Gen Next designers who displayed to an applauding audience their creations featuring innovative and unconventional fashion.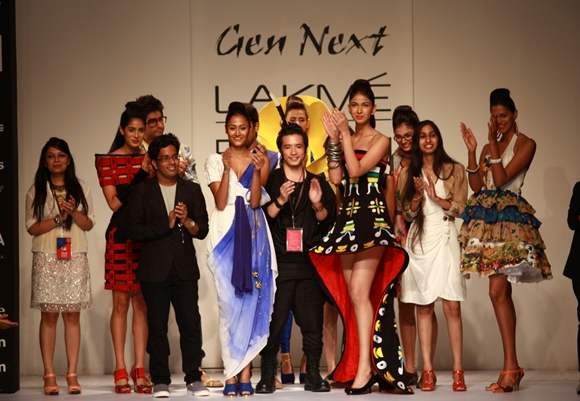 These great finds by Lakmé Fashion Week will once again give the Indian fashion industry the bright young stars to watch out for.
Aniket Satam – A New Fashion Beginning
Calling his collection "Aarambh" (New Beginning) Aniket Satam's creations came to life for the designer while reading about the Mayan myth of 2012. Celebrating a new beginning in fashion, Aniket's layered silhouettes had elaborate tactile texturing to present a creative collection. Shades of milk, ivory, cobalt and ink were splashed on sensuous viscose georgette, cotton jersey, raw silk and velvet. Aniket added embellishments that ranged from hints of gold foil to ghungroos, which highlighted the very unconventional abstract embroidery with splashes of colour.
Clever construction was the high point of the seven garments, as drapes appeared for sleeves and woven matted raw silk created a striking jacket. The asymmetric white raw silk angarkha jacket, the maxi dress with dip dyed centre and raw silk panels with gold foil and embroidery created drama on the ramp.
It was a fashionable awakening that Aniket Satam aimed for with his "Aarambh" collection that will form the highlight of many women's wardrobes.
Asa Kazingmei – Immortal Fashion
Presenting his collection titled "Immortal" Asa Kazingmei was inspired by the beauty of the Naga Tribe's textiles of Tngkhul. Unconventional thread work and weaves of the fabrics were highlighted by the creativity of Asa. Interesting lattice work on black and maroon sheaths and stunning abstract prints for asymmetric hemline dresses were the eye-catching additions to his range.
Using the beautiful shawls – Raivat and Chonkhom, Asa transformed them into amazing couture creations with unbelievable cutting and construction techniques. The opening asymmetric dress in chiffon and hand woven fabric was a stunner; followed by the two piece dress with a wired hemline in fiery red. Each piece was a show stopper as sensational stand up collars and wired curved and asymmetric skirts dazzled the audience with the colourful weaves of the Manipur region.
It was a fashionable ode to the immortal spirit of Tngkhul that the designer recreated on the catwalk.
Astha Sethi And Sidharth Arora – A Stylish Androgynous Look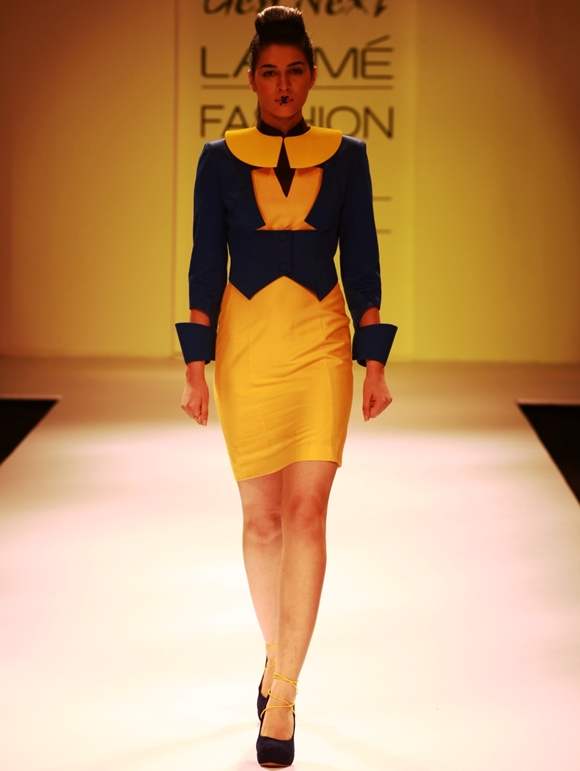 Displaying a cute but quirky androgynous collection, Astha Sethi and Sidharth Arora had a fun line of women's wear. Shoulder emphasis, sharp constructions and colourful play of hues were used for a line of clothing that had hints of seduction with touches of unconventional style. Calling their collection "Comical Fellow" the designers worked with only blue, yellow and black. The fabrics choice was Lycra, georgette, satin, tulle and organza with an added touch of solid acrylic for collars, shoulder pieces and even capes. The figure hugging pants, the moulded jackets, the jacket dresses, and gowns with corded bodice were a brilliant piece of imaginative fashion and style. For visually arresting glamour, the "Comical Fellow" was a collection which will evoke only accolades.
Kavita Sharma – Intricately Embellished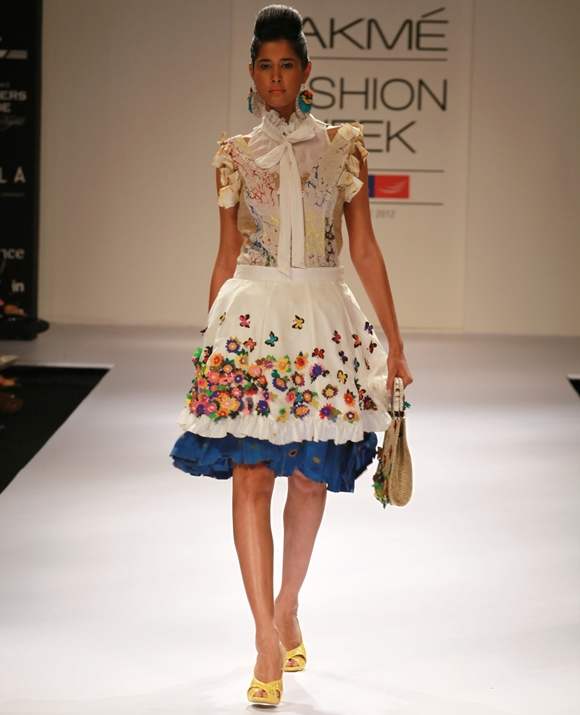 "It's a Beautiful Life" was the collection that Kavita Sharma showed on the ramp which displayed touches of elegance and simplicity. Keeping true to her theme, the inspirations were simple and naive like a telephone booth, children's park, zebra crossing, ice cream parlour and clock tower which were used for the intricately crafted embellished dresses, long skirts and seductive tops.
White skirts with 3D appliqué of insects and butterflies, asymmetric halter over resort print skirt, white jacket with appliqués and ombré maxi, the burnt effect layered skirt and the frayed edged appliqués of architecture; gave the collection a rustic yet modern touch. Very bohemian and ultra trendy, the collection had that youthful look for the coming season.
Richa Aggarwal – Street Art to the Fore
Street Art in fashion came alive in the collection by Richa Aggarwal. Bringing in a marked touch of desi styling, Richa's inspiration was definitely rustic as her ideas were drawn from the kitschy colours and style of slum dwellers in the country. The vibrant mix of fabrics and hues of the street was evident in her designs as multi patterned pants, stylish waist coats, cool tops and colourful capris revealed some traditional textiles and crafts.
Mixing a rainbow of shade card and bits of embroidery, the mix and match collection of floral printed silk shirt dress, appliqué tops with racer back, printed silk Hobotai appliqué dress, ombré dyed gilet with floral embellishments were some of the creations that created a stir on the ramp. For a great look comprising separates, Richa Aggarwal's line will be perfect for the fashionistas.
Sneha Arora – A Fashionable Shift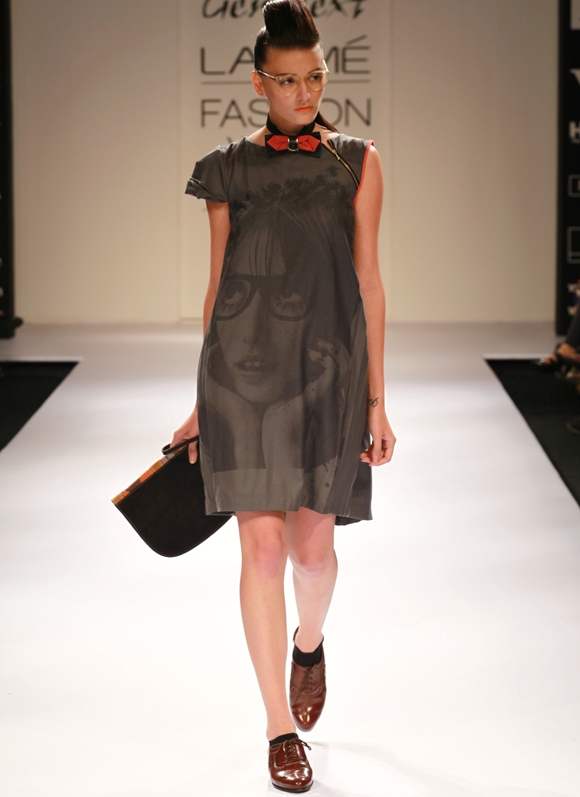 Sneha Arora's collection called "Paradigm" was inspired by her former corporate life, so the designer's shift to fashion encouraged her to present an interesting line of women's wear. From cute comfy dresses, to skirts, tops and then onto crisp jackets, trousers and striking dresses; the collection revealed a fresh and stylish take on comfort wear for the busy working women.
Opening the display with a face printed dress with box pleat detail at back and a shoulder zip, Sneha continued with the same print for dresses teamed with pleated back skirt, added cubic prints for shirts and poly viscose for sharply cut blazers then moved to poly wool for dress, a grey blazer and ended with a stunning black backless dress with cube detailing and imposing collar. Here was a perfect line for the stylish woman who wants to make a great sartorial impression.
Mehak Pruthi, Kanika Seth And Ankit Sharma – Dramatic Construction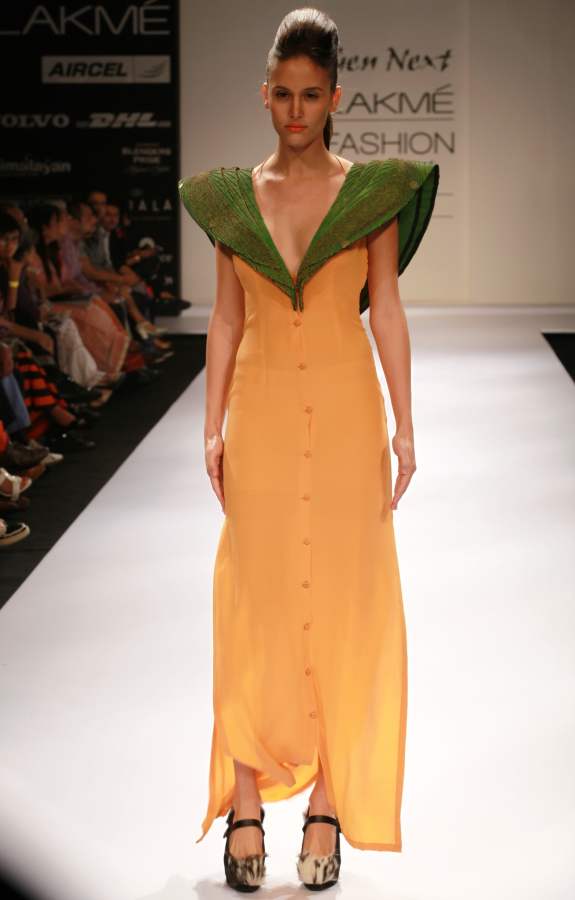 Inspired by the fabulous 3D film "Avatar", Mehak Pruthi, Kanika Seth and Ankit Sharma presented a collection called "Clandestine" that was a visual treat on the ramp. Highly stylised with dramatic construction, the clothes aimed to project a new personality for the wearer. Stretch fabrics, deep tones of purple, acid green and black came to life for body contouring leggings and moulded tops.
The look was almost futuristic with hooded pullover for men and crafted Banaras net jackets with EVA sleeves teamed with net hipsters for women. The EVA effect appeared for double breasted suits, crepe maxi with shoulder blades, tunic with embossed hood and the show ended on a high note with a net maxi dress. For a look that will cause a stir at any event, the designers gave the "Clandestine" collection the arresting detailing. 
Image: Lakme Fashion Week