Did you happen to catch the Emilio Pucci show – spring summer 12? The gypsy crossing over with bohemian collection, put two points straight – scarf prints and off shoulder peasant neckline. And turns out, the brand was not solo in it's love affair with this neckline. Big names like D&G, Blumarine, Rodarte and comparatively modest Naem Khan and Roco Barocco, all seemed to be in love with the neckline and presenting it on a platter with variety ranging from mid riff baring cropped blouses to flowing maxis.
How to bring the same catwalk trend to real life? Wear a peasant neckline jumpsuit in a magnificent jewel tone!
Rock the Fashion
The neckline we talked about earlier is essentially off shoulder. So start by recognizing one, with it's innate smocking on the neck and puffed sleeves. Once you know the neckline right, and do not mistake it for any other, half the work is done.
Opt for a solid color jumpsuit featuring the peasant neckline. Prints can be a bold statement too, but choose them wisely and stick to a theme of scarves/ paisleys in harmony with a boho feel.
The jumpsuit we chose is a gold/topaz hue. You could also opt for an emerald green or amethyst or sapphire color.
The detail in the jumpsuit lies with an elastic at the waist, cinching it giving shape to an otherwise puffed up silhouette. More often than not you would always find the waist elastic with this neckline as it is flattering. Another added detail is the ankle length and elastic at the hem too with slight ruching. You could also opt for a tailored white leg variety here.
The fabric of choice is either French crepe, for dressier occasions or the same could work out well in cotton which places comfort first.
Rock the beauty
In our times, a rule that works great in styling is never going over board, by teaming opposites. If you have a sweet dress – pair with a leather jacket, a distressed denim-go with a tailored blouse/jacket.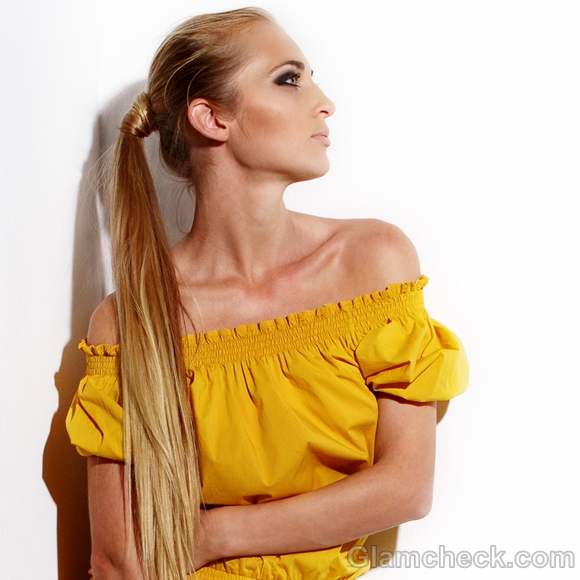 Apply that principle here, and you would instinctively know that a chic ponytail would polish up the jumpsuit just about right. Solid colors look great when the eyes are emphasized and defined with kohl and eye shadow. Choose greys and blacks here. The lips in contrast should be a natural soft pink – let the eyes do the talking here.
Rock the Style
Reach for that tan straw hat with this look. Adds unique style and saves you from the sun too.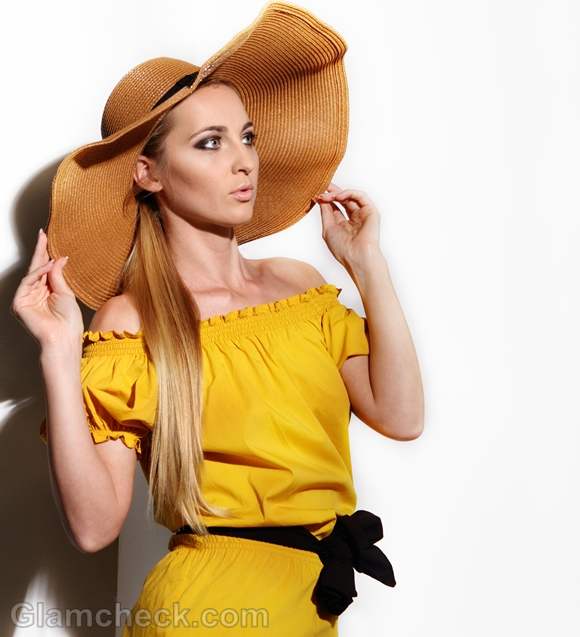 Be sure to tie a belt in black at the waist, as the bare elastic with nothing on top tends to look incomplete and at times downright ugly.
Pair up with jeweled roman sandals and carry a tote along.
Glamcheck's Rocking Tip
Don't think about donning a necklace with this neckline come what may. It spoils the seduction of the neck and the collar bones. If you have to wear jewelry sport a bracelet or a watch or an anklet.
Replace the sandals with raffia wedges if the occasion requires more dressing up.
Always have perfectly tweaked eyebrows when tying your hair up in a pony, regardless of the garment you are teaming it up with.