Sometimes we come across ideas and trends that we are so fascinated with that it defines who we want to be. So did you ever felt like being the muse straight out of the pages of an editorial? Or perhaps being the enchanting creature gliding down the runway?
This accessory, for all it's purpose, stands for drama and exoticism. Yes we are discussing feather eyelashes today. And if the very idea of it fills your heart with excitement, you are in the right company!
The Wildest Feathers
Choose from a multitude of colors, patterns and thickness to pick a perfect pair of fake feather lashes for yourself. Widely available online, you can grab one in specialty stores too.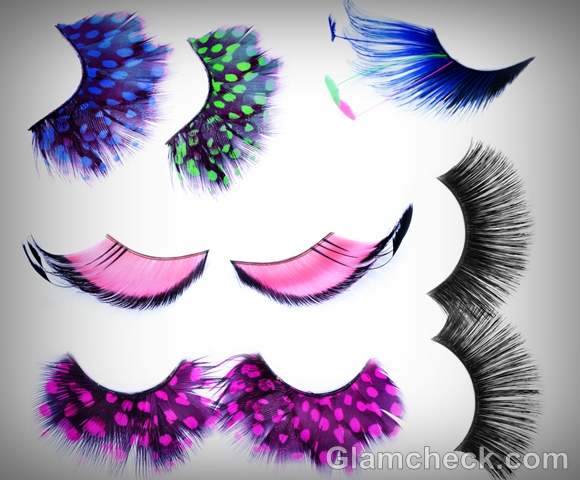 Choose polka dot feathers in neon and bright colors or pick a color block feather in pink and black. You could go with a modest black, trimmed to perfection, or an outrageous ombre of electric blue and black with other colors sticking out and fighting for attention.
The Right Procedure
Sticking fake lashes could be scary for some. But it really is neither complicated nor intimidating.
First try on the lashes without the adhesive. If they appear longer than you lash line – trim the ends neatly after removing them from your natural lashes.
Once done, take the adhesive and pat on the back of your hand somewhere on the bone connecting your thumb to your wrist.
Place your lashes lightly on the adhesive.
Take the fake feather lashes and place them upon your natural ones. Press from both corners of the eyes and hold till they stick.
Be careful though to start pasting from inwards to outwards.
The Perfect Makeup
If you just wore those lashes without adding anything more to the eyes, let's face it – It would start looking out of the place and incomplete.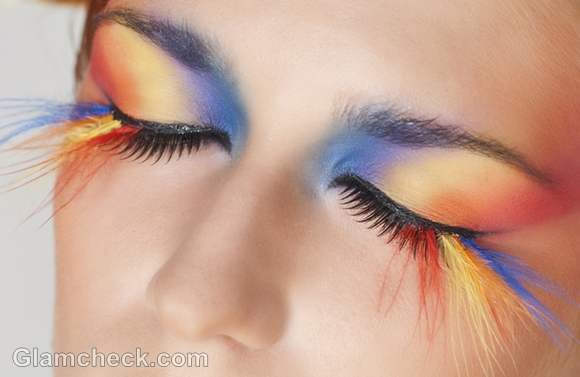 If sporting a colorful pair that can put a bird to shame, follow up with the boldness in the make up too.
Use eye shadow of all the feather colors preferably using colors in the opposite order.
Notice how we used electric blue in the innermost corner, while the blue feather is at the outermost corner. Also, use strokes at an angle.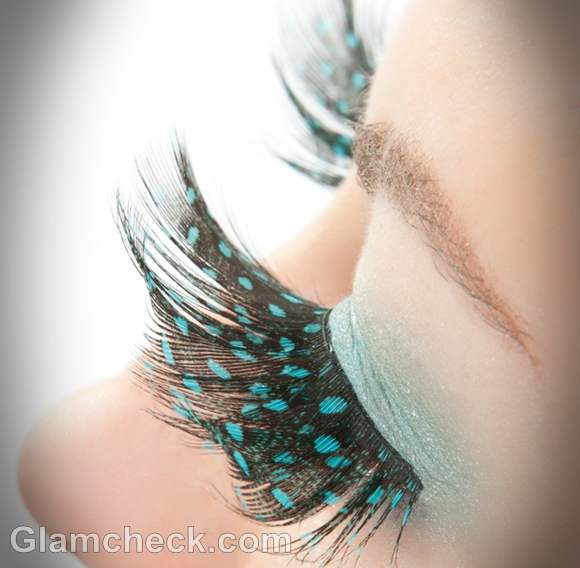 When wearing a polka feather lash in two colors only, choose the brighter hue as your eye shadow.
Since, it is going to be a single color; you can opt for a powdered sparkly texture. Also concentrate the color near the lash – moving towards white as you progress to the brows.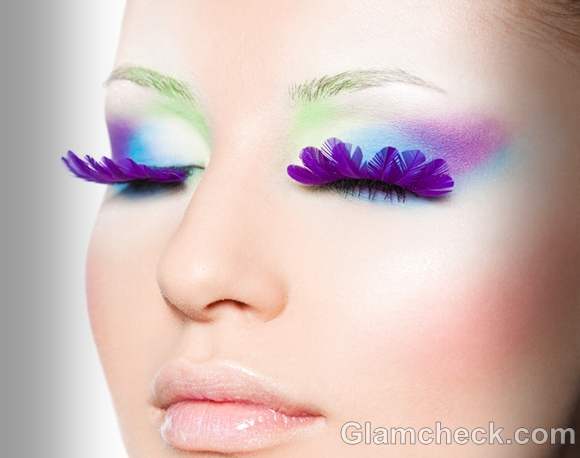 If sporting a single electric color of feathers like a deep purple – experiment more with the eye makeup.
Choose multiple hues from the same color scheme (we have used cool colors here) Create a colorful feather like effect while pushing your strokes outward. Fill up the inner corners with green and white.
For this style, do not try for each color to be in equal amount. Asymmetry in the color quantities and area of application is the beauty here.
Finish up with a natural gloss and a fair amount of blusher to bring out your cheek bones.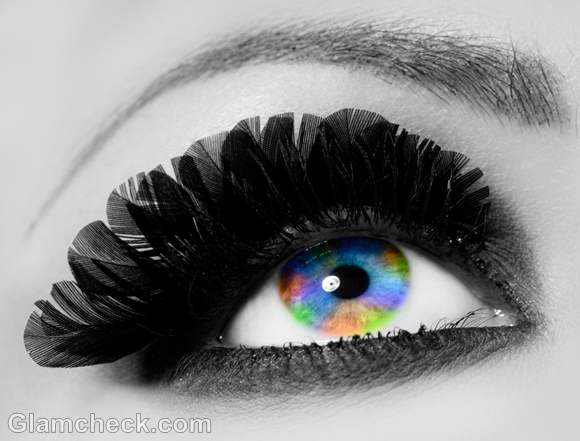 If opting for a gothic mysterious black, don the look completely with smokey eyes.
A generous amount of kohl and black smudged eye shadow should be just about right. Add a color twist by sporting rainbow contacts with it.
Clothes that compliment
Once we perfect the art of the lashes, the next question is – This will look good with what from my closet?
The easiest would be to pair this up with your LBD. We have heard new ways of spicing up this classic every season – but this would be truly spiced up indeed. 
If worked right, these lashes will gel beautifully with classic red carpet gowns. Or if you are planning on wearing a colored dress, opt for the same color as your feather (or close family) or a total contrast.
Avoid sporting prints in this look.
The Appropriate Setting
All set and dressed – but where should you head?
To a costume night in a club maybe or a Page 3 party or a gala appearance or when walking the red carpet. This stunning look puts forth your wild streak – wear to an event which calls for dressing with efforts and which requires you to make an impression, grab some eyeballs and stay in the spotlight.
Image: Shutterstock.com