Burberry Prorsum always attracts a huge, enthusiastic crowd of fashionistas who come to the shows with as much to offer as the ramp models themselves. Tali Lennox and Laura Bailey were two lovely ladies who caught our eye at London Fashion Week Spring/Summer 2013 on September 17 because they both sported stripes to the presentation of the fashion giants.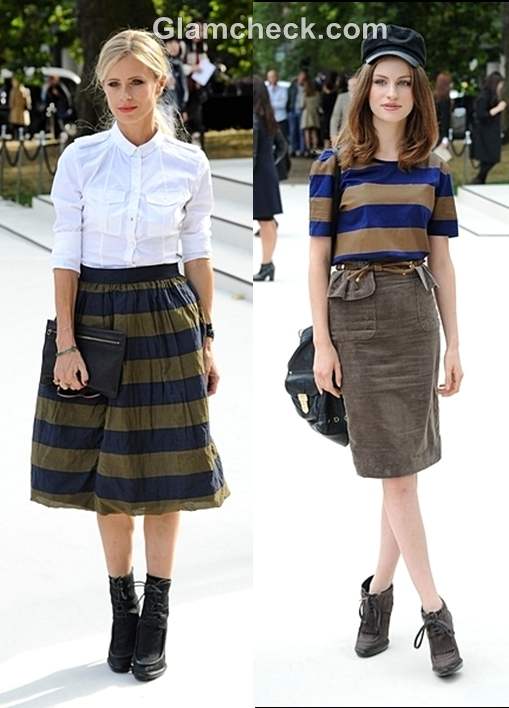 Laura Bailey & Tali Lennox
Smart and Edgy Tali Lennox
Rocker progeny Tali Lennox held up her own as a style icon in a blue and brown striped T-shirt which she paired with a greyish-brown skirt. A black hat, brown booties and a large bag accessorized her outfit. Tali's look was natty without being over-whelming. We love how the down-to-earth feel of her tee is transformed into a style statement with the straight-cut skirt.
Stylishly Feminine Laura Bailey
Lovely model Laura Bailey was seen in stripes too, but with a far gentler, softer and more feminine look than Tali. Laura wore a white shirt with a loose-fitting, knee-length skirt with blue and green stripes, accessorizing with black boots and a black clutch purse. Coral lips added another element of color to the pretty blonde's look.
Both striped looks are fashionable plus easy to emulate. A few modifications of your own depending on what your wardrobe offers and you have an ensemble that makes its way to you straight from Fashion Week.
P R Photos