Tattoos today are extremely personal to their owners. They could be up for display and their meanings, emotions or stories behind them told frequently but there are strong personal emotions behind it.  And it would not be too far fetched to say that almost all major celebrities internationally are inked, and the trend of expressing with tattoos is getting embraced by celebrities worldwide.
But you either love inking or you don't – this art has strong reactions and there is hardly a grey area. Wings, portraits, complicated art, tribal motifs, quotes all make it to the celebrity bodies.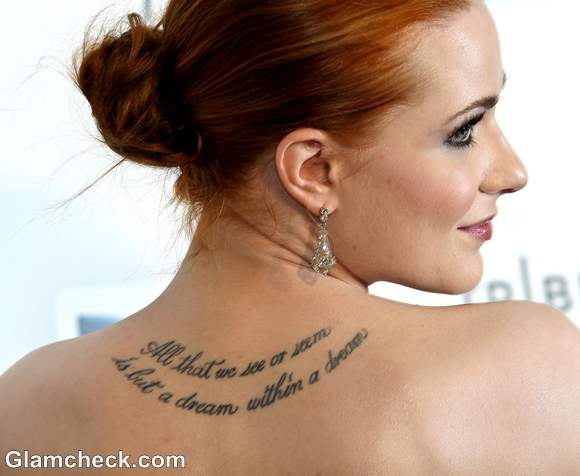 Celebrity Tattoo: Evan Rachel Wood Back Tattoo & Its Meaning
Evan Rachel Wood is seen as a rebellious spirit and her tattoos our quite fascinating. She is a gifted actress , who was nominated for the Golden globe for her role in thirteen but is termed mysterious and controversial maybe owing to her off and on again relationship to the Goth God Marilyn Manson, whom she got engaged to – twice !
She has nine tattoos on her body in total, with a discreet one inside of her lip that she never speaks about and no one gets to see. From diamonds to black hearts all adorn her body in ink but her most intriguing one, below her neck at the back reads – "All that we see or seem, is but a dream within a dream"
It is an excerpt from the poem by Edgar Allan Poe titled Dream within a dream. Wood admits that she is constantly changing and growing and hence becomes controversial. The quote seems to represent this very quality of her. Like a dream life is unpredictable and short-lived – what's real and what's not is hard to decide as all things that we know as real disappear in the end.
For a star who has already written her will at the age of 25, knows exactly where her ashes need to be dispersed around the world, and the funeral details like the playing of  the Pink Floyd song "shine on you crazy diamond" are thought out too – the explanation of the tattoo seems plausible.
The quote is inked in a pair of curved lines, in a nearly calligraphic font which gels well with the poetic nature of the lines. It's a strong message and Evan is bold enough for it.  On the Red carpet with her stylish gowns, the tattoo has often been made visible.
Poetry and quotes are open to imagination and interpretation and may mean different things to different people. This is just one of the ways of looking at it and that is the best part – there always will be another angle.
Shutterstock