Spring is in the year, and a good way to celebrate this beautiful season that brings about new blooms and a pretty change in the scenery is to sport the spring eye makeup. After all what can be a better color for spring than yellow, and hence this color is an important part of today's beauty how to tutorial. So, let's get started to celebrate spring.
Spring Eye Makeup Items Needed: Brown eyebrow pencil, black eyeliner, neon/bright yellow eyeliner pencil, black kohl and black mascara.
Spring Eye Makeup Steps: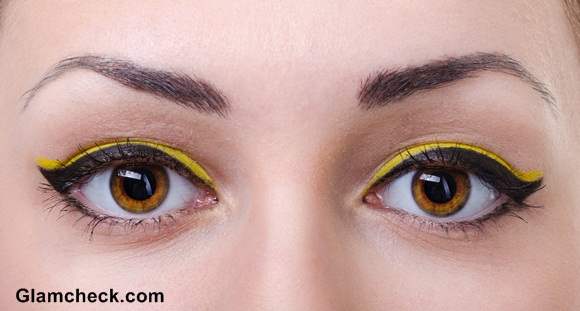 Beauty How to – Spring Eye Makeup
1.       Start by darkening your eyebrows with the brown pencil. This will prevent them from looking faded, once you apply the rest of the eye makeup. Also, the eyebrows will get more definition and make your face look sharper once they have been neatly filled in by the pencil. However, do ensure that you do not use the pencil too hard while filling, because that could give a geisha doll effect!
2.       Next, take the black eyeliner and draw a neat line across your upper eyelid – starting right from the inner corner and extending in a winged shape on the outer corner.
3.       Use the black kohl next to line the lower eyelid – starting from the middle of the lower eyelash line and extending out in an upward direction so that it meets the winged eyeliner (See photo). Ensure that you do not fill in the lower eye rim though.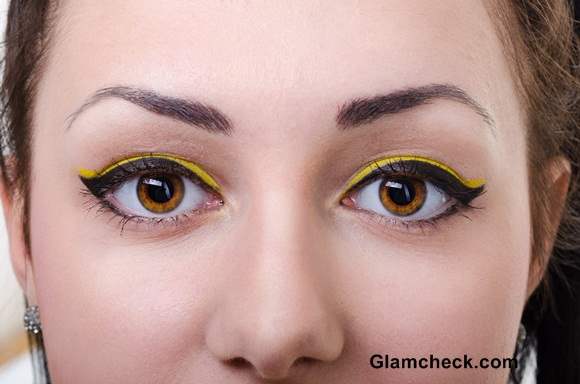 Yellow Eye Makeup for Spring
4.       Take the neon/bright yellow eyeliner and use it to trace a parallel line just above the black eyeliner line.
5.       Finish the eye makeup with a coat of mascara on both the upper and lower eyelashes.
It is as easy as this to sport the spring eye makeup, so go ahead and give it a try. 
Image: Shutterstock