Nanette Leopre's Spring/Summer 2013 collection on display at the Mercedes-Benz Fashion Week in New York this September was full of fun, trendy clothing in neon shades of green, jade, blue, yellow, coral, peach, pink, black and white with matching footwear and tote bags perfect for the summer.
Deconstructing the Prints
Her theme for this collection was inspired from porcelain preserved at the Charlottenburg Palace in Berlin resulting in an exciting mix of floral and geometric prints. The procedure used for creating these unique prints is definitely worth mentioning.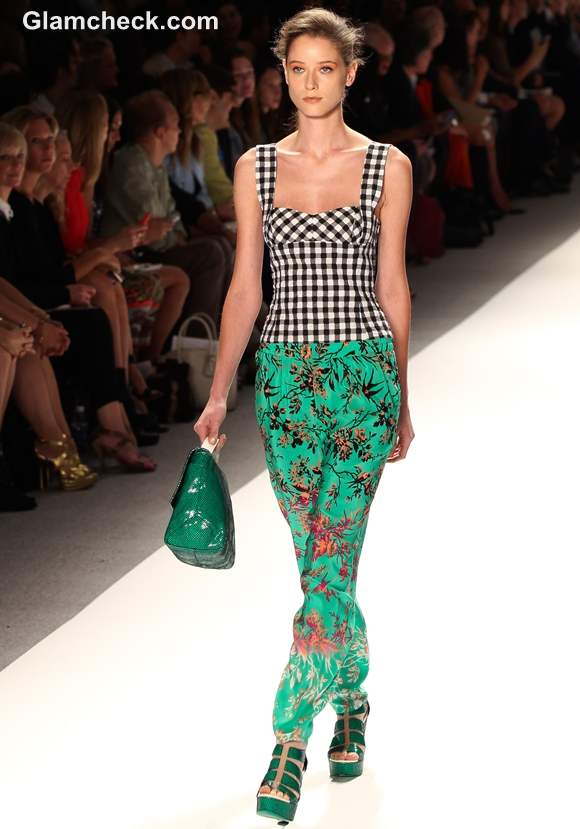 Style Pick – Porcelain Print Trousers by Nanette Lepore S-S 2013
After first selecting her porcelain prints, she enlarged and then recolored them to give them a modernized look with a touch of pop graphic effect in black. These final toile-like prints were then set against bright greens, corals and blues that were then mixed and matched with geometric checks and stripes, giving us a range of attractive clothing that was both fun and feminine.
The Trousers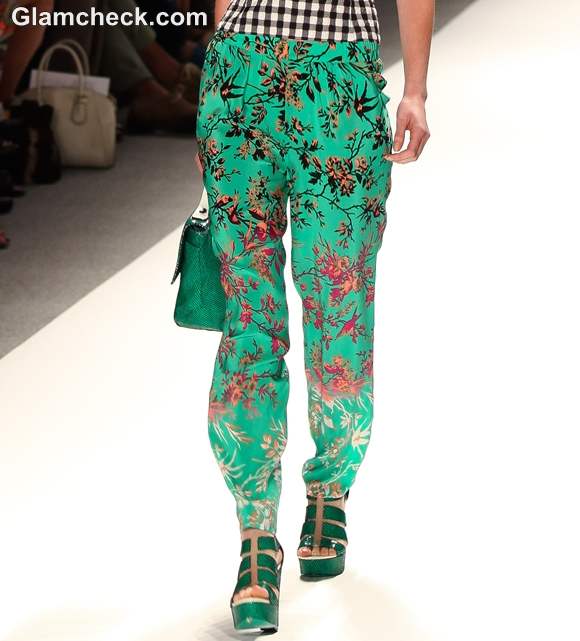 Porcelain Print Trousers by Nanette Lepore S-S 2013
Nanette created the trousers using her toile-like print in a gradation of different colours and tropical-inspired hues over a neon green base. The top was made of black and white checkered gingham. The resulting combination was a mix of the old and new in a chic, youthful fashion.
Style Tips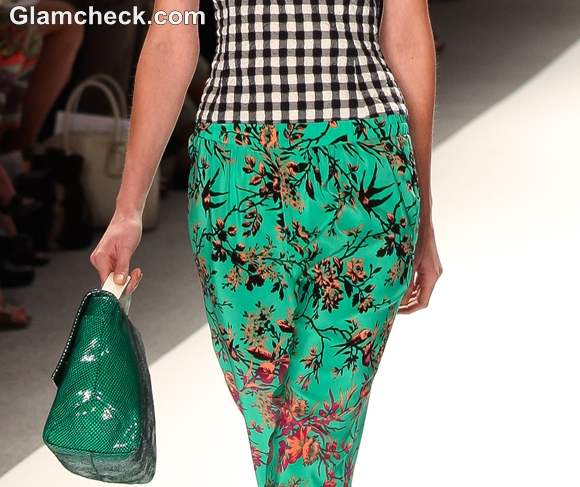 Style Pick Trousers by Nanette Lepore S-S 2013
Keep your makeup to a minimum. Add a touch of light blue, orange or lilac on your eyelids with a thick streak of black eyeliner to top it off.
You could wear a plain colored top instead of a geometric one if you're feeling less adventurous. Don't forget that these trousers are colorful enough all by themselves.
Mix and match your clothing. Try creating your own style by mixing different floral, geometric and graphic prints to get a chic looking ensemble.
Make sure not to over accessorize your look. Keep the focus on the prints especially when both your top and bottom have a print on them.
While wearing printed tops, use trendy shoes and handbags. And with printed bottoms, wear a plain top with jewellery that complements the print.
One of the advantages of shaded clothing is the colour coordinating options available with that particular garment. For example, you could wear a black, white, coral or pink top with the porcelain print trousers depending on your mood. So make your choice count!
And don't forget that neon shades are here to stay. So use them while choosing your clothing, accessories or makeup. Because next summer it's all about the color.
Nanette Lepore definitely showed the world how classic silhouettes could be transformed by the addition of bright colours, unique prints and a bit of individual creativity. Now it's your turn to do the same. Good luck!
Shutterstock